Index to Skiing History Magazine and Skiing Heritage past Articles by Issue
Image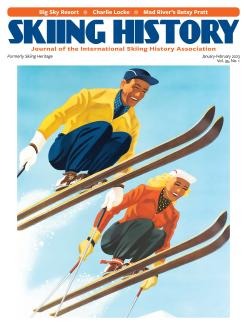 The journal was started in 1989 by Glenn Parkinson as a six-page newsletter under the name Blizzard. In the third issue, the name was changed to Snow News. In 1991, the journal was acquired by I.S.H.A. and in 1993 the name was changed to Skiing Heritage. In 2013, the name was changed to Skiing History, consistent with the website and the International Skiing History Association names.
In 1994 Morten Lund became editor, and it became a 40-page quarterly journal. Today it's a 36- to 40-page four-color magazine, published six time a year, edited by Kathleen James.
To search within this index, first call up the Text Find function (control-F). A search box will appear. In the search box, type the name or place you're looking for and use the "find next" button (the down-pointing carat or arrow) to scroll through the page.
Then, to read the original article, note the year and issue it first appeared in. Then go to Explore Back Issues and scroll through the listings for the issue you need. Research tip: Open a new browser tab for the back issues. Then you can refer back to this index as you search through the archive.
Back issues are sold only as available as originals or laser-prints, and can be ordered from
ISHA
PO Box 1064
Manchester Center VT 05255
802-375-1105
jamie@skiinghistory.org
Please enclose your check or include your credit card information.
Prices are as follows:
$15.00 for a single copy and $12.00 each for two or more copies. Photocopies of articles from out-of-stock issues cost $1.50 per page.
For a more detailed index of issues before 2011, go to GoogleBooks.
Blizzard
Summer 1989 Vol 1 #1
Report of the TransArctic Expedition
Tribute to Toni Matt
Fall 1989 Vol 1 #2
California Miner Racing
Tribute to Fridtjof Nansen
Snow News
Winter 1990 Vol 2 #1
Henry Perkins bio
The 10th Mountain Spirit
The Sport of Jack Jumping
Spring 1990 Vol 2 #2
Hot Dog Legends Compete at Sunday River
Summer 1990 Vol 2 #3
Hjalmar Hvam bio
Fall 1990 Vol 2 #4
Mathias Zdarsky bio
A History of Wax
Snow News, Journal of I.S.H.A.
Winter 1991 Vol 3 #1
A History of Snow Grooming
A History of Pro Racing
Walter Stadig bio
Spring 1991 Vol 3 #2
Perry Merrill bio
A History of Slalom
Summer 1991 Vol 3 #3
Mick Hul bio
A History of jumping
Fall 1991 Vol 3 #4
Jackrabbit Johannsen bio
A History of Lifts: mine buckets; Truckee; Sun Valley chair;
Whitney's shovel handle lift; ropeways; Magic Mt. Idaho;
boat lift; Silver King mine trains; Gilbert's Hill, Woodstock;
Roland Peabody rope tow at Cannon Mountain; Belknap
rope tow; Dopplemeyer; Brevent; tribute to Sel Hannah
Winter 1992 Vol 4 #1
A History of Holmenkollen Competitions
A History of Sugarloaf Ski Resort
March 1992 Vol 4 #2
I.S.H.A. First Annual Gathering at Whistler, British Columbia
Report on I.S.H.A. directors meeting
August 1992 Vol 4 #3
Report on Circle of Knowledge
Olaus Jeldness bio
Sketch of Freestyle competition history
The First American Lift at Truckee
November 1992 Vol 4 #4
10th Mountain Division
Ivor Halversen bio
Acid Based Paper
Skiing Heritage
Spring 1993 Vol 5 #1
The Films of Hannes Schneider
(Arnold Fanck, Leni Riefenstahl)
I.S.H.A. Lifetime Achievement Awards: John Auran in Ski Journalism; Arnold Lunn in Ski History
Two New Ski Museums: Vermont Ski Museum and The Ropeway Studies Information Center at the Colorado School of Mines
I.S.H.A. First Eastern Gathering at Sugarbush, Vermont
I.S.H.A. Second Annual Gathering at Sun Valley, Idaho
Fall 1993 Vol 5 #2
Cover story: Lieni Fopp, Ernest Constam, box on Paul and Paula (Kann) Valar, who supplied the pictures and research
Ed Scott: NY ski train, working at Alex Taylor, Scott poles
Salute to the Royal Ruel Christie
Book Review: From Skisport to Skiing by John Allen
Winter 1994 Vol 6 #1
Cover story: First U.S. Ski Book,The Winter Sport of Skeeing
Book Review: Ski Pioneers by Rick Richards—a bio of Ernie Blake, Taos, New Mexico
I.S.H.A. Second Eastern Gathering at Sugarbush, Vermont
Announcement of Third Annual Gathering at Park City, Utah
Fall 1994 Vol 6 #2
Cover story: Gretchen Fraser
The Coming of Charlie Lord, Stowe, Vermont; Mt. Mansfield, CCC
Friedl Pfeifer bio Nice Goin'
Editorial: Making a World Class Journal:
Letters: Ted Borch (posed shots in Skeeing), Charles Dwyer (Constam T-bar), Ben Rinaldo (meeting of Blake Mittleberger, Bill Keil ( Stevens Pass T-bar), Ed Scott (aluminum poles)
Tips and Tales: Lillehammer 1939 University Games, Roby Albouy; Boat Tow; Sunday River Ski Train
Celebrations: AT&T Awards, Richard Steadman; 1994 Crested Butte Film Festival Jerry Award to Otto Lang; Legends of Freestyle: Salerno, Wong, Theobold, Brooksbank; Hall of Fame: O'Leary, Branch, Earl Miller; Aspen Historic Downhill
Lifetime Achievement Awards: Peter Miller, William Banks Berry, James Laughlin—all in Ski Journalism
Ullr Awards: Dave Goodman, Backcountry Skiing; John Allen, From Skisport to Skiing; and Rick Richards, Ski Pioneers
Skiers Bookshelf: Universal Ski Techniques, George Twardokens; The Athletic Skier, Warren Witherell; Green Cognac, William Putnam, A Bird of Passage, Otto Lang; Leni Riefenstahl, by Leni Riefenstahl; Don't Look Back, Patrick O'Connor; Peak Ski Guide, Peak Productions;Lost Sierra, Bill Berry
Finish Line: Jakob Vaage: Norway's ski historian
Winter 1995 Vol 7 #1
Cover story: Dick Durrance
Legend of Ullr: John Allen
Passion for the Past: Mason Beekley bio
Otto Lang bio A Bird of Passage
Last Run: Obit of Otto Steiner by Wolfang Lert
Finish Line: Obit of Katy Rodolph by Nick Howe
Editorial: Mounting Operation Rescue, saving ski history
Reponse: Tom Kelly (praise for Heritage); Duane Vanderbusche (praise for Fraser); Leif Torgerson (correction on Fraser); Mrs. David Emerson (praise for Fraser); Arthur Weyhe (praise for Charlie Lord)
Celebrations: 1994 SIA 40th anniversary show: Des Roches, Durrance, Fraser, Hagemeister, Heron, Hvam, Jay, Knowlton, Lange, Leonasrd, Lert, Nordhaus, Roffe, Rowan, Simon;
1995 Jerry Award to Dick Durrance; USSA Blegen Award: DesRoches. Slattery. Goetzman. Thomson,. Anderson, Raaum, Chadwick, Boyum,.West, Sosman, Johnstone;
U.S. National Ski Hall of Fame reunion: Maurin, Jay, Knudesen, Branch, Dercum, Chadwick, Burr, O"Leary, Perrault, DesRoches, Miller, Anderson, Johnstone, Boyum, Raaum, Hill, Maki, Bietila
Veteran Ski Instuctors: Founding of PSIA—Lash, Valar, Johnston
Tips and Tales: Ansel Adams' photo of Tom Suvulewski, Badger Pass Yosemite; poem by John Armstrong; Cliff Banta, Flying Mile, Carson Peak Sierra; robot ski tuner; Jackrabbits pants; snowflake drawings; old time skis; Allen Adler bio
Fall 1995 Vol 7 #2
Cover story: Salute to the 10th Mountain
Response: John Benson, Edward Murray, Jay Samoff, Bob Woody, John Turnbull, Jon Lund, Bradley Benedict,
I.S.H.A Fourth Annual Gathering at Aspen, Colorado
I.S.H.A. Lifetime Achievement Awards: Bil Dunaway in Ski Journalism and Jakob Vaage in Ski History
I.S.H.A. Ullr Awards: Martie Sterling, Days of Stein and Roses; James Sloan Allen, The Romance of Culture and Commerce; Dolores LaChapelle, Deep Powder Snow; Friedl Pfeifer, Nice Goin'
Finish Line: Wayne Poulsen
Tips and Tales: Horace Quick, Saturday Evening Post, 10th Mountain cover painting, John Fry, Hall of Fame; Pepi Teichner, Sun Valley, Otto Lang, Pfeiffer, Sinclair Lang, Willie Wyler, Shearer, Hauser, Virginia Hill, Colbert; Wilmot, Helmut Teichner, Eddie the Eagle; Bradley bunch, David Bradley, Steve Bradley, Charles Bradley; Ethelred the Unsteady
Editorial: 10th Mountain Miracle
Winter 1996 Vol 8 #1
Cover Story: A Short History of Alpine Skiing
Column: Half Century as An Instructor
Feature: Hollywood Ski Movies by Gary Schwartz
Editorial: Dole Patrol; the National Patrol, started by Minot Dole
Column: First Slalom Under FIS rules: Baumrucker
Tips and Tales: Ski Dek, Lebanon chair, Andre Roch, A.J. Kitt, Roch Cup, Norheim binding, AT&T Skiing Award to Phil Mahre
Bookshelf: First Tracks by Glenn Parkinson (references to Frederick Jorgensen and Theodore Johnsen); Skiing Literature by Gary Schwartz;Birth of a Division by George Earle, Winter Sports by Norman Dibelius, Hill Echoes by Erling Omland, Ski Fever by Warren Miller
Videos: Tales of the Mountain by Walter Schoenknecht, Winter Wonderland, Michigan skiing, Fire on the Mountain, George and Beth Gage
Finish Line: Christian Pravda by Nick Howe:
Spring/Summer 1996 Vol 8 #2
Cover Story: John Jay
Feature: Broken Ski: the Howard Head story
Response: Ted Heck, Jimmy Johnston, Michael Berry, Robert Rock, David Rothman, Roger Brown, Helmut Teichner, Sewall Williams, Edwin Lang on Stowe history, Dick Kohnsamm on Timberline on Mt. Hood, reprise of earliest U.S. chairlifts
Editorial: History to the Rescue—the small rope tow ski areas breed skiers
Franzl – biography- Franz Gabl biogaphy, story file 118, 1948 Olympics
I.S.H.A. Fifth Annual Gathering at Stowe, Vermont; Sandy Heath, Vintage Visions Fashion Show; screening of Fire on the Mountain
I.S.H.A. Ullr Awards: Ullrs to Allen Adler for New England and Thereabouts; Otto Lang for Bird of Passage; Glenn Parkinson for First Tracks; Dick Durrance for Man on the Medal; Ullr Award to George and Beth Gage for the documentary Fire on the Mountain
I.S.H.A. Lifetime Achievement Awards: Roland Palmedo and John Fry in Ski Journalism
Tips and Tales: Snowboarding takes over; Claudette Colbert obit; Less Otten and Conglomeration; Humiliating Dilbert; Pulling Wires in the Ski Troops; Helping Stem the lawsuit tide; Heavenly Trail map; Wnite Pine Ski Area; Cross Country in the Park; Salute to Steve Knowlton; famous Ski Dek
Fall 1996 Vol 8 #3
Cover Story: Otto Schniebs
Schneibs [common misspellng], instructor, Dartmouth, Lake Placid
Barney McLean bio: The Nice Guy Who Finished First, Hot Sulphur Springs, 1948 Olympics
Response: Erling Omland, Don Traynor,Wolfgang Lert, Martha Head John Hitchcock, Minot Dole, Sewall Williams, Ben Rinaldo, Debbie Bankhart, Dave Rowan
Editorial: To Rescue History: Errors in ski history published in ski magazine
Tips and Tales: Ski Trooper Mermorial and Don Traynor, U.S. Hall of Fame: Junior Boundous, Jimmy Johnson, Dave Rowan; the Broken Bone Club, Gretchen Besser
Bookshelf: The Aspen Story by Mary Hayes, Gretchen's Gold by Luanne Pfeifer, The Games of '36 by Stan Cohen, See Naples and Die by Robert Ellis
Finish Line: Hans Hagemeister by Wolfgang Lert
First Issue 1997 Vol 9 # 1
Cover Story: Anderl Molterer the Blitz from Kitz part I by Nick Howe
I.S.H.A. History: An I.S.H.A. timeline
Haug, Haugen, first Olympic medal by John Auran; the myth that Anders Haugen was officially given Thorleif Haug's bronze medal in the Special Jumpin the 1924 Olympics
The Meister Cup: Mt. Cranmore, New England Ski Museum, Hannes Schneider, Andy Mead, Bogner Vintage Visions: Fashion Show by Sandy Heath
Humor: The Beginner's Guide to Skiing
I.S.H.A. Sixth Annual Gathering at Aspen, Colorado
I.S.H.A. Ullr Awards: Gretchen Besser for National Ski Patrol, Samaritans of the Snow; Luanne Pfeifer, Gretchen's Gold; Mary Eschbaugh Hayes, The Story of Aspen
I.S.H.A. Lifetime Achievement Award: John Jay in Ski Journalism
Response: Gretchen Fraser, first medalist, Luanne Pfeifer; Franz Gabl, Gary Schwartz. Paul McMorris on small areas; Don Traynor on his 10th Mountain scout; Phil Clark on Lnton Ski, George Lyons on old techniques, Ekkehart Ulmrich on Perry Oliver Smith; Rigomar Thurmer on fact finding; Sewall Willaims on Dured Townsend; Dick Movitz on Barney McLean; Nathan Turfs on Yale ski team in the 1947-48 championship; Betty Wbitney on Schniebs and Sise; Rom Rogers; Jim Ellertson on 1950s racing; Reimar Frank on Florian Haemmerle; Erling Omland on 1947 preOlympic racing, Been There, Done That
Editorial: Building a ski history record
Tips and Tales: Howelsen lift in Ski Area Management; Betty Woolsey in the 1936 Olympics; Dick Barrymore gets the Jerry; Arnold Schwartzenegger ; Susie Wirth, the Little Skier's Big Day; new publishing schedule; 1997 list of subscribers, I.S.H.A. memebers
Second Issue 1997 Volume 9 #2
Cover Story: Skiing Comes to Aspen: Visonaries and Teachers—by Mary Hayes; Friedl Pfeifer; Jerome Hotel, Aspen Crud, Andre Roch., Percy Rideout, John Litchfield, Georgette Thioliere, first Aspen single chair in 1947, Herbert Bayer, Leonards Woods, Chick Webb, Diock Wright, Andy Ransom, Marshall Fitzgerald, Lib Fitzgerald, Walter Haug, Curt Chase, Fred Iselin, Bill Janns
Response: John Auran on Molterer's Revenge' Erling Omland on a visit to the Holmenkollen Ski Museum; Wolfgang Lert on a racer's point of view; Allen Adler on Susie Wirth and Little Skier's Big Day; Judy Gray, praise; Gus Raaum on Birger Ruud; Margaret McLean on Barney McLean, Karl Molitor
1997 Annual Giving: Ullr and Skade illustration
Licia Beekley, in memoriam
Editorial: Why Ski History?
Walter Amstutz by Mason Beekley; Amstutz Spring
Tips and Tales: Burt Bidwell and 10th Mountain statue; 10th folk at Aspen's 50th: Bob Parker, Whip Jones; In the Gripe of the Olympics, environmental objections; New York funk and ski fashion; Aspen Hall of Fame adds Knowlton; Glenn Parkinson becomes president of New England Ski Museum; Conglomeration with George Gillett, holdings of Vail, Booth Creek, Intrawest, Boyne, American Skiing Company and Powder Corp; 1997 Ski Hall of Fame roster: Obermeyer, Golden, Judson, Lund; Pioneer ski teachers at Hanover; 10th Veterans Erling Omland, Sewall Williams, William Wright
The Blitz From Kitz—Anderl Molterer: Part II by Nick Howe
Obit of Alf Engen: One of a Kind by Allen Adler; jumping record, first pro circuit, Iron Mountain, Alta deep powder, 1948 Olympic team coach
The World of American Ski Museums: a column by Glenn Parkinson; New England Ski Museum, Colorado Ski Museum; Western Skisport Museum; U.S. National Ski Hall of Fame and Museum; Alf Engen Ski Museum; Utah Ski Archives; Vermont Ski Museum; Grand Country Historical Society; Sun Valley Ski Museum; Beekley International Collection of Ski Art and Literature; Schwartz Historical Collection of Sking; Parkinsion's Ski Museum
Third Issue 1997 Vol 9 #3
Cover Story: Tamara McKinney by Nick Howe Part I; the McKinney family; Bill Marolt, Bob Beattie
Response: Amstutz Springs, Doug Pfeiffer; praise, Beck; John Paul schuss, Frank Brown; Iron, Nick Howe; Wolfgang Lert; praise Tom Rogers; Rudi Mattesich, Sewall Williams; American films; Peter Picard; sidecuts, Rod Aller; nostalgia, Yosemite, Foeger, Prager, Libby Fitzgerald; small ski areas, Charles Skinner; small ski areas, big ski corps, conglomerates, Jerry Groswold; Aspen's first year, Elmar Baxter; early Aspen, Charles Peet; ski films, Frederick Martinson, Alf Engen, John Auran; Linton skis, Phil Clark, Joern Gerdts; praise, Rigo Thurmer; Meister Cup, Cal Coniff
Editorial: The Shrine of Skiing
Been There Done That by Erling Omland on Skiing with Stein
Tips and Tales: Big Tupper, Tupper Lake, prisons; Leadville, Colorado; Snowboard brakes; the ski train to Hunter; Fickle Olympic snows, Nagano; down the tubes, tubing;
The Time Machine: 1887 Fridtjof Nansen; Mathias Zdarsky; 1947 American ski annual , Lennie Woods; Invitation to Skiing, Fred Iselin and A.C. Spectorsky; 1972; Peter Miller, 30,000 Mile Ski Race, Palmer; How the Racers Ski, Warren Witherell; Wilderness Skiing, Lito Tejada-flores; Japanese Olympics at Sapporo, Yurko Kasaya, Morten Lund, Pleasures of Cross Country Skiing
Mountain Dreaming in California by Wolfgang Lert; Mountain Dreamers by Robert Frohlich, Jo Marillac, Babette Haueisen, Hannes Schroll, Charley Proctor, Don and Mary Tressider, Yosemite, Silver Belt,.Stan Tomlinson, Otto Steiner, Orland Bartholomew
A Most Dangerous Journey by Gene Rose; Orland Bartholomew, the Sierra, Mt. Whitney, Muir Trail
A History of the U.S. Ski Hall of Fame in Ishpeming by Allen Adler; Bill Berry, Red Carruthers, etc.
The Hall of Fame is Where It Should Be by Morten Lund, acceptance address, Class of 1997: Dave Judson, (Hooker Judson), Klaus Obermeyer, Diana Golden, 1996: Junior Bounous
The First Dual Slalom Duel by Chris Lizza, June Lake, California; Slim Maberry
I.S.H.A. Bulletin: executive committee meeting, Wolfgang Lert on editorial board
1998 I.S.H.A. Gathering Annoucement: Plump Jacks, Squaw Valley
First Issue 1998 Vol 10 #1
Cover Story: Roots of an Olympic Sport: Freestyle by Morten Lund and Peter Miller
Response: Down Ski Memory Lane, William Harris; New Is Not All Bad, Ted Lund; A Mountain Culture, Dolores LaChappelle; More Story Ideas, Albert Pierce; Dissent From Olympus, Bill Berry; An Olympic Memoir, John Jay; A Unique, Forgotten "Ski School" of the 1930′s, Bob Parker; Intimate Revelations, Barbara Wrenn; Support Skiing, Not Jailing, John Auran; Getting History Straight, Nick Howe; Filling in the California Ski History Record, Gene Rose; Errors in "Dreamers," Chris Lizza; Reaction on the Haug-Haugen Medal Confusion, Alan Baker; Corrections on Colorado, Bill Mason; Another Tale of Amstutz, Steve Knowlton
Editorial: A Question of Calculation: Lethal Accidents
Tips and Tales: The President meets ski business; Steve Knowlton meets Arnold Schwarzenegger; the giant dwarf Mammoth earthquake; deer hunting on skis
Tamara McKinney Part II: by Nick Howe
Stein Eriksen's Birthday Party by Morten Lund; Deer Valley, Park City, Utah
The US Ski Team 1981-1984: Four Incredible Years: Phil and Steve Mahre, Tamara McKinney, Debby Armstrong, Bill Johnson, Christin Cooper
Second Issue 1998 Vol 10 #2
Cover Story: Winston Pote Pioneer Photographer by Tom Eastman
Response: A Fall Guy's Correction, Steve Knowlton; Is That John or Fergie? Eric Stiegemeier; Not John, It's Fergie, Airborne Eddie; Wong Weighs In, Wayne Wong; A Medal Mix-Up, Allen Adler; A Lifetime in the Sport, LaVern O. Trepp; A Picture Mix-Up, Suzy Harris Rytting; A King's Mountain Kid, Alan Baker; Kudos for the Hall Story, Burton H. Boyum; Creative Contribution, Laura Mulcrevy; All About Ancient Skiers, Irv Pratt; Reporting on an Error and an Early Lift, Kirby Gilbert; Back in the Saddle at Obergurgl, Bill Stark
Editorial: OK, What Are We Doing Here?
Sayonara, Sapporo by John Henry Auran
Tamara: Reel Three by Morten Lund
Tamara Part III: 1985 A Fall From Grace by Nick Howe
The Big Bear Sling Lift by Doug Pfeiffer
Seventh and Best Annual I.S.H.A. Gathering: Plump Jacks, Squaw Valley
The 1998 I.S.H.A. Lifetime Achievement Awards: Bill Tanler in Ski Journalism and Roger Brown in Ski Film-making
The 1998 I.S.H.A. Ullr Awards: Robert Frohlich for Mountain Dreamers, Louis Dawson for Wild Snow
The 1998 Skade Awards: Joy Lucas for It Started in the Mountains, Franz Gabl for Franzl, Jean Arthur for Hell Roaring
Third Issue 1998 Vol 10 #3
Cover Story: Forgotten Photographer Helene Fischer
Response: What Did It Say? Carol Price; Snowboard-Ski Accidents, Will Lund; Brookie Heard From, Brooks Dodge; A Franconia Ski Family, Mrs. L.C. Ahlgren; On Films, Museums and McKinneys, Alan Mundt; Remembering Goon Skis, Peter Miller; Searching for Peppi, Helmut Teichner; Let's Hear It for Clif, Marty Keller; Nice Sign, Needs Work, Sewall Williams; Missing Diversity, Jim Ellertson; A Dartmouth Racer, Bill Chapin; Norse History Specialist Corrects Heritage, Roger Olson; Early Skier at Sky Tavern, Anna Schmidt Parker; Haug and Haugen: Explaining it Again- Evelyn J. Valente- Heikkila, Henry J. Pflieger, William Banks Berry; 10th Mountain Historian Needs Information, W. Michel Myers; Skiing in the Golden Age, John C. Calhoun; A Sun Valley Idol Ages, Libby Fitzgerald; A Swiss Ambassador to American Skiing, Rich Nelson; New Addition Added to the Beekley Collection, Allen Adler; Hail and Farewell to Good Old Schimmerldorf! David Binger; A Wiard Party, Barbara Wiard; Clif Taylor Speaks, Clif Taylor; What About Ludic? David Rowan; The Adventures of Wolfie, Wolfgang Lert; Correction on Sapporo, Gus Raaum; Looking for 10th Mtn. Tapes, Roger Dickensen
Editorial: Errare Humanum Est
Roots of an Olympic Sport: Freestyle- Part II Freestyle Comes of Age by Morten Lund and Peter Miller
Tips and Tales: The Old Headwall, The 1960 Jay Olympics Video, An Apple for the Teachers (Pfeiffer, Charette, Wheeler, McConkey), Laila Schou-Nilsen, Four Worthy Skiers Enter Hall of Fame in 1998 (John Woodward, Anna McIntyre, William Tanler, Warren Witherell), Golden Fliers, An Aspen-Beekley Collection Connection
The Seer of Skiing- Lloyd Lambert by Cheryl Thomas
[70+ ski club, seventy plus]
First of All: Otto Lang and His Pioneer Steel Pole
Fourth Issue 1998 Vol 10 #4
Cover Story: The Snow Train's A-Comin' Snow Trains and the Growing World of Ski Posters by W. Mason Beekley, The Train Only Stops Here Once by Barbara Wrenn [ski trains],
A Gallery of Snow Train Art
Response: Pote the Friend, Sewall Williams; Pote the Film Maker, Rick Moulton; More on Peppi, Helmut Teichner; Wrong Wall Cited, Nick Howe; A Tale of Traveling Gloves, Barbara Wrenn; Ski Championships, David Rowan; California's First Overhead Cable Lift, 1936, Chris Lizza; Revised Closing Date, Paul B. McMorris; John Glenn, Astronaut, Meets Jules Eberhard, Jules Eberhard; John Fry: Clif Taylor, Karl Pfeiffer and the True Story of GLM, John Fry; About Barry Corbet, Roger Brown; Wrong Blatt, Boots Blatt; Wrong Declension, Frederick K. Martinson; The Scooter Writes, Scooter Lacouter; The Goon Ski Lives! Vintage Skiing Thrives! Cal Conniff; Skiers Identified, Curt Chase; Old Friends Found, Dick Wilson; Old Films Archived, Burton Boyum; Senior Skiing Honored, Dick Lambert; Babette's Feast, Babette Haueisen; Hall of Fame Class, Allen Adler
Editorial: The Ski Cartoons of Charles Addams
The Strange and Wonderful Postage Stamps of Skiing by Morten Lund
Long thongs and short snorts: Tales from mid-century by H. Seawall Williams
First Issue 1999 Vol 11 #1
Cover Story: Mont Tremblant: The Enduring Legacy by Dorothy Crossley and Morten Lund
Response: The First Ski Club, Paul McMorris; More On Snow Valley, Nicholas Hock; A New Reader, Edith Luray; Likes the Journal, Chuck Quinn; Otto's Steel Pole, Bob Weaver; The Clif Taylor Version: The True History of GLM, Clif Taylor; Luanne Pfeifer: A Ski Stamp for Gretchen, Luanne Pfeifer; Stamps and Shorties, Elizabeth Hussie; James Riddell Writes, James Riddell; First Day Covers, John Allen; History in Stamps, John Auran; Posters and Menus, Wolfgang Lert; Pine Boards, Yo Ho? Jon Lund; New Boot Concept Breakthrough by Ski Sage, Cal Conniff; The Ski Pentathlon? Nick Howe; On the Rocks at Pico, Peter Seibert; Lew Witcher, Karl, El and Songs After Skiing, Erling Omland; Slalom Anyone? Tom Jacobs; Safer Silver Skis, Kirby Gilbert; Fellow Sufferer, Jack Moe; Boston Still a Ski Hive, Dave Arnold; Wool, Not Rails, David Rowan;
Editorial: Big Step Forward for the Hall of Fame
Long thongs and short tales: The day the timing clocks went crazy by Matt Broze
Second Issue 1999 Vol 11 #2
Cover Story: Bill Klein in Donner Pass by Wolfgang Lert and Morten Lund
Response: Joe Ryan's Daughter, Lillie R. DeBevoise; Growing Up GLM, Will Lund; Skiing, a Gift for Life, Karen Fulco; Sig and Otto and Benno, Nicholas Howe; Joanne Hewson: Skiing with Franzl and Ernie; Lucile Wheeler on Gray Rocks, Lucile Wheeler; Frankie O'Rear Writes Again, Frankie O'Rear; How GLM Went Abroad, Helmut Teichner; Good Old GLM, George Riordan; The Oldest Continuous Ski Club, Murren, and Other Matters, Allen Adler; Skiing's Ten Commandments, Gene Rose; Correction Noted, John Fry; The One and Only Ulla Lodge, Sewall Williams; The Good Old Dumbsprung, Lou Lockwood; The Good Old Toadstabber, Joe Powers; Of Pine Skis and Double Poles, Roger Olson, Ski Trains and Snowflake Bentley, Duncan C. Blanchard; How Wolfie Beat Jack Rabbit, Wolfgang Lert; Cooking with Wolfie, Luanne Pfeifer; Gratitude in the Right Way, Reimar F. Frank; Fellow Publisher Weighs in With Praise, Jack Moe; The Good Life, Lex H. Kunau; One More Member, John Jay
My Life with the Continuously Circulating Wire Rope by Max Dercum
An Editorial Postscript by Morten Lund- Early Lifts
The Compleat Skier – Excerpt from NY Times
The 1999 I.S.H.A. Eighth Annual Gathering: Mont Tremblant
International Skiing History Association Awards Honor Roll 1993-1999
Mont Tremblant Revisited by Allen Adler
The 1999 I.S.H.A. Lifetime Achievement Awards: Doug Pfeiffer and David Rowan in Ski Journalism
The 1999 I.S.H.A. Ullr Awards: Frankie O'Rear for The Aspen Story, The Mont Tremblant Story, Chateau Bon Vivant; Wendolyn Holland for Sun Valley, An Extraordinary History
The 1999 I.S.H.A. Skade Awards: Louise Arbique and Marc Blais for Mont Tremblant: Following the Dream, and Danielle Soucy for La Valle de la Diable
Long thongs and short tales: The North Creek Mountain Horror
Third Issue 1999 Vol 11 #3
Cover Story: How Fast Can You Go? by Peter Miller, Speed Skiing
Response: Peter Picard on Early Donner Days (and Georg Gartner), Peter Picard; Joe Ryan Jr. Writes; Reproducing Ernie's Picture, Tricia Finley; McCulloch on Water, Ernest Bosselman; McCulluch at Aspen, Jim Ellertson; Catskill Pioneer Praises Tremblant, Blanche H. Davenport; A Different Slant on Jack Rabbit, John Allen; Letter From Benno, 1950; Last Tango on the Sundeck, Ruth Whyte; A History of One Pole Versus Two, John Allen; Harry Leonard and the First-Ever Ski Shows; John Hitchcock Records the First-Ever Man-made Snow
Steve McKinney 1953-1990 by Dick Dorworth
Foster Place by Peter Miller
Ned Gillette 1945-1990 by Peter Miller
The Mansfield Patrol by Brian Lindner and Morten Lund
Moriarty and His Mother's Hat by Peter Miller
Long thongs and short tales: The Virtual Run of the Resolute Reporter by Morten Lund
Fourth Issue 1999 Vol 11 #4
Cover Story: Skiing History in Ski Cartooning by Morten Lund
Response: Rodegard, praise; Bernard, Max and the CCWR; Picard, bio; Omland, Interservice races of 1944; Robert Rock, It Was 1942 in Stowe; Fred Pearce, sketches of Aspen, poem; Whitney, the Whitney lift; Lert, the first (Zdarsky) slalom; Gilbert, transition to two poles; Lambert, footnote on Polar skiing; Olson, Carl Howelson; Stark, Hans Falkner in Obergurgl; Shawn Emery, Utah ski film; editor's critique of bindngs, brakes, powder, technique, avalanche science; Gilbert, Utah ski film; glamor in spor; Chase, PSIA founders
Preview of Ninth Annual Gathering at Banff Springs Hotel
Long thongs and short tales: Notes from Tuckerman Ravine by Kim Massie
First Issue 2000 Vol 12 #1
Cover Story: An American Skier for All Seasons: Charley Proctor
Response: Rowan, cartoon cover; Steve Lathrop, kids safety devices; Paul Hauk, Verald Easterly, Monty Atwater at Squaw; Jimmie Nunn, Squaw Patrol, 1960; Wolfgang lert, Cartoonist Mumelter; readers' selection of ski cartoons; Sewall Williams Camp Hale cartoons, stealing in ski shop; Sanford, western ski history group; Hirvonen, Finnish celebration; Chessman, help for book Mt. Bachelor— Bill Healy's Dream;Paul McMorris, first snow train, eastern ski clubs and early patrol; John Allen, glamor, Zdarsky slalom; Rowan poem on manmade snow; Cutler, ski poems; Dave Braun, pine skis; Frankie O'Rear, Mt. Tremblant sketches by Steig; Alan Crane, Gorilla Turn
Skiers' Bookshelf: Sun Valley, An Extraordinary History by Wendolyn Holland, reviewed by Morten Lund; Yosemite: Magic Winters by Gene Rose and Sugar Bowl 60 Years by Robert Frohlich, reviewed by Morten Lund and Chris Lizza; For the Love of Skiing by Alan Engen, reviwed by Gretchen Besser; A Short History of Skiing in Turckerman Ravine by Jeff Leich, reviewed by John Auran
Long thongs and short tales: Decline and Fall of the Wild T-bar by Morten Lund
Second Issue 2000 Vol 12 #2
Cover Story: The French Connection: to the First Winter Olympics 1924 by John Allen
Response: David Welz, young and eager; Elisabeth Hussey, news of Sir Arnold; John Connell, kudos to short skis; Jeff Leich, overlooked books; Franz Gabl, Franzl II; Jan Holland, cartoons; Kirby Gilbert, response to Sun Valley book review; Sewall Williams, poem for Minnie Dole; Cal Conniff, video history of thunderbolt; Will Lund, Sugarloaf; Dolores La Chapelle, Utah ski film; Bill Lash, first ski lift
The I.S.H.A. Ninth Annual Gathering: Banff in Canada's Rockies
The 2000 I.S.H.A. Lifetime Achievement Awards: Morten Lund in ski journalism and William Oscar Johnson in ski journalism
The 2000 I.S.H.A. Ullr Awards: Gene Rose, Yosemite: Magic Winters; Stan Cohen, The Games of '36 and Downhill Skiing; Alan Engen,For the Love of Skiing: A Visual History
The 2000 I.S.H.A. Skade Award: Rodney Touche, Brown Cows, Sacred Cows
Banff Memoir: Long Ago But Not Far Away- Part 1 by Doug Pfeiifer Banff in the Candaian Rockies
Long thongs and short tales: Back When Boots Lasted Awhile- by Morten Lund
Third Issue 2000 Vol 12 #3
Cover Story: The Mahre Miracle by Morten Lund – Phil and Steve Mahre
Response: Mary Proctor, from the late M.P.; Peggy Dean, a daughter remembers; John C.Proctor, a brother appplauds; John Allen, thinking of Charley; Peggy Lucas, history writer comments; Peggy Austin, error in Proctor story; Pete Seibert, father knew Charley; John Hitchcock, thinking of Wendy; Chuck Roberts, thinking of writing; George Twardokens, in praise of Universal Ski Technique book; Doug Pfeiffer, cartoons; Bob Soden, Foeger book; Nelson Bennett, Hall of Fame deserves support; William Levin, Mayor of Alta, Utah, renewing subscription; Jimmie Nunn, Squaw stamp; Alan Crane, praise; Sewall Williams, red and white pants; Kim Massie, fiendish threat to I.S.H.A.; Glenn Parkinson, thrills and spills; Sears Winslow, newspaper clip "old man winter"; Bill Stark, Midwest ski lift
Charley Proctor-The Young Renaissance Man by Morten Lund and Eddy Ancinas
Banff Memoir: Part II by Doug Pfeiffer Banff in the Canadian Rockies
Humor Classic: Intro. to A Winter Sport Book, with illustrations
Preview of Tenth Annual I.S.H.A. Gathering at Sun Valley: information and reservations
Long thongs and short tales: Back When Men Were Men…by Morten Lund
Fourth Issue 2000 Vol 12 #4
Cover Story: The Humor Boom of the 1960′s by Mort Lund
Response: MM Jay, on the late John Jay; AllenAdler, remembering Steve and Phil Mahre; Charles Davis, praise from Maine; Rigomar Thurmer, on the French connection; Ben Rinaldo, B.R. calls it a day; Allen Adler, pioneer kinships and passion; Helmut Teichner, praise from Chicago; Franz Gabl, pictures of Arlberg Kandahar's past; Paul McMorris, first chairs/snowmaking; Joanne Hewson Rees, back and ready to ski; Pat Crosby, way out in Aspen; Jim Schaefer, New York ski pioneer family
Die Tiefdecke Technick by Rink Earle- absurdity of emphasizing technique and fashion
Borscht, Bagels and Bindings by Michael Strauss- skiing in Catskills
Freeze Now, Play Later by Burt Sims- emergencies
The Conquest of Thrombosis Slope by Philip Rankin- skiing in Scotland
Tea for Du by George Cochran- bachelor's guide to tea dance
Everybody Out of the Car Pool by Burt Sims- characters
An Aye for an Aye by Burt Sims- ski clubs
Then Was Then by Rink Earle- the good old days of skiing
My Room was a Bath by Don Page- tight housing
Long thongs and short tales: The Remembrance of Suits Past by Barbara Wrenn
First Issue 2001 Vol 13 #1
Cover Story: The Passion of Florian Haemmerle
Response: John Jay Tribute, Mason Beekley, Otto Lang, Roger Brown, Warren Miller, Erling Omland, David Barrell, John Hitchcock (Williamstown Advocate obit), Elaine Woo (Los Angeles Times obit)
Alan Baker, Sandy Heath, maintaining a sense of hunor; Terry Palmerl, sustaining a sense of history; John Hitchcock, cool coment; Wayne Frerichs,quersprung question; Cal Conniff, worthy hall offame candidate; Pres Smith, new hall of famer; Paul McMorris, first ski patrol inquiry; Bob Bogner, recalling pink snow; Gina Sheldrake, wedel or wedeln; Rich Nelson, teaching years of Martin Fopp; Sewall Williams, Vermont Ski Museum trustee; Vi White, career of Carson White; Walter Kangas, oldest continuous club name
The Rise and Fall of an Icon,the Lodge at Smuggler's Notch by Abby Rand; Stowe, Neil Starr, Sepp Ruschp, Roland Palmedo
A Humor Class: O! Pioneer! by Abby Rand
Skiers' Bookshelf: Vail, Triumph of a Dream by Peter Seibert and The Inventors of Vail by Dick Hauserman, review by Allen Best; Skiing Legends, The Laurentian Lodge Club by Neil and Catharine McKenty, review by Doug Pfeiffer; Around the World In Ninety Years by Otto Lang, review by Wolfgang Lert
1950 Was a Very Good Year by Bill Lash: equipment, instruction, resorts
Longthongs and short tales: Skiing and the Single Girl by Morten Lund
Second Issue 2001, Vol 13 #2
Tenth Anniversary of this magazine: a review including detailed history of founding
Third Issue 2001, September, Vol 13 #3
Cover: Bob Lange with the 1972 Lange trophy: the Lange trophy was a premier professional ski racing event back in the days when former U.S. Ski Coach revived the dormant circuit in 1970. The $50.000 Lange Trophy, which was held for the first three years in Vail, was by far its most prestigious trophy, and the largest purse as a typically magnificent gesture by Bob Lange
A Mason Beekley Tribute: Mason Beekley, ISHA's Founding President and constant benefactor during its first decade of existence died on August 20, occasioning an outpouring of letters to the journal from Associates, family and friends. The letters are gathered here in tribute, including letters from his sister Frannie, his four daughters, Liza-Lee, Sayre, Lauri and Francie, and from John Fry, the acting president of ISHA, and members of the ISGHA board of directors, and the Heritage editorial board.
Readers' Response: The lead letter from a perplexed reader asks if this the future of the sport, referring to two pictures submitted with the letter taken from Vanity Fair, one of extreme skier Glenn Plake with his two-foot high hairdo, and another of two snowboard pioneers— Sherman Poppen, inventor of the Snurfer, and Jake Burton Carpenter, designer of the breakthrough Burton Board. On the grounds that Vanity Fair celebrates the falling of Aspen into the arms of snowboarding forwarding the notion that snowboarders and extreme skiers are now ruling the roost.
Other letters: John Fry, Internationalism vs. Americanism on the lack of success ISHA has had abroad; John Clendenin: Ski Dek is Alive and Well, on the use of the Ski Dek as a learning aid for the Aspen Ski School; Allen Adler: A Ski Patrol is A Ski Patrol Is a Ski Patrol, on the very different modes in which pioneer ski patrols took on their first duties; Wolfie Lert, The So-So Patrol, on an early hairy ride down the mountain as tail gunner on a patrol toboggan carrying an injured skier.
Further letters—Barry ZeVann: A Man Named Zdarsky, on his trip to Lilienfeld, home of the stem turn and its inventor, Mathias Zdarsky; J. Vernon Lamb: an aluminum ski pole inventor in early Lake Placid days; Wolfgang Lert: A Girl Named Katy, submitting an early picture of Bogner stretch pants in action, displayed by U.S. Team Member Katy Rudolph; Kirby Gilbert: A Coach Named Wolfie, submitting a clipping of Wolfgang Lert's early career as a UCLA ski coach;
Other letters—Luanne Pfeifer corrects the sequence of her book, Gretchen's Gold and Dick Durrance's Man on a Medal; an Illusionary Cup, showing two graphics, one photo with a chairlift rider waving, the other a coffee ad with a cup inserted in the rider's hand;
On the final page: a series of letters praising the ISHA website, and Joyce Harringtton's memento of her father's career in organized skiing.
Cover Story: The Empire That Exploded: Bob Lange and the Plastic Boot—original research by the Editor who authored the piece, about his discovery that Bob Lange more or less faked his way through four years when he was first designing the plastic boot. His engineering was inspired but the manufacturing did not get underway until five years after he had first had reps scouring the field for orders. The name of the boot got out alright, but not the boots.
In 1965, Success came in a rush, propelled by skiers riding to victory on Lange boots, and Bob made up for lost time, building a ski, ski boot and skate empire that expanded at an astounding rate. Then came the fatal technical flow in Lange-flo, the liner that made the boot bearable. It broke through the lining and over 100,000 boots had to be replaced. This sent Lange Co. into a financial tailspin from which it never recovered, and the empire disintegrated, and the future evaporated.
Movers and Shakers: Where They Are Now: A new feature, in this case rounding up the "Lange Alumni," fellow workers with Bob Lange in his ascent to the top, namely Morrie Shepard, Nick Hock, Peter Kennedy, Dave Jacobs and Ian Ferguson.
The Skiers' Bookshelf: the lead review by ISHA president John Fry gives top marks to The Trail Breakers, a story of the pioneer Red Birds of Montreal, a ski club of the alumni of McGill University ski teams. The Red Birds were, by a year, the first downhill ski club in North America. They were the first on the continent to hold an official Kandahar. As a lifetime Red Bird himself, Fry notes that old Red Birds penetrated the sport in Canada and the U.S. in their day.
The Story of Aspen, reviewed by the Editor, is a re-issue somewhat enlarged of Mary Hayes' earlier boo, of the same name, who has added a touching thumbnail history of the social underpinnings of the town.
Ski and Snow Country, the Editor says, is a book of stunning black and white photographs of the late great mountain photographer Ray Atkeson, annotated by pioneer ski cinematographer Warren Miller.
The Big Jump at Dartmouth: a memoir by early Dartmouth ski team member Dave Bradley, a noted American author. He writes of the life and times of the big jump at Dartmouth—once the biggest in the East&Mac226;making the case for college jumping though it was dropped long ago now. Bradley takes the reader on the psychological thriller that is a jump on a big hill. He leaves every reader, even one who have never jumped, an understanding why men hurl themselves into the void in an ultimate test of nerve.
The American Museums—The First U.S. Ski Congress: the backstory of the coming of a great history writers' gathering in the United States by Academic ski historian John Allen, chairman of the academic committee of the congress and Skiing Heritage's columnist. The initiative for the event was taken by the Editor. John Allen took charge from there with much help from skisport promoter Bernie Weichsel, who had the ear of the proper parties at Park City, where the Congress will be held right before the Utah Olympics in February 2002.
Three outstanding European historians are scheduled to present papers: Max Triet, Director of the Swiss Sports Museum at Basl, Dr. Bernard Morgen, Professor of American Studies at George Washington University, author of the recent Snow in America, and Dr. Matti Goksøyr, professor at the Norwegian Sports University in Oslo. Some forty papers will be given—and be bound in a book that will be published by ISHA.
Remembering—a new feature, looking back at the lives of notable skiers who, as of recent date, are no longer with us: Skeeter Werner, onetime U.S. team member in the 1950s (along with her famous brother Buddy Werner). Sverre Engen, of the celebrated Engen brothers, jumpers all—two of them, Sverre and Alf, took up residence in the Utah mountains outside Salt Lake City to make this area (the next Olympic venue) the U.S. hotbed of jumping, powder skiing and avalanche control. Hal Codding, a superb racer and instructor who drifted west from Woodstock, Vermont, to settle at Reno, Nevada, and open a notable ski shop, became, as writer Dick Dorworth records, his mentor and hero, the man around whom the Reno ski world centered. Kay Reed, wife and indispensable partner of Carroll Reed, who founded the first official Arlberg Ski School in the East and the first elite ski shop in the country, a branch of Saks Fifth Avenue at North Conway, New Hampshire. Later, the couple's Carroll Reed Shops became an outstanding chain for skiwear and outerwear, and the name Carroll Reed an emblem of quality and distinction.
Longthongs and Short Tales: What Men Are Good For: another Abby Rand classic humor column, this one on the battle of the sexes on near the slopes circa 1960.
Fourth Issue 2001 (December) Vol 13 #4
Cover: AGerman poster for the 1936 Olympic Games at Garmisch-Partenkirschen; The artist cleverly served his masters and avoided controversy over the athlete's salute on the poster. The Olympic salute was with the arm stretched to the side, palm down, while German salute, mandated after the Nazi Party came to power, was with the arm high and in front and palm facing forward The artist split the difference in arm position and kept the hand out of the picture, impossible to determine whether it was facing front or facing down.
The President's Letter: John Fry, the new ISHA president, announces the joining of two efforts: Skiing Heritage is to become the official publication of the U.S. National Ski Hall of Fame and Museum, of Ishpeming,, Michigan as well as the official publication of ISHA. The letter also announces ISHA's participation in the International Ski History Congress at Park City, Utah three weeks before the 2002 Olympic Games are held there.
Readers' Response: Skiing Heritage's letters column is headed by a portrait of the founding president, the late Mason Beekley, taken from the cover of a memorial service program given out at the event, held October 14 at his home in New Hartford. There are three pages of letters recalling memories of Mason; the first is by John Moore of the Aspen Historical Society. The others were signed by Alan Engen, of the Alf Engen Ski Museum; Bob Fisher, an old acquaintance, and Sandra Heath of the New England Ski Museum. The next few pages are devoted to those responding to the article on the late Bob Lange, inventor of the plastic ski boot, in the Third Issue 2001. There are letters from Lange's wife Vidie, from David Luennsman, who was his first employee in the boot business; Peter Kennedy who was an ally in marketing Lange boots; Dave Jacobs, a board member at Lange boots; by John Auran, onetime editor at Skiing, who disputed some of the statements in the article; Nick Hock, onetime sales manager for Lange boots, Will Lund, who wore Lange's first boot with the inner flo material that broke down, Allen Adler, USSA Historian and Hall of Fame board member, who writes he was unable to wear Langes when they came out; Bunny Bass, a pioneer U. S. bootmaker Other letters on a variety of subjects came from Cindy Murin, daughter of Hall Codding whose obituary ran in the previous issue; Michael Brady, ISHA's man in Oslo, on the various spellings of akvavitt, Norway's national drink; Paul McMorris notes that New Hampshire is claiming Black Mountain as the oldest ski area in the state in spite of the fact that two other New Hampshire resorts had lifts before Black Mountain and two had lifts at the same time.
Feature: The Historic First Four Games, 1924-36 The introduction notes that the early Olympics were nothing like the modern spectacles and that before a Winter Olympics could be held, there had to be facilities for ski racing and ski jumping as a start. And the resistance of the Scandinavian countries to international ski events held at resorts had to be overcome.
The first section, Birth Pangs of the Olympics tells how France became the first nation with resort facilities for jumping and touring, that the first Olympics was held in Chamonix only after Chamonix had hosted a series of national and international ski events. The second section describes the First Winter Olympics at Chamonix, and the fact that it was not at the time considered an official winter Olympics. The Norwegians took eleven of the twelve medals offered, all in jumping and cross country, having gotten a hundred-year head start in the sport, having invented jumping competitions and cross country racing during the 1800s. There is a discussion of the later movement to transfer the bronze medal in the special jump to U.S. jumper Anders Haugen, who had been victim of a mathematical error in the scoring that gave the bronze to the Norwegian, Thorleif Haug. The third section describes the Second Winter Games, held at St. Moritz in 1928 after the Norwegians narrowly voted to join after feeling betrayed because the 1924 meet had been declared by the International Olympic Committee as the first official Winter Olympics after the meet was over. The American team was woefully unprepared with slapdash arrangements for transportation and uniforms. But they nevertheless Rolf Monson came in sixth in the jump and Charley Proctor 14th, as the sole native born American in the Olympics. The newly-founded sport of alpine skiing was excluded, but in the same year, the first popular international alpine combined meet was held at St. Anton, foretelling the end of the dominance at the Games of cross country and jumping. The fourth section is on the first-ever U.S. Winter Olympics, held at Lake Placid, New York, run essentially by the Lake Placid Club, which had been holding winter sports events for nearly a generation, notably the annual college circuit championships it had held since 1921. But it was still essentially a private club and only the modest number of contests were being held a series of contests well within the club's capacity to hold. The fifth section details the events of the Fourth Winter Olympics, held at Garmisch-Partenkirchen, Germany, in 1936. This was the first Winter Games in which international and national politics had a strong hand. Germany aimed to use the Games as a platform to advertise its progress under the banner of the Nazi Party and Adolph Hitler. The English speaking countries resisted to some extent. It was the first Games to have a huge opening ceremony. For the first time, the Americans had an outside chance of winning a medal in skiing. Our top contender, Dick Durrance , who had been raised in Garmisch, did not better than 10th in the combined, after a questionable official penalty. The combined medals were the only medals awarded in alpine skiing. The U.S. women's alpine team was the brainchild of Alice Kiaer, who raised the funds, picked the team, hired a coach and supervised the training. The best women's result was Betsy Woolsey's 19th. Norway's Birger Ruud was the hero of the Games, coming in first in the jumping and first in the downhill, the only Olympian ever to score in both Olympic nordic and alpine events.
Mover and Shaker: Gretl Uhl, famous in Aspen for her gourmet deli-on-the-mountain for a dozen years. Gretl was born in Garmisch, and emigrated to the U.S. with the help of Dick Durrance.
Classic Skis: Skis have a Soul Rigo Thurmer writes of his first skis, which he bought in 1924 from Sporthaus Schuster in Munich. He goes on to tell of the succession of skis that he owned, including the Splitkeins that he had to give to the German war effort in World War II, and a counterfeit pair of Dynamics he bought on the black market after the war that turned out to be pine rather than hickory.
Man on a White Charger: Ed Scott by Dick Dorworth. A longtime resident of Sun Valley, Dick Dorworth profiles the man who brought the modern aluminum ski pole into the world, a cantankerous, scrupulously honest citizen of Sun Valley whose contribution to the sport arose from his uncompromising search for the best in materials and construction.. Scott was also a leading activist in community affairs, among other things the most frequent and acerbic appearances in the local Ketchum newspaper letters columns.
Condo Mania by Paul Hochman. a brief and humorous description of the coming of the condominiums to the sport, triggered by visionary Sun Valley and Snowmass developer Bill Janns. A government appraiser is quoted as summing the condo up, "T-111 plywood, board and batten siding, electric heat, multi-colored shag carpeting and avocado trim."
Skiers' Bookshelf: First Tracks, a Century of Skiing in Utah by Alan Engen and Gregory Thompson, reviewed by Mike Korologos; a coffee table book with running text of the state whose early fascination with ski jumping and heavy support from Salt Lake citizens resulted in a ring of resorts in the Wasatch mountains including Alta and Park City, where the 2002 Olympics were held. Co-author Alan Engen is the son of Alf Engen, who as director of skiing came to personify the Alta ski school, the deep powder university for the nation's skiers. Midwest Skiing, A Glance Back by John Pontti and Kenneth Luostari. A pictorial history of the heartland where skiing was born, had its first national headquarters and hall of fame reviewed by John Allen, the most well-known ski historian in the U.S., who faults some of the book's priorities but enjoys the nostalgia. Snow In America by Bernard Mergen This is a different kind of ski history dealing with the social history of snow, the changing attitudes toward winter, and winter recreation and the part played by skiing n the changes. The author is a professor of American studies at George Washington University in D.C. Reviewed by the editor. The U.S. National Ski Hall of Fame and Museum by John Allen One of a series about the ski museums of this country by John Allen. The best-looking ski museum in the U.S. is also the oldest, thanks to a new building erected in 1992 in Ishpeming, Michigan's Upper Peninsula, replacing the former building erected in 1956. The library hold the records of the meetings to the National Ski Association, founded in the first years of the century as well as photographs of the more than four hundred members of the U.S. Ski Hall of Fame.
The Ski Hall of Fame, Class of 2001 Biographies of the most recently elected Honorable Members of the U.S. Ski Hall of Fame: Michael Strauss, ski journalist; Bill Kirschner, founder of K2 ski company; Pepi Stiegler, triple Olympic medalist, longtime director of skiing at Jackson Hole, Wyoming; Jim Curran, inventor of the chairlift; Dodie Post, U.S. Ski Team Member; Charles Gibson, one of skiing's top organization men
Remembering: Obits of Diana Golden, medallist in the Paraolympics; Paula Kann Valar, U.S. Ski Team member, and ski school director;Douglas Firth, founder of Canada's Ski Patrol.
Annual Gathering at Vail, April 1-7: Rundown of the coming 11th Annual get together of ISHA members
Longthongs and Short Tales: Amusing memoir by Abby Rand, on the differences between advertising in the magazines and reality at the resort.
First Issue 2002, March, Vol. 14 #1
The first issue with new graphics, designed by Fionn Reilly, Heritage's graphic designer.
Cover: Clif Taylor in the photograph used on the cover of his 1964 book Ski In a Day, written by Morten Lund, the editor of Skiing Heritage then a contributing editor of Ski and photographed by Kim Massie, an outstanding ski photographer at the time. This was the first book in which the concept of graduating from short short skis to longer and longer skis was proposed, in side by side sequence photos showing a similar turn on three-foot, four-foot and five-foot skis.
Letter From The President: History, A Way to Revive the Sport: President John Fry suggests that the ski industry use the history of the sport as a marketing tool. He also listed the ways in which ISHA supports the spread and preservation of ski history and referred to the support of the International Ski History Congress held in Park City in February by ISHA's undertaking to publish the papers delivered at the Congress.
Readers Respond: Kandahar Kapers on the origin of Kandahar as the name of the British Kandahar Challenge Cup; Remembering Greta Uhl: "the strudle lady" ran a mid-mountain Aspen restaurant for years; A letter about Alain Stump, the cover figure speed racer for the Third Issue 1999, saying he has a grandfather named Jacques who started the first independent Swiss ski school, The not so ancient Olympic flame turns out to be a concoction by Leni Riefestahl expressly acted out for her Olympiad film made at Hiltler's behest, contributed by Luanne Pfeifer; Norwegian memories by Erling Omland about childhood memories of the 1924 Olympic heroes, Thorleif Haug and Tullen Thams who won four golds and one bronze between them. From Iran to Utah, an Iranian alpine skier makes it to the 2002 Olympics, contributed by Kim Massie, Gluck in ungluck, by Peter Picard, about escaping by boat from the Germans via the trans-Siberian railroad and embarking at Vladivostock. "Are you still racing while other are racing?" was a Henke slogan referred to by Jimmy Davidson, in his thoughts on the vintage Henke ad for its buckle boots. Buchmayr's Querstprung, Heritage finds the famous picture of Siggi Buchmayr in a pole jump on the Tuckerman headwall. Ian Ferguson comments on the Lange story in his letter Wild Man Lange. Another memoir by 10th Mountain veteran Bob Carson on his life in skiing; triggered by the recollection that his kids went to school with Bob's in Boulder; A criticism of Lange boots by Robie Albouy recalled by Allen Mundt; Another letter on Lange by Bob Parker says that in the before-Lange era, there was lots of good skiing done on leather boots. The First North American Rope Tow, a letter from Peggy Johnson on the claims made on behalf of Moose Parquet to having built the first rope tow in North America, and countering claims by Betty Whitney to having seen a rope two in the Laurentians in 1928.
The Strange Long History of the Short Ski by Morten Lund. The lead story goes from his first assignment to cover Taylor back to the research he has done on the pre-Taylor history of the short ski, beginning with the five foot Zdarsky ski in Austria at the turn of the 1900s, and the first short short ski, which was the firngleiter, or spring snow ski of the mountaineering skiers, including one patented by Emo Henrich, the head of the Stratton Mountain ski school. Then the text covers the kurzki of the Kitzbuhel ski school in a program that began in the 1950s under Karl Kolller, after it had been explored by older Kitzbuhelers. The next short ski of note was the goon ski, invented by an Olympic figure skater Jimmy Madden, who designed it and used it around Mt. Cranmore in North Conway. Then enters the last and most influential short ski teacher, Clif Taykir if Brattleboro Vermont who with the aid of Ski Magazine started a movement that brought short ski director parallel teaching, known now as GLM or Graduated Length Method, to a dozen American resorts before it faded away, but its influence is still felt in the adoption of short "ski blades" for learning at a number of American ski school currently.
Technique and Teaching: Surviving Schrittbogen A memoir by Stu Campbell, longtime head of the Stowe Ski School and Ski Magazine technical editor on his days as a college racer in the turmoil of the "reverse revolution" of which schrittbogen was a part., a step turn that put racers in a reverse position.. The story goes on to say that the Kruckenhauser books exaggerated the racers' reverse position, and his description of wedel in the 1957 Austrian Ski Teaching Plan, translated into English in 1958, influential in rethinking American technique and teaching.
Ski Industry: Decline and Fall by Seth Masia. A story on the U.S. ski manufacturing industry showing how the early American ski factories making hickory skis were replaced in the U.S. by Howard Head and his successors making aluminum skis, and then by the fiberglass skis. And although there were a dozen American ski makers who had come on the scene since the beginning, by the 1980s, all the existing ski makers were in trouble partly from overproduction and partly from the effects of globalization which sent the factories to third world countries both in the U.S and in Europe. The last attempt at U.S. ski making was set in motion by the Volant company, launched by Bucky Kashiwa. But eventually, Volant folded too under the pressure of third world competition. Currently there are no skis mass-produced in the U.S., and the few manufacturers are all boutique operations, like Steve Denker's Evolution Skis in Salt Lake and former Head Ski chief designer John Howe's Claw ski made in Maine.
Classic Gear: Binding Revolution by Wolfgang Lert. An appreciation by veteran skier Wolfgang Lert of the revolutionary Huitfeldt binding invented in Norway in 1894, including the first-ever toe irons screwed to the ski itself, which set the concept later extended to a toe iron mortised directly through the ski. The binding was so sturdy that Amundsen chose it as the binding with which he became the first to ski to the North Pole. Combined with the Hoyer-Ellefsen lever heel strap buckle, its popularity lasted well through the 1920s and the principles of the toe iron fixed directly to the ski and lever tension for the heel strap was adapted by the most popular and universal binding in history, the Kandahar type binding in which the toe iron became a toe plate screwed directly to the top of the ski and the Ellefsen buckle became the front throw heel cable tensioning device.
Where Are They Now? by Seth Masia. Sketches of seven Vail pioneers. Earl Eaton, initial discoverer or the Vail terrain; Dick Hauserman, first permanent resident and first ski shop owner; Pete Seibert, the organizer of the first board and first Vail president; Bill Brown, the longtime mountain manager of Vail during its formative years; Dale and Renee Gorsuch, the owners of the second ski shop owners and currently the longest continuously operating merchant management in Vail;' Pepo Gramshammer, first innkeeper and restaurant owner, founder of Gasthof Grammshammer; Bob Parker, Vail's first publicity director and longtime marketing vice president.
Second Feature: An Avalanche of Ski History by Morten Lund. An account of the first International Ski History Congress in the U.S. held in February 2002 at Park City, Utah under academic organizer John Allen, retired professor of history at Plymouth College in New Hampshire and hosted by Ski Utah, the Mariot Library Ski Archives, and the Alf Engen Ski Museum.. It was declared an unqualified success after forty-two papers were delivered in four days of double-sessions. Papers were presented by thirty-two U.S. journalists, veteran skiers and historians, and ten presented by historians from abroad.
Looking Back: 30 years ago: Karl Schranz expelled by IOC head Avery Brundage 40 years ago: an anecdote of Webb Moffet, owner of Snoqualmie; the 1962 FIS World Championsbip men's slalom at Chamonix won by Charles Bozon with Guy Perillat second 50 years ago: Andy Mead Lawrence's double gold at the 1952 Olympics in Oslo; an anecdote by Doug Pfeiffer concerning a 1952 trip on Athabaska Glacier with Dick Holden and ISHA president John Fry.
Historic Lodges :Colorado's Ski Tip Lodge by Seth Masia. The founding by Max and Edna Dercum of Ski Tip Ranch in Dillon, the first classic ski lodge between Denver and Aspen, founded in 1949. The Dercums were foremost promoters of the sport in eastern Colorado for fifty years, helping to found both Arapahoe Basin and Keystone within a few miles east and west, respectively, of Ski Tip Ranch.
Skier's Bookshelf: How the English Made the Alps by John Ring. The story of the English on skis and on foot making the Western Alp Europe's prime mid-continent summer and winter recreation region. Winter Tales and Trails by Ron Watters. Stories from the early ski history of Idaho, Wyoming and Montana. Alta, Utah, A People's Story by Duane Shrontz. The personalities behind the first Wasatch resort, the seed ski area for the current ski complex in the Salt Lake City region of Utah. Last Breath by Peter Stark. True tales of the extreme perils of exploration including two cautionary narratives pertinent to snowsport- surviving avalanche on a snowboarding expedition and recovering from hypothermia after a backcountry skiing accident.
At The Museums: The Park City International Ski History Congress by John Allen. The meeting of the heads of the leading U.S. ski museums to discuss ways of cooperating for the greater goal of preserving ski history.
Remembering: Paulie Hannah-Wife of trail designer Sel Hannah, Paulie was an early standout women racer; the two of them ran the ski Hearth Inn at Franconia, New Hamoshire until Sel Hannah founded Snow Engineering, the earliest U.S. ski resort development consultants in Franconia.. Helmut Teichner-the ski school director at Wilmot, Wisconsin during the fifty years that followed his founding of the school in 1939, a major force in establishing skiing in the Midwest and the Midwest ski instructor organizations. Otto Frei and Hans "Rudi" Kuersteiner - Frei was director of the Snow Ridge ski school in the Catskills, Whiteface Mt. Race coach; Kuersteiner was an outstandkng instructor in organized ski school training in New York state. Warren Lowry-a dedicated stalwart of FIS officialdom who worked out the finer points of the international racer ranking system, former president of the U.S. Eastern Amateur Ski Association
Longthongs and Short Tales: Mighty Strange MacTaggart by Morten Lund. The incredible tale of a ski resort developer of Bear Mountain and Aspen Wildcat who fled with embezzled funds and then became the leading international hero of the environmental movement as head of Greenpeace for many years
Second Issue, June 2002: Walter Foeger & Natur Teknik
Also: Jimmie Heuga; American Ski Boots history; Carl Tellefsen; ISHA Gathering 2002; Gasthof Gramshammer; Colorado Ski Museum; Nordica Grand Prix
Third Issue, September 2002: Jerry Nunn & The Avalauncher
Also: Avalement; Release bindings; Maria Bogner; Vermont Ski Museum; Pete Seibert
Fourth Issue, December 2002: Andrea Mead Lawrence
Also: Wedeln, 10th Mountain Division hikes to Aspen; Beekley Collection goes to Mammoth; Kastle Slalom; Alex Cushing and Tom Corcoran; History of warmth; Peckett's Inn
First Issue, March 2003: Stein Eriksen
Also: Indoor winter sports shows, the Trade Show, Rossignol Ski Museum, The Ahwahnee, Portillo, New Mexico Ski Hall of Fame, Flatland Ski News, Alf Engen Museum in Park City, Plate Bindings, Hanson brothers, Darcy Brown
Second Issue, June 2003: Dartmouth Outing Club
Also: Franz Gabl's boyhood in St. Anton, Knee-High Boots, Stowe's Ranch Camp lodge; 18th Century Russian Skiers in Alaska; History of Ski Injuries; Deer Valley Gathering; 2002 Award Winners; Everett Kircher; New Directors, New Projects, and Ski Museum Collaboration.
Third Issue, September 2003: Emile Allais
Also: American ski lifts, How the Brits Invented Skiing, Taos' Hotel St. Bernard, Birth of the Waxless Ski, the Great ISHA Raffle.
Fourth Issue, December 2003: First Olympic medals for US men
Also: Splitkein patent; Nordic Bows to Alpine; US National Ski Hall of Fame; Don Thomas; Leni Riefenstahl; Ski house design evolution; Ski industry needs a history lesson.
First Issue, March 2004: Warren Miller
Also: Milestones in ski design; Dave McCoy; Ma Russell; Musee Dauphinois; Collectible posters; donor list; president's annual report.
Second Issue, June 2004: Buddy Werner
Also: Fred Pabst, history of the carved turn, America's first World Championships, Collectible skis, Betty Whitney's Legendary Inn, new directors, annual awards.
Third Issue, September 2004: Dick Buek, Harvey Gibson, Silver Skis on Mt. Rainier, Pioneer women, Ketchum/Sun Valley Museum, Rigo Thurmer's gift. First color cover.
Fourth Issue, December 2004: Walt Schoenknecht, Tony Wise, Moosilauke downhill, Trapp Family Lodge, history of ski edges, Wow!: a history of extreme moves.
First Issue, March 2005: Stephan Kruckenhauser, Sepp Ruschp, Bob Cram & Bob Bugg, Harriman Cup, marketing disasters.
Second Issue, June 2005: Bode Miller, Art Furrer, Sixties Skiwear, Tuckerman Inferno, Gathering, Heatherbed, celebrating Schneider.
Third Issue, September 2005: Brooks Dodge, Schneider's disciples, How many skiers?, WACs of Camp Hale, Hall of Fame, Greylock's Thunderbolt, ski shape evolution.
Fourth Issue, December 2005: 75th Anniversary of Alpine Racing: The Legacy of Arnold Lunn, the Trail Map Artists, Ernst Constam and the T-bar, Sun Valley Lodge.
First Issue, March 2006: Toni Sailer, Freestyle joins the Olympics, US Ski Jumping, Resort Ads, Highland-Bavarian Lodge, Vintage Ski World.
Second Issue, June 2006: Billy Kidd, Okemo & Killington, Alice Kiaer, Moriarity Hats, ISHA's 2006 Award winners, Osborn & Ulland, Timberline Lodge.
Third Issue, September 2006: Hans Gmoser, Penny Pitou, Wayne Wong, Spider Sabich, Downhill in Dixie, Sun Valley Memories, Hotel Jerome, Ski Films, Liftlines.
Fourth Issue, December 2006: Ernie Blake, the Ski Magazines, Mad River Glen, Marc Hodler, History of Ski Bums, Merrill Hastings, Joan Hannah, Pete Lane's, Ski-Binding systems.
First Issue, March 2007: Nancy Greene, Skiing's Inner Game, Pioneering Shops, Apres Ski Through the Ages, Gray Rocks, Othmar Schneider, a Bob Parker tale.
Second Issue, June 2007: Nicholas Morant's photos, Less Otten, Stone-Age skis, Nelson Bennett, The Silver Belt race, ISHA's Chamonix adventure, Jackson Hole's Alpenhof Lodge, Campgaw Mountain, Rear Entry Boots, Martinis for Lunch.
Third Issue, September 2007: Last Reunion of the 10th, Norway: How It All Started, Chick Igaya, Aspen's Roch Cup, Sandia Peak, John Allen's latest book, humor from Burt Sims.
Fourth Issue, December 2007: Growing Up Cochran, Sun Valley '64, Holmenkollen history, Rossignol turns 100, Stein turns 80,North Conway's Eastern Slope Inn, New England Ski Museum.
First Issue, March 2008: Mathias Zdarsky, Aspen, Bill Hazelett, XC Should Return to its Roots, Where Seniors Ski Free, Christie Hill, Andy Mill, Hall of Fame Selection Process.
Second Issue, June 2008: Jean-Claude Killy, Arlberg Ski Club, Ruth Altmann, History of the rope tow, Sherman Poppen, Tap Tapley, Squaw's Chinese downhill, 2008 ISHA Awards.
Third Issue, September 2008: World Cup origins, John Woodward, Dave Jacobs, Ray Atkeson, History of the Rope Tow, Gasoline Shortages, Private Ski Areas, Ski Testing, Ski Racing on TV.
Fourth Issue, December 2008: Lowell Thomas, The Boom of the '50s and '60s, California's Longboard Ladies, Leaving Las Vegas, Colorado Ski Train, Adrien Duvillard, Aspen's Limelite Lodge, Where Seniors Ski Free.
First Issue, March 2009: Norwegians Invade America, Women's Ski Jumping, Kids in Ski Art, Snowboarding is Older Than You Think, Boom of the '60s part II, New Hampshire's Mittersill Resort, Tom Jacobs.
Second Issue, June 2009: Ralph Miller, Dick Barrymore, Dartmouth's Legacy, Plumas Ski Club Revives Longboard Racing, Skiing the Ancient Way in the Altai, Russia's Long Dominance of Biathlon, How Ski Racers Have Changed.
Third Issue, September 2009: Roland Palmedo, 1935 Olympic Trials, Ernest Hemingway, By Train to North Conway, First Overhead Cable Lift, Harry Vallin, Ingemar Stenmark, Don Lemos, Stowe's Foster Place.
Fourth Issue, December 2009: Hannes Schroll, Yuichiro Miura, Jim and Shane McConkey, Hans Kraus, Emile Cochand, Chuck Ferries
First Issue, March 2010: Chalet Cochand, Rustler Lodge, Ian Fleming, Cross-country skating, Jim Gaddis, Hans Kraus, Resort architecture
Second Issue, June 2010: The Marolts of Aspen, Vancouver Miracle, Canadian Ski Instructors Alliance, Corky Fowler, Sky Tavern, Kingsbury Pitcher, history of ski wax, books about Canucks
Third Issue, September 2010: McGill vs. Dartmouth, Hunter Thompson, Daron Rahlves, Hart Skis, Fred Iselin, Erich Sailer, Alta images, Bradley Packer.
Fourth Issue, December 2010: Crested Butte and PSIA at 50, Pitcher Inn, Vintage Ski Races, Trail Names, Cindy Nelson memoir, photo feature on Stars at Sun Valley, history of season passes, Ann Heggtveit, Downhill Racer, Denny Hanson, the Stivot, Biathlon Boom.
First Issue, January/February 2011: Birger Ruud, Georges Joubert, Ski Pins, Dartmouth Carnival Posters, Waterville Valley, Stowehof, Carl Ettlinger, Dick Goetzman. New frequency: Six issues per year.
Second Issue, March/April 2011: Ski Flying, Charley Proctor, Johnny Fripp, Playboy Club, Caberfae, Gstaad Palace, Sun Valley Stars, Ski posters
Third Issue, May/June 2011: Sun Valley 75th Anniversary Reunions, Pro Freestyle Reunion, World Cup Final Controversy, Parsenn Derby, Aspen Meadows Resort, Norquay, Tyler Palmer, Hans Georg, Eriksen Skis, World Ski Summit, Pete Heuga, Cecile Johnson
Fourth Issue, July/August 2011: Crazy Canucks, Ski Clubs, Alpine Nippon, Ann Bonfey Taylor, Buzz Bainbridge, Lodge at Vail, Garland, John Litchfield, Lloyd Severud
Fifth Issue, September/October 2011: Made in Switzerland, Special Section on the Alps, Snow King, Matti Nykanen, Leduc Library, Pole Plant, Louis Cochand, Kathy Harriman Mortimer, Jack Fisher
Sixth Issue, November/December 2011: Swiss Gear II, Speed Skiing, Stratton at 50, Arlberg Hospiz, Alan Schonberger, Konrad Staudinger, Yvan Tache
First Issue, January/February 2012: Emile Allais at 100, Ray Atkeson photos, Ski areas in national parks, Sugarloaf, Phil and Steve Mahre, John Lovett, FIS changes rules on GS
Second Issue, March/April 2012: Glamorous skibirds, history of helmets, turning on the inside ski, Ski Heil, Pirmin Zurbriggen, Breckenridge at 50, Waitsfield Inn, Hans Geier
Third Issue, May/June 2012: World Pro Ski Tour reunion, After the 10th: U.S. Army Cold Weather Training, Stowe's The Shed, Angry Politics of Ski Racing, Karl Schranz, Bert Fischer, Lindsey Vonn's season, Magic Mountain goes co-op.
Fourth Issue, July/August 2012: Kitzbuehel Museum, Snow Domes, An English Lady in Norway (1891), Invention of GS, Eva Twardokens, Bernhard Russi, Revelstoke.
Fifth Issue, September/October 2012: Color-coded Trails, Ski Women's Way, Learning From the (Northland) Book, Arapahoe Basin, Salter's Ski Shop, Franz Klammer, Splitkein at War.
Sixth Issue, November/December 2012: Marc Girardelli, Poster Stamps, Canada's Governors General on Snow, Hall of Fame Spat, Ligety Wins on GS Skis He Hates, Magic Mountain, Tori Pillinger Robinson, Postwar Gear.
Vol 25 No 1, January/February 2013: Toni Seelos, Kjetil Andre Aamodt, NSAJA at 50, Aspen's Red Onion, Utah Interconnect, WWII Telemark Raid, Hickory & Tweed.
Vol 25 No 2, March/April 2013: Anne Marie Moser-Proell, Vail's Racing History, National Ski Patrol at 75, Rocker Skis, U.S. Alpine Team Rules at FIS Championships, Canadian Ski Posters
Vol 25 No 3, May/June 2013: Title change issue. Story of Pro Racing, Cochran Clan, Bob Cram Cartoons, Climate Change, Canadian Ski Museum Moves to Tremblant, Sheik from Up North, Wilmot
Vol 25 No 4, July/August 2013: Carlo Pellegrini, Women's Pro Tour, Jonny Mosely, Tony Wise and the Worldloppet, Barney Berlenbach, Skiing on Vancouver Island
Vol 25 No 5, September/October 2013: Fred Lindholm photos, Dr. Richard Steadman, Maria Walliser, Heavenly, Canadian-built skis, 1928 skiing on Colorado's Corona Pass, Snow Valley (Vt)
Vol 25 No 6, November/December 2013: Andreas and Hanni Wenzel, Mineral King, Mt. Hood Museum, Greg Stump's Legend of Aahh's, XC ski collector Laurent Donze
Vol 26 No 1, January/February 2014: Rick Sylvester, Mont Tremblant at 75, Patrick Lang's Olympic memories, Bill Beck vs Toni Matt, Bernie Weichsel, 50-year resort anniversaries 
Vol 26 No 2, March/April 2014: After the Games: the future of Winter Olympics, Otto Tschudi, Font Rameu, ski poster market, Ontario's Bee Hive pro race, Park City at 50, Geldhof, Myles Rademan
Vol 26 No 3, May/June 2014: Lasse Kjus, Royal Gorge, Buddy Werner, Sven Coomer, three decades of men's skiwear, Vermont's Alpine Shop
Vol 26 No 4, July/August 2014: Bill Johnson, Herman Gollner, Oslo skiing, Jay Peak, XC vs the Snowmobile, Ingrid Wicken's library
Vol 26 No 5, September/October 2014: Tommy Moe, Mount Baker, John Caldwell, Bill Briggs meets Sir Arnold Lunn, Utah Ski Archives, alpine art, terrain-based learning 
Vol 26 No 6, November/December 2014: White Wolf: Between Squaw Valley and Alpine Meadows; Europe's skiing postmen, Rib Mountain, Ski History Haus at Crested Butte, where seniors ski free, schussing the Empire State Building
Commentary, p. 5: The Ski Industry's Quandary by John Fry.  Opposition to a minimum wage increase says a lot about the ability of small ski areas to survive.
Short Turns, p. 6: The History of 1-2-3 by Seth Masia.  American women dominated at Lake Louise in the first-ever U.S. podium sweep in World Cup alpine racing.
Where Are They Now? p. 11: Vreni Schneider by Edith Thys Morgan.  The star of the 1989 World Alpine Championships at Vail is back home in Switzerland, with a family and a ski school.
13 With Skis Above His Ears
More than 40 years ago, Miroslaw Graf, an 11-yearold Polish junior champion, discovered the aerodynamic secret to jumping longer—the V-style jump. By E. John B. Allen
15 Night and Day
Since 1937, the slopes around Snoqualmie have been a day-trip destination for Seattle-area skiers. By Jeff Leich
18 An Eye for Speed
Thrilling images of World Cup superstars by photographer John Kelly. By Kathleen James and John fry
26 The Trails of Tamarack
Olympic champion Bode Miller learned to ski on the rural New Hampshire slopes that his grandfather cleared in the late 1940s. By Nathaniel Vinton
Where Are They Now? p. 30: Ted Farwell by Seth Masia.  U.S. national nordic combined champion and longtime resort consultant looks back on his life in skiing.
Short Turns, p. 6: Altai's Ancient Ski Roots by Nils Larsen.  Researchers from around the world gather in northwest China for international ski-history conference.
Resorts Then and Now, p. 11: Back to the Future by Ted Beeler.  Can small ski areas be saved? Nonprofit and community solutions are on the rise nationwide.
13 A Century of Skiing
Steamboat's Howelsen Hill celebrates its 100th anniversary. By Tom West & Kathleen James
Collectibles, p. 17: Rare Poster Sells for $30,000 by Everett Potter.  Led by a 1934 poster from Gstaad by artist Alex Diggelman, prices at the annual Swann Galleries auction are on the rise.
20 Breaking the World Cup Record
After a stunning comeback this past winter, Lindsey Vonn surpassed Austrian racer Annemarie Moser-Proell's record number of alpine World Cup wins. Who's the greatest? The new record ignites a debate that won't be resolved soon. By Edith Thys Morgan
PLUS : Skiing History's Top Ten Women Alpine Racers
28 Fifty Years of Lange
Lange first sold ski boots to the public in 1965. Three employees from the early years recall how it happened. As told to Seth Masia
Short Turns, p. 5: NASTAR Joins the U.S. Ski Team by Seth Masia.  USSA will assume control of the national program for recreational skiers, in hopes of drawing more young skiers into racing.
18 The King of Klosters
The son of American novelist Irwin Shaw recalls his childhood in a Swiss ski resort studded with movie stars and celebrities. By Adam Shaw
21 Rise and Fall
How the top alpine racing nations have performed in international competition since World War II. By Alain Lazard
23 Taking Air
The evolution of jumping technique, from standing upright to the sleek V-style of today.By E. John B. Allen and Aleš Guček
26 How New York Lost its Marble
Marble Mountain near Lake Placid is the largest ski area in the Eastern U.S. ever to be abandoned. By Phil Johnson with Jeremy Davis
Where Are They Now? p. 30: Greg Jones by Seth Masia.  A bronze medal and a World Cup victory led to 35 years as a passionate ski coach.
Short Turns, p. 5: Globe-Trotting by Peggy Shinn.  Two 40-year-old World Cup Globes have recently surfaced.  Are they the real deal?  Skiing History investigates.
Where Are They Now? p. 13: Nancy Greene Raine by Edith Thys Morgan.  The two-time world champion serves in the Canadian Senate and is director of skiing at Sun Peaks in B.C.
Ski Memories, p. 17: A Minor Cold War Victory by Bob Woodward.  In 1979, the author slipped behind the Soviet curtain of silence for an interview with fearsome Russian cross-country racer Yvgeny Belyayev.
19 All American
Bob Beattie speaks out on the "alarming" state of collegiate ski racing in the United States—and how it can be fixed. By Edith Thys Morgan
22 The Double Life of Dave McCoy
Fifty years ago, the builder of California's Mammoth Mountain was also mentor to the country's best racing talent. By Burton Hersh
27 The Extraordinary Ski Life of J Laughlin
A giant of American book publishing had another career…on snow. By Ian Macniven
Ski Memories, p. 30: The Man Who Taught College Students to Ski by Karen D. Lorentz.  On 32 vertical feet in Vermont, the late Bill Jenkins built the largest college ski-school program in America.
14 Avanti!
Italian skiing has its roots in the military and the passion of a Swiss-born civilian named Adolfo Kind. By E. John B. Allen 
18 Mountains of Controversy
For five decades, ski areas have been wrangling with environmentalists over terrain expansion, real-estate development, wildlife protection, water rights and more. Is the era of opposition finally coming to an end? By Ken Castle
28 Up Above Albuquerque
 Inspired by the Alps, a scenic tram has carried skiers to New Mexico's Sandia Peak for almost 50 years. By Jeff Leich
Short Turns, p. 5: New Life for Historic Mittersill by Seth Masia.  Upgrades at Cannon Mountain clear the way for world-class race-training site.
Where Are They Now? p. 9: Gunde Svan by M. Michael Brady.  The star of Swedish cross-country racing in the 1980s is now a popular TV talk-show host. 
12 Wartime Allies
75 years ago, the Anchorage Ski Club and the U.S. Army teamed up to build the Arctic Valley ski area in Alaska. BY KIRBY GILBERT
15 The Life and Times of Beconta
A sporting goods company founded in Berlin found a second life in postwar America—as the most influential importer of its era. BY SETH MASIA
19 Lost and Found
Hundreds of rare and valuable ski posters, long forgotten in a Scottish attic, are now restored and for sale. BY EVERETT POTTER
23 The New Reality 
Climate change, water use, summer recreation expansion, terrain limits and interconnects: Past disputes between ski areas and environmentalists give way to future ones. Plus: How resorts are going green. BY KEN CASTLE
Where Are They Now? p. 30: CB Vaughan, Jr. by Peggy Shinn.  Fifty years after setting the world speed-skiing record and 44 years after found CB Sports, CB Vaughan, Jr., is still in business.
Short Turns, p. 7: Eddie the Eagle, Take 2 by Aleš Guček.  New movie is inspired by England's underdog Olympic jumper.
Short Turns, p. 10: Mount Ascutney Revival by Jeremy Davis.  Starting with a rope tow, Vermont community rallies to bring skiing back to New England's largest lost ski resort.
13 Juha Mieto
Memories of nordic racing's big man—and the closest individual race in competitive cross-country history. BY BOB WOODWARD
15 Jim McConkey
The pioneer powderhound and cliff jumper, one of the most visible skiers of the 1960s, is still skiing at age 89. BY SETH MASIA
18 Whistler's Big Birthday
Five locals tell the story of five decades of progress at Whistler Mountain in British Columbia. Plus: Whistler pioneers. BY MICHEL BEAUDRY
Classic Ski Shops, p. 24: Singular Focus by Phil Johnson.  The Alpine Sport Shop in Saratoga Springs has been selling skis for 75 years.
27 The One and Only Stein
Born into a famous Norwegian ski family, Olympic gold medalist Stein Eriksen became the celebrated icon of skiing 60 years ago. BY MORTEN LUND
Short Turns, p. 9: Hannes Schneider Slept Here by Everett Potter.  The Childhood home of the Austrian ski pioneer and Arlberg technique founder is now available to rent as a vacation chalet. 
Collectibles, p. 13: Fits and Starts by Everett Potter.  While a few blue-chip posters fetched high prices, others failed to raise interest from the audience at Swann's annual auction.
15 Alta Lodge
As it celebrates 75 years, this low-key Utah lodge has stayed true to its family roots. BY EVERETT POTTER
18 The Lost Trails of Paul d'Allmen
Almost killed in World War I, an unsung Swiss came to map the ski trails of the Laurentian Mountains in Quebec. Recently restored, his detailed, hand-drawn maps are a visual and historic treasure. BY JOSEPH GRAHAM
23 Debbie Armstrong
After a storybook alpine racing career, the 1984 Olympic giant slalom champion finds a new calling in coaching young skiers in Steamboat Springs— and liberation and acceptance through a recent Traumatic Brain Injury (TBI) diagnosis. BY EDITH THYS MORGAN
Ski Memories, p. 27: Ski Levi's by Seth Masia.  The spectacular arc if skiwear's denim cowboy look.
Media Reviews, p. 29: Freedom Found by John Fry.  Warren Miller's new autobiography offers a penetrating look inside the filmmaker's fascinating life.
Remembering, p. 31: Stein Memorial by John Fry.  Hundreds gathered in February at Deer Valley to honor the memory of the late Stein Eriksen. 
Commentary, p. 6: Stop the Music! By John Fry.  Five thousand people at a ski area share a common interest.  It just doesn't happen to be music.
Short Turns, p. 8: Shiffrin's Big Wins by Seth Masia.  American racer's sustained two-second victory margins are unprecedented in the World Cup era.
13 Hansi Hinterseer
The former World Cup and pro slalom ace from Austria is a pop superstar in Europe. Plus: Mike Hundert looks back on Hansi's arrival as the glamorous "Joe Namath" of World Pro Skiing. BY PATRICK LANG
16 Jean Vuarnet
His Olympic gold was only the beginning. The triumphant, sometimes tumultuous personal and professional life of the 1960 downhill champion, technique analyst, resort developer, and entrepreneur of sunglass fame. BY ALAIN LAZARD  
22 Endless Winter
Led by top racers like Pepi Stiegler, Stein Eriksen and Erich Sailer, summer ski camps were once a booming business at resorts across western North America. From as many as 18, the number of ski areas hosting them has dwindled to a few. BY EDITH THYS MORGAN
28 Living History
During Skiing History Week in Aspen in April 2016, ISHA honored ski historians from around the world and the U.S. Ski and Snowboard Hall of Fame inducted its Class of 2015. BY KATHLEEN JAMES  
Museum News, p. 32: Winter Comes by Tim Gibbons.  New exhibit in Bend celebrates Oregon's nordic ski history. 
Short Turns, p. 5: 1,000 Feet and Below by Kathleen James.  New documentary film is a testament to the history and community spirit of Maine's small ski hills.
Where Are They Now? p. 10: Pepi Stiegler by Wade McKoy.  Longtime Jackson Hole ski-school director and Olympic champ Pepi Stiegler is upbeat and on the mend after a life-threatening fall last October.
Resorts Then and Now, p. 13: Craftsbury Outdoor Center by Peggy Shinn.  In northern Vermont, a "crazy idea" has become a world-class, award-winning cross-country and outdoor center.
16 Magnificent Monochrome
In iconic black-and-white images, ski photographer Hans Truöl (1920–1981) captured the world's top alpine racers and dramatic mountain landscapes. BY KATHLEEN JAMES
22 Aspen's Wild Ride
For a dozen years, Denver billionaire and Hollywood heavyweight Marvin Davis owned the Aspen Skiing Company. BY JAY COWAN
25 The Dating Game
From May to March to late January, the long-running argument over the optimal date for the SnowSports Industries America annual trade show is a reflection of an ever-changing market. BY JACKSON HOGEN
Commentary, p. 30: The Great French Ski Controversy by John Fry.  More than 40 years after six top racers were kicked off the French national team, bitter feelings still linger.
Short Turns, p. 5: Tomorrow the World by Seth Masia.  Vail's purchase of Whistler/Blackcomb is historic: it makes the company twice as large, financially, as the number two ski resort operator.  Vail is now poised to leap oceans.
Where Are They Now? p. 15: Toril Forland by Edith Thys Morgan.  The five-time World Pro Tour champion has made a life in skiing. 
18 A Short, Colorful History of Ski Boots
Early boot design was dictated by binding design. The modern era introduced new materials, fit and height that led to a revolution in alpine technique. By Seth Masia 
22 North America's Ski City
Archival images document the early ski culture of Montreal, where residents have jumped, raced and skied on the slopes of Mont Royal for more than a century. By Bob Soden
28 How to Fund the Future?
While athletes on the U.S. alpine A Team are fully funded, critics question why an up-and-comer on the B, C, or Development teams must raise as much as $25,000 a year to cover expenses. It wasn't always this way. Plus: How U.S. development compares with six other nations. By John Meyer
News from ISHA, p. 33: ISHA Marks 25th Anniversary by Seth Masia.  Mason Beekley's lifelong passion led to the founding of ISHA during the winter of 1990-1991.  Skiing History week 2017 will mark the 25th annual awards banquet.
Short Turns, p. 5: DU Hosts Reception at Center for Ski History.  University's new collection features 1,600 books on skiing, plus personal papers, publications, photos and memorabilia. 
Museum News, p. 11: U.S. Hall of Fame Announces Class of 2016.  10 people will be inducted at Stowe Mountain Resort on April 8, 2017.
Equipment, p. 14: Whatever Happened to Heierling? By Luzi Hitz.  After four generations, the family revives its boot brand.
Classics, p. 15: Pack Attack by an unknown author.  An 1890 adventure: Caught near the summit after dark, a Steamboat Springs skier is pursued by ravenous wolves. Fact, fiction, or a bit of both?
17 An Interview with Penny Pitou
America's 1960 Olympic alpine double medalist reflects on her racing career and the women who inspired her success. BY IAN SCULLY
22 The Great Sun Valley Avalanche
A tragic 1952 incident at America's  first destination resort stunned the skiing community and contributed to better management and safety practices. Based on firsthand accounts from people who were there. BY DAVID BUTTERFIELD
26 The Man Who Came to Dinner and Stayed a Year
The peripatetic ski life of Marquis Nicolò degli Albizzi, a minor Russian aristocrat whose adventures—and misadventures—led him from the Rockies to Lake Placid and the Laurentian Mountains of Quebec. BY E. JOHN B. ALLEN
Commentary, p. 6: Making it Great Again! By John Fry.  In November 2016, 16,000 fans attended a World Cup alpine ski race in New England, where love of the sport has never waned.
Short Turns, p. 8: Long Live Longboards! 25th annual competition celebrates the first organized ski races in the USA.
Resorts Then and Now, p. 14: Sunlight Mountain Resort by Steve Rice.  As it celebrates 50 years, a family ski area in Colorado is making its mark in an era of modern mega-resorts.
Where Are They Now? p. 16: The Firth Twins by Bob Woodward.  Resilient sisters Sharon and Shirley Firth came from the Arctic to dominate the Canadian cross-country scene.
18 Killy's Winter, Unequaled (Part 1)
World Cup turns 50: In Part 1 of an exclusive interview, Jean-Claude Killy recalls his 1967 World Cup triumph—a record-setting season that's never been surpassed. BY YVES PERRET
24 Art of the Dual
The history and future of head-to-head racing, which will debut as a medal event at the 2018 Winter Olympics. BY EDITH THYS MORGAN
Media Reviews, p. 31: How Wood Met Metal by Seth Masia.  A transatlantic history of aluminum skis and the companies that created them.
Short Turns, p. 6: Eight Decades of Racing Rules. Special Report: A six-year effort, led by FIS Alpine Rules Chief Michael Huber, has yielded the first comprehensive digital collection of the changing rules that have governed ski racing over 80 years.
Collectibles, p. 14: Up and Down by Everett Potter.  The annual ski-poster auction at Swann Galleries has become the global benchmark for the market.
16 Killy's Winter, Never Equaled (Part 2)
In an exclusive interview, Jean-Claude Killy recalls the first season of the World Cup, 50 years ago, when he won 12 of the 17 races, all of the downhills, and finished on the podium in 86% of the races he entered, a record that's never been surpassed. BY YVES PERRET 
22 All or Nothing
Nancy Greene of Canada came from behind to win the 1967 inaugural World Cup overall women's title by the slimmest of margins in a thrilling final slalom race at Jackson Hole. BY MICHEL BEAUDRY
26 Get a Grip! 
For three decades, rope-tow grippers were a ski-equipment staple. BY KIRBY GILBERT AND JOHN HANSEN
28 Stowe's First Ski Trail
Bruce Trail was cut on Vermont's Mount Manfield in December 1933. Today it's a popular backcountry run. BY DAVID GOODMAN
Media Reviews, p. 30: Has Skiing Lost its Soul? By John Fry.  New book deplores conglomeration, commercialization, and the dawn of Alpine modernism.
ISHA Honor Roll, p. 33: Another Record Year by Seth Masia.  Donations by individual ISHA members rose by 25 percent in 2016, raising critical funds to support the preservation of skiing history.
Commentary, p. 7: For Many, Cost of Going Uphill is Going Down by John Fry.  Multi-area season passes have brought back 1950s prices.
Short Turns, p. 10: Origin Story by Nils Larsen.  Did skiing originate in the Altai mountains of China? A recent New York Times article reignited the ongoing debate.
18 Winter Sporting With the Cookies 
Though he never skied, British businessman Thomas Cook was one of the earliest and most influential ski-vacation promoters. BY E. JOHN B. ALLEN
22 Reboot!
The revolution in boot design and construction has changed the way we ski. BY RON LEMASTER
26 Loads of Fun on Ski & Snow
During a raucous "ski" weekend in the Laurentian Mountains 89 years ago, the travelers glow happily inside the cars of a snow train and the walls of a once-famous club. BY COREY FORD
Where Are They Now? p. 29: Where Stars Went to Ski by Phil Johnson.  Karl Plattner still lives near Hunter Mountain, where his ski school attracted a glittering circle of New York City celebrities.
Equipment, p. 31: Personal Music is Nothing New by Jeff Blumenfeld.  The Astraltune Stereopack predated the iPhone by 40 years. 
Short Turns, p. 6: Dutch Hill Revival by Jeremy Davis.  Long-shuttered Vermont ski area to return as a backcountry area.
Resorts Then and Now, p. 12: Quebec's All-Time Ski-Area Inventory by Jeremy Davis.  Pierre Dumas has undertaken a project to identify every ski area and ski jump in the history of his home province.
Equipment, p. 14: Sticky Wicket by Karen D. Lorentz.  How a young Killington employee in 1963 found a new and better way to attach lift tickets to people.
16 A Time of Transition
Erika Schinegger of Austria, who won the women's 1966 downhill world championship, later discovered through genetic testing that she was male. The remarkable journey from Erika to Erik was a hard-won triumph.  BY EDITH THYS MORGAN
20 For Sale by Owner
Since 1968, Swiss skier Eric Kellenberger has been amassing what may be the world's largest vintage-poster collection. Now he's looking for a buyer. BY EVERETT POTTER
24 Foreign Relations
In collegiate skiing, Americans compete for scarce roster spots with athletes from abroad, a trend that started after World War II. While international athletes raise the level of competition, do they also diminish U.S. ability to develop world-class racers? BY EDITH THYS MORGAN
Short Turns, p. 6: Making Races Run More Smoothly by John Fry.  30 years ago, new U.S. Hall of Famer Herman Gollner found the way to keep gate poles from dislodging and delaying a race.
Nordic History, p. 11: Home of the King by Einar Sunde.  Volunteers are restoring the childhood house of Norwegian ski legend Thorleif Haug.
14 Bygone Gizmos
From Jet Stix to Tinkle Tabs, these crazy ski products faded, fizzled or failed to stand the test of time. BY JEFF BLUMENFELD
18 What They Laughed At
50 years ago, America's two best-known cartoonists exchanged amusing letters—words and art—about the foibles of their beloved sport. BY BOB CRAM AND BOB BUGG
22 Sunny Days, Cold Nights
Before he found fame as a filmmaker, Warren Miller spent the winter of 1947 living the ski-bum life in a parking lot in Sun Valley. An excerpt from his autobiography, Freedom Found.
Media Reviews, p. 26: 50 Years of Flight by E. John B. Allen.  New book covers the history of jumping in California from 1900 to 1950.
Short Turns, p. 6: Feast and Famine by Seth Masia.  Private ski areas in the era of 1 percenters.
Collectibles, p. 11: The Art of the Unexpected by Lori Knowles.  In a career that stretched three decades, Murray Hay became one of North America's most prolific trail-map illustrators.
Technique, p. 13: The 10th Mountain Division Ski Technique of WWII by Charles C. Roberts, Jr. and Seth Masia.  A skier bearing a heavy pack needs a quiet upper body for stability.  In teaching ski troopers how to do it, instructors anticipated fundamental post-war technique changes.
16 Where Are They Now?
After surviving a horrific crash on the notorious Streif, Crazy Canuck downhill champion Todd Brooker went on to a successful career as a TV commentator. BY EDITH THYS MORGAN
20 Skiing to the Poles (Part 1)
From Fridtjof Nansen to Robert E. Peary and Roald Amundsen, skis played a critical role in early Arctic and polar exploration. BY JEFF BLUMENFELD
24 Snowmass: The Beginning
How America's first real-estate-focused resortwas founded 50 years ago. BY JAY COWAN
Classic Ski Shops, p. 33: Service, Service, Service by Mike Dederer.  Sturtevant's starts a new chapter as it celebrates its 40th anniversary in the Seattle metro area. 
Short Turns, p. 5: Where Flatlanders Learn How to Fly by Seth Masia.  Four of America's top five male ski jumpers hail from an historic ski club in the Chicago suburbs. 
Where Are They Now? p. 11: Lost and Found by Michel Beaudry.  At the Nagano Olympics, he was stripped of snowboarding's first gold medal.  The next day, he had the medal back.  Today, Ross Rebagliati is a successful marijuana entrepreneur in British Columbia.
13 Skiing to the Poles (Part 2) 
The critical role of skis in modern-day polar expeditions by explorers like Paul Schurke, Will Steger and Richard Weber. BY JEFF BLUMENFELD
16 Olympic Preview: The Golden Men and Women of the Sport
Who's the greatest? For alpine skiers able to win under pressure, look to their single-Olympics record. BY JOHN FRY
19 Giants of GS
Who's the greatest men's giant slalom racer of all time? With each passing decade, racing fans renew the ongoing debate. BY PETER OLIVER
21 How He Saw It
Over three decades, John G. Zimmerman's stunning photography defined the sport for millions, from the Olympics to heli-skiing.
30 Setting a New Standard
NASTAR, the world's largest recreational racing program, began 50 years ago as a quest to introduce the equivalent of golf's par to the sport of skiing. BY JOHN FRY
Remembering, p. 35: Warren Miller by John Fry.  Iconic filmmaker, author and cartoonist who captured the soul of skiing.
Ski News, p. 6: #MeToo Hits Ski Sport by John Fry.  Charges of sexual abuse come to light in Austria, Canada.
Short Turns, p. 9: Queen of the 2018 Olympics by Seth Masia.  Ester Ledecka broke a training barrier and crossed a cultural divide.
15  Skiing's Central Asian Origins
At a recent conference in China, historians explored the ancient birth of skiing and how it spread across the continents. By Seth Masia  
Collectibles, p. 18: Best Ski Poster Sales in 10 Years by Everett Potter.  Record prices and active bidding at annual Swann auction.
20 Snail Mail & Split Stretch Pants 
NASTAR's mid-1970s national coordinator fondly remembers the low-tech camaraderie of the racing program's early days. By Kathe Dillmann
24 Squaw Valley Olympics Scrapbook
A behind-the-scenes look at the preparation and staging—things practical, ingenious, silly, memorable and forgotten—that contributed to the success and new traditions of the 1960 Winter Games at Squaw Valley. By David Butterfield
Short Turns, p. 5: Made in Ukraine by Seth Masia.  The rise of Eastern Europe as a ski-manufacturing center.
Ski Travel, p. 9: Exploring Riva Ridge by Paul Duncan.  Tracing the trail of the 10th Mountain Division in Italy.
Commentary, p. 10: The Power of Team by Edith Thys Morgan.  U.S. Skiing could learn a lot from the success formula within its own women's cross-country team. 
Ski Memories, p. 13: Can't We All Just Get Along? By Roger Lohr.  The man who wrote the manual recalls early efforts to bridge the cultural divide between skiers and snowboarders.
15 If the Boot Fits, Wear It
From poisonous foam to sophisticated liners, the custom-fitting of plastic boots has progressed spectacularly over 50 years. BY SETH MASIA
 
18 Penguin Power!
One of North America's first and most successful ski clubs was created in Quebec entirely by, and for, women. BY CARA ARMSTRONG AND LORI KNOWLES
22 The Incomparable Bob Beattie
Bold, dynamic, and charismatic, the late Bob Beattie fueled much of what happened in competitive alpine skiing between 1960 and the end of the 20th century. An appraisal of when, where and how he succeeded, by a journalist who knew and interviewed him for more than 50 years. BY JOHN FRY
Ski Memories, p. 30: Mr. Big Vanilla by Jeff Blumenfeld.  Broadway lensman Werner J. Kuhn ran the patrol, taught first aid and shot PR photos at a popular Catskills ski area.
Museum News, p. 35: Branching Out by E. John B. Allen.  New England Ski Museum opens new satellite in North Conway.
When Head Went Modern The late John Howe, chief designer at Head from 1967 to 1984, recalls the transition from metal to fiberglass skis. BY SETH MASIA
Joie de Vivre Michel Rudigoz of Sun Valley is the man behind the most successful U.S. women's alpine team of all time. BY EDITH THYS MORGAN
A Sport Once White Not as much any more. Starting 45 years ago, the National Brotherhood of Skiers has brought black skiers—and racers—onto the slopes. BY JAY COWAN
What's in a Name? When it comes to trail monikers, no lions and tigers, but plenty of bears—not to mention resort founders, historic events and the occasional death threat. BY JEFF BLUMENFELD
Readers Respond The final word(s) on Bob Beattie; when it comes to NASTAR, freedom plus discipline equals skiing success.
Short Turns Berkshire East purchases the historic Catamount Ski Area; slow progress on preserving Camp Hale. Plus:Snapshots in Time, the ski art of Gustav Jahn.
Escape from Death Seven decades ago, Jim McConkey fell deep into a crevasse on a Canadian glacier. Toni Matt saved his life.
Museum News Salt Lake City snowboard shop does double duty as the Utah Snowboard Museum; Colorado Snowsports Museum reopens after major renovation; three new inductees at Intermountain Hall of Fame.
News from ISHA Save the date for ISHA events this coming ski season! Plus: Auto-renew your ISHA membership and an updated worldwide ski museum guide.
Media Reviews New and notable ski-history books and films.
Remembering Farewell to ski pioneers John Howe, Don Henderson and Peg Kurlander.
Powering the Turn Part I: Tracing the history of turn technique, from the early evolution of upper body rotation through the 1950s emergence of counter rotation. By Ron LeMaster 
Must-Ski TV How has skiing been depicted on weekly TV series over the years? We dove deep into the video archives to find out. Hint: Injuries and mishaps abound. By Jeff Blumenfeld
Seesaw's Returns Historic roadhouse-turned-ski lodge is rebuilt, renovated and open for business in southern Vermont. By Peggy Shinn
Readers Respond American women who excelled before the World Cup era; Big Vanilla nostalgia.
Commentary How many people ski and snowboard in the USA?  That's a controversial question. By John fry
Short Turns Eskimo Ski Club folds; revivals at historic Hollyburn Lodge (BC) and Tenney Mountain (NH); vintage ski-equipment collection finds a new home. Plus: Snapshots in Time, the ski art of Frederick Coburn.
Where Are They Now? Erika Hess Switzerland's hard-working World Cup golden girl shows junior racers the ropes. By Edith Thys Morgan
Equipment Father-son team in Steamboat Springs revives the All-American Northland brand. By Edith Thys Morgan
Ski Memories After 70 years, remembering the annual college ritual of skiing the steep and deep of Tuckerman Ravine. By John Fry
Museum News The U.S. and Canadian Halls of Fame announce their new honored members.
News from ISHA ISHA and the U.S. Hall of Fame join forces to celebrate ski history and legends in Utah in April 2019.
Remembering Farewell to ski pioneers Jimmie Spencer, Dick Bohr, Russell Spring, Karl Erb and Charles Elliott.
Powering the Turn Part 2: The rise of "national" turn techniques and the subsequent development of split rotation, leg rotation, "anticipation" and pure carving. BY RON LEMASTER
Where Are They Now? Jeff Hastings, America's best Olympic ski jumper, is a champion for the sport. BY EDITH THYS MORGAN
The Slim Look Before Bogner's stretch pants, streamlined ski- wear was already in vogue. In the vanguard was skiing tailor Irving Margolese. BY JOHN FRY
The Man on the White Charger In January 1968, Skiing Magazine ran this classic profile of Ed Scott, founder of Scott USA. BY JOHN JEROME
Readers Respond National Ski Patrol historian corrects the mysteries of history; three-ring showdown over the greatest snow on Earth; deep dive into the Northland archives.
Commentary The impact of soaring season pass sales on ski and snowboard participation rates in the United States. BY JOHN FRY
Short Turns In Calgary, an Olympic rejection redux; Tomm Murstad and the world's first ski school for kids. Plus: Snapshots in Time, the ski art of Achille Beltrame.
What's in a Name? The history of Suicide Six in Vermont is intimately linked to the origin of lift-served skiing in the United States. BY BOB SODEN
Museum News Elan opens a new museum near its factory in Slovenia.
Remembering Farewell to ski pioneers Joachim Rønneberg, Gérard Rubaud, Karl Plattner, Steve Crisafulli, Chummy Broomhall and George Maynard.
News from ISHA Tickets now on sale for the ISHA Awards banquet in Park City in April 2019.
Ski Genius Marks 100th Birthday Kitzbühel's Karl Koller systematized short-ski instruction for beginners, revolutionized children's learning, fostered terrain-based teaching, and was a dominant force in Interski. BY JOHN FRY WITH BARBARA THALER
Skiing & Surfing: Separated at Birth Two of the world's most popular adventure sports have inspired and influenced each other for more than half a century. BY JAY COWAN
(Non) Conversations with the President There I was with 8-foot skis to present to President Ford, and I'd forgotten my speech. BY MORTEN LUND
Los Alamos Ski Club Celebrates 75 Years In 1943, Manhattan Project scientists took to the snow. They've never quit. BY SETH MASIA
Readers Respond In letters and online, ISHA members take a hard look at how steep day-ticket prices—and mega-passes like Ikon and Epic—are impacting the sport.
Short Turns Ski celebs gather in Aspen to celebrate the late Bob Beattie, James Niehues raises $600,000 for trail-map book, Wurteles win Order of Canada, first laceless ski boots. Plus: Vonn or Stenmark—who was the best?
Snapshots in Time Fatal avalanche in Klosters for Prince Charles' royal equerry (1988), Scottish-French Canadian is world's best racer (1953), ski patrol heroes of the Sierra (1943).
Why Is It Called That? Logging lingo is reflected in the trail names at Sugarloaf, Maine.
News from ISHA Connie Nelson, director of the Alf Engen Ski Museum, wins ISHA Lifetime Achievement Award. Plus: The best ski-history books of 2018; ISHA member Heino Nowak has been collecting vintage gear since the 1970s.
Remembering Farewell to ski pioneers Morten Lund, Fred Smith, Kim Massie and Robert Launey.
Sold! To the Highest Bidder Annual vintage ski-poster auction at Swann Galleries showcases classic images and a few oddities. BY EVERETT POTTER
The End of the Single Pole The sport underwent a transformation more than a century ago, when skiers gradually shifted from a single shaft to holding a pair of poles. BY LUZI HITZ WITH SETH MASIA
Skijoring's Wild History Getting dragged across the snow by plane, horse, reindeer and dog is a unique sport that's at least 1,000 years old. BY JAY COWAN
The Hellions A tribute to those all-time nonconformists of the ski world whose maverick antics are the material of legend. BY MORTEN LUND
Readers Respond Memories of Morten Lund; more debate on season pass sales and the future of the sport.
Short Turns Austria's first urban snow dome, the Schneepalast, opened in 1927; blood doping is a persistent problem in FIS cross country competition; glaciers yield ancient skis.
Snapshots in Time The Arctic's shy cross country superstars (1967), snowboarding turns SIA into Bourbon Street (1991), Hodler exposes Olympic vote-buying (1998).
Classic Ski Towns U.S. Ski and Snowboard builds a legacy in Park City, Utah. BY TOM KELLY
Nordic Skiing Today's Great Nordeen race commemorates Oregon's first cross-country event, founded in 1927. BY TIM GIBBONS
Media Reviews 2018 ISHA Award winners: Histories of ski bindings and Aspen Highlands.
ISHA Honor Roll Our annual financial report and donor listing.
Remembering Farewell to Matti Nykänen, Michael Horn, Ayiken Jiashan, Dollie Armstrong, Werner Kuster, John Lindstrom and Dan Jenkins.
Populism in the Backcountry Volunteers, ski areas and landowners team up nationwide to restore historic ski trails. BY JEREMY DAVIS
Where Are They Now? Skiing with Junior Bounous, Utah's legendary powder guru and ski-school director. BY EDITH THYS MORGAN
Movers and Shakers During the 1980s, these high- profile folks—from resort owners to politicos and CEOs—shone a special light on skiing. BY JOHN FRY
Classics Johnny Carson and the most famous ski lesson of all time. BY JOHN FRY
Readers Respond Schaeffler's vision for a national ski-team training center.
Short Turns U.S. Ski Team steps up to pay more athletes' expenses; traditional ski and snowboard print magazines in free- fall; U.S. nordic Olympic women reunite.
Snapshots in Time Scores hurt on ski lift (1985), oil embargo impacts ski weekends (1974), ski-school instructors at risk (1959).
Ski Racing Vonn vs. Stenmark vote results: Who was the best?
Ski Business Ski-company stocks pose a minefield of moguls for investors. BY SETH MASIA
Historic Dining The Ram restaurant in Sun Valley preserves a slice of ski history with a revamped historic menu. BY JENNA BLUMENFELD
News from ISHA Skiing History Week: In Park City, the 27th annual ISHA Awards honored 10 authors from around the world.
Media Reviews Leisure cultures and the making of modern ski resorts.
Remembering Farewell to ski pioneers Charlie Paterson, Gjermund Eggen, Nick Howe, John Hitchcock, Harry Leonard, Dietrich Oberreit and Frank Vener.
Ads from the Past When Spiderman on skis sold back-to-school clothes.
The Instructor In 1966, cartoonist Bob Cram took a humorous look at ski instructors: how we see them, and how they see themselves. Hint: It's not the same.
Landmark Books Alpine skiing is a difficult sport to learn. These four pioneering books made it less so. BY RON LEMASTER
Pro-Am The dual life of Erik Schlopy, the World Cup alpine champ who turned pro and then went amateur again. BY EDITH THYS MORGAN
Readers Respond Stenmark versus Vonn: The debate rages on.
Commentary How skiers have become older and wealthier: a 50-year comparison. BY JOHN FRY
Short Turns The first-high speed quad was a flop; long odds for U.S. Hall of Fame; when Mercury 7 astronauts landed in Breckenridge, Colorado.
Snapshots in Time The double life of Jake Burton (2001), Eisenhower Tunnel opens gateway to the high country (1973), Toni Sailer cashes in on Olympic success (1956)
Classics The He and She Stick: Making love connections on the ski lifts. BY JOHN FRY
The Abridged History of Snowless Skiing Who needs powder? Minnesota resort goes to the mat for its future. BY GREG DITRINCO
Resorts Then and Now In the historic Swiss resort town of St. Moritz, visitors are immersed in the wellspring of winter sports. BY EVERETT POTTER
News from ISHA ISHA's updated 2019 World Guide to Ski Museums, Libraries and Collections is funded by the Marc Hodler Foundation.
Media Reviews How one tiny Vermont town finds happiness (and Olympic excellence).
Remembering Farewell to ski pioneers Hans Standteiner, Peter Andrews, Sandy Shellworth Hildner, Fred Merchant and John Gianotti.
Ski Heil! The evolution of skiing jargon reflects nationalism and cultural change. BY E. JOHN B. ALLEN
Downhill Racer Fifty years ago, Robert Redford was embroiled in making the movie that changed the way Americans viewed ski racing. How it happened. BY MORTEN LUND
Skiing High From the moment people figured out they could go downhill on skis and survive, they've been trying to be the first to ski from the tops of ever-higher mountains. BY JAY COWAN
Excellence on the Escarpment Small vertical, big results: A 750-foot-high ridge in Ontario has spawned many of Canada's Olympic and World Cup champions. BY LORI KNOWLES
Readers Respond First quad fact-finding; skiing on chicken feathers in California; do we need a nordic hall of fame?
Short Turns Alta's "wild" ski club celebrates 55 years; Ski Racing is on the block.
Snapshots in Time Ski games and stunts (1909), abolish the U.S. Ski Team (1970), skiing is safer than wading (1976)
Resorts Then and Now The world's weirdest ski lift is at a former NATO installation in Norway. BY JIMMY PETTERSON
Equipment You could be racing while others are lacing! The mod- est boot buckle was one of the sport's most enduring innovations. BY JOHN FRY
Museum News U.S. Hall of Fame announces its Class of 2019.
Timeless tip: Point your belly button down the hill.
Media Reviews Poignant documentary looks back at Colorado's lost ski resorts.
News from ISHA New partnerships extend ISHA's reach.
Remembering Farewell to pioneers Egon N. Zimmermann, Sherman Poppen, Pepi Gramshammer and Bill Williams.
 Is He the Greatest? With his recent retirement, record-breaking eight-time overall World Cup champion Marcel Hirscher of Austria is arguably alpine ski racing's Greatest of All Time ... or is he? BY PATRICK LANG
Vermont Revival Once again, the Edson Hill Manor is a top-ranked luxury retreat in Stowe. BY PEGGY SHINN
Skiing High, Part 2 Like an irresistible drug, racking up new descents keeps ski mountaineers looking for the highest high. Welcome to the brave new world of 8,000 meters—and beyond. BY JAY COWANs:
Readers Respond The tale of Redford's Roffe; Pepi Stiegler shows 'em how it's done.
Short Turns Canadian Prime Minister Justin Trudeau is a bona-fide rider and former snowboard instructor at Blackcomb in B.C. Plus: Early ski photo, where seniors ski free.
Snapshots in Time The thrill of the forward flip (1920), pop psychology ski technique (1968), the higher power of powder (1993)
Equipment In the early days of skiing, the wax on the bottom of your skis could make or break your day on the slopes. BY JOHN FRY
News from ISHA See you in Sun Valley for Skiing History Week; meet ISHA Vice President John McMurtry.
Ski History Calendar Watching the World Cup; the Wonders of Winter Art.
Media Reviews In Ski Inc. 2020, Chris Diamond discusses the people and ideas that have shaped the modern ski experience. BY JOHN FRY
Remembering Farewell to ski pioneers Joe Pete Wilson, Gert Boyle, Peter Lahdenpera, Havard Hanevold, Karl Koller, Davo Karnicar and Blanca Fernandez Ochoa.
Jeremy Bloom: The high-flying journey of freeskiing's busiest athlete. BY EDITH THYS
A Funny Time for Skiing: When MAD Magazine put skiing on its cover, millions bought it. Ski magazine editors were influenced too. BY JOHN FRY
When Print Was King: Long before the Internet, influential newspaper columnists gave us up-to-date dispatches on where to ski, where to stay, and where the snow was best. BY JEFF BLUMENFELD
The Braked Rescue Sled: Seven decades ago, Roger Sylvand and Emile Allais invented a safer new way to get injured skiers off the mountainside. BY THOMAS SYLVAND, with a brief history of rescue sleds by Seth Masia
Readers Respond: Fond memories of jumping champ Roy Sherwood and custom-made Roffe ski pants.
Short Turns: FIS president Kasper ends his long run; a Sun Valley vintage sweater collector; Buck Hill celebrates 50 years with racing coach Erich Sailer.
Snapshots in Time: Skiing by ear (1959), World Cup debuts to accolades (1967), Stratton aims to be a vacation destination (1978)
Resorts: The history of skiing in Zermatt is inextricably linked to the mighty Matterhorn. BY EVERETT POTTER
Timeless Tips: Javelin Turn -- the tip-crossing trick that improves your technique. BY ART FURRER AND RON LEMASTER
News from ISHA: 2019 ISHA Award winners announced; 100th birthday bash for Klaus Obermeyer
Museum News: Intermountain Hall inducts three new members.
Media Reviews: Jim Niehues, the man behind the maps.
Ski History Calendar: History-oriented events from the Alps to the Rockies.
Remembering: Farewell to ski pioneers Jake Burton Carpenter, Jacques Parker, Luzi Hitz and Ruth Lieder.
Off the Wall: At the annual Swann Galleries auction, eager collectors snapped up vintage ski posters of both classic and unique design. BY EVERETT POTTER
The Soul of Sun Valley: Since 1977, the Holding family has transformed this historic Idaho resort while honoring its fabled past. BY DAVID BUTTERFIELD
Marie Marvingt, Superhero: She achieved fame as an aviator, but was also a pioneering skier and the inventor of an early aluminum ski. BY SETH MASIA
Ski Like the Champions: In 1956, two young Americans crisscrossed Scandinavia to film the world's fastest nordic racers and make the first-ever cross-country ski technique film. BY RICK ELIOT WITH JOHN CALDWELL
Readers Respond: Pioneering American ski journalists before World War II; who's that in the K2 ad?
The Home of the Gods: Go to the high places to gain vision and restore your soul. BY JOHN FRY
Short Turns: Alf Engen's Sun Valley roots, FIS bans fluoro wax. Plus: Snapshots in Time, Ski Art and Ski History Calendar
Where Are They Now: Since the 1960s, Dixi Nohl has been an influential voice in ski instruction and mountain management . .  and for the past few decades, a hard-working innkeeper in Vermont. BY EDITH THYS MORGAN
ISHA Donor Roll, Annual Report: Our annual tribute to ISHA members who gave above and beyond their annual dues.
Media Reviews: ISHA Award winners: Skis in the Art of War, celebrating high-alpine cuisine.
Remembering: Farewell to skin pioneers John Fry, Dave McCoy, Rhona Wurtele Gillis and David Goode.
Ads from the Past: Point your Mercury uphill and head to Sun Valley!
Aspen Confidential Skiing put Aspen on the map. But bad behavior kept Aspen in the news. By Jay Cowan

Evolution of a Rebel At 55, US Hall of Famer Glen Plake remains an enduring and iconic ambassador for the sport of skiing, its downhome roots and honoring its past. By Edith Thys Morgan

The Two Worlds of Arnold Lunn "If it were not for the mountains, my religion would be much too arid," confessed the celebrated convert, apologist and controversialist. By John Fry

The Sour Cream Sierras Thousands learned to ski at the famed Borscht Belt hotels in the Catskill Mountains of New York. By Jeff Blumenfeld

Readers Respond The wax before Swix, first tracks in Zermatt in 1898, Alf Engen's earliest Sun Valley days

Short Turns World Pro Ski Tour draws stars but suffers short season, Jake Burton honored around the world and in Vermont's statehouse, Oslo's antiquarian ski-book hotspot. Snapshots in Time, Ski Art.

Commentary Finally perfected, the carving didn't prevail in North America. Instead we got fat skis that have made resort slopes less safe. By Jackson Hogen

News from ISHA Skiing History Week reset for December 2020; ISHA creates a Covid-19 archive to document skiing's response to the global pandemic.

Remembering Farewell to Herman Dupre, Bob Lazier, Bob Tucker, Corky Fowler, Gary Speckmann and Howard Peterson

Ads from the Past In 1925 a Hudson Super Six -- the first affordable muscle car -- cruised past skiers on a snow-covered track
The Cross Country Caldwells From Olympic racing to elite coaching, this once-and-future family has had a powerful impact on the sport. By Peter Oliver
Canada's Forgotten Ski Center When it opened in 1930, the Seigniory Club was the largest ski resort in Canada...and possibly in North America. By Joseph Graham and Pierre Dumas
A Decisive Moment in Time After a career covering skiing, photographer Paul Ryan has seen it all. By Greg DiTrinco; Photos by Paul Ryan
Animators Go Looney Over Skiing When cartoons take a run at skiing, mayhem ensues. By Jeff Blumenfeld
Short Turns (Sept-Oct 2020) Sverre Engen, Explorers Club honor Blumenfeld, artist Ewald Thiel, Why the different names for snow?, Lunn and Heath
Classics: The Natural Toni Sailer raced to seven World Championship medals in an improbable 24 months—helping him become skiing's first leading man. By John Fry
Remembering Joe Fischer, Jean-Pierre Chatellard, Pierre Dumas, Maxine Bounous and Mack Miller.
Pernilla Wiberg From her home base in Monaco, the Swedish superstar is a TV commentator, advocate for World Cup racer safety, entrepreneur, and homeschooling mom. By Edith Thys Morgan
A Decivise Moment in Time Part 2 Photographer Paul Ryan offers some of his favorite images. By Greg Ditrinco
Pontresina A few miles from glitzy St. Moritz, the cultural heart of the Engadine beats quietly in Pontresina. By Everett Potter
Short Turns (Nov-Dec 2020) Racing at West Mountain, New York, Ingrid Wicken's library, Lost ski areas of Japan, Sarah Lewis out at FIS, royal avalanche, artist Edwin Holgate.
Media Reviews Award-winning works on Dave and Roma McCoy, Warren Miller, Lost Berkshire ski areas, dry slopes, Lahout's ski shop in New Hampshire.
Bota Bag: How's Your Aim? By Jeff Blumenfeld
Museum News Eight Elected to US Hall of Fame; Oslo Olympians honored in Australia
ISHA News Award winners honored online, Joe Jay Jalbert joins the board.
Remembering Jean Mayer, Izzy Ture, Jay Price, Phil Gravink, Bob Maynard
Ads From the Past Head skis, 1958
Resorts: What Might Have Been. Before Aspen, Ashcroft and Mt. Hayden promised a cable car, immense schusses, and a village for 2,000. Then World War II intervened. By E. John B. Allen
Alison Owen Bradley. The first American to win a World Cup cross-country race, this pioneer has remained an advocate for women for five decades. By Peggy Shinn
The Tempo Turn. Toni Seelos and Dick Durrance helped build the bridge to the modern carved turn by letting skis "do their magic." By Ron Lemaster
Click Art. For the first time, Swann's annual vintge ski poster auction featured only remote bidding. Prices and spirits were high. By Everett Potter
Skiers Will Ski on Anything -- Especially Sand. Lack of snow deters not the true believer. By Jeff Blumenfeld
Ski Business: Better Than Wool. In the early '80s, skiers finally learned to stay warm and dry.
News from ISHA: Donors Stepped Up in Covid Year. Fundraising set a new record.
Media: Two ISHA Award Winners: The Winter Army, Les Peuples du Ski, Marcel Hirscher
Remembering Doris De Agostini, Cal Conniff, Pat Doran, Peter Florancic
Short Turns: Vermont's High-Country Wilderness. Bolton Valley skiers head off piste. By Peggy Shinn
Ski Art: Paul Starrett Sample (1896-1974) By E. John B. Allen
On the Cover: Canadian Rockies, by Peter Ewart.
Already a Member?