Short Turns: FIS Congress Report
Image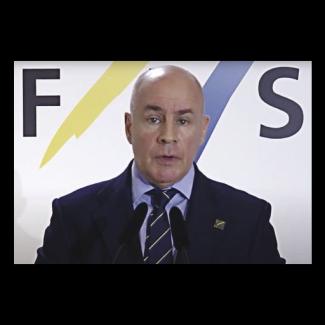 FIS Games, improved TV access affirmed by 2028. 
The 2024 calendar is highlighted by neither Winter Olympic Games nor FIS World Championships, but it will celebrate the centennial of the first-ever Winter Olympics at Chamonix, France, where FIS was founded on February 2, 1924.
For most of that century, FIS was a sleeping beauty in matters of marketing, good at coordinating within the sport but weak on communicating through nonskiing media. The election in 2021 of new president Johan Eliasch shook FIS up. The Swedish-born Eliasch is a successful British businessman who ran on a platform of modernization and outreach. From 1995 to 2021, Eliasch was CEO of Head Group, the sporting goods company. He remains Head's chairman.
The May 25 FIS Congress, held online, followed a meeting of the FIS Council (a form of board of directors), which confirmed plans to launch a new major event, the FIS Games, possibly in 2028. It will include all the FIS disciplines. More than 80 competitions in 10 different categories, including para-snowsports, will take place over two weeks, possibly in the same region. Most disciplines would display all their specialties--for instance, eleven in Alpine skiing, as is the case during FIS World Championships. A few potential host cities in Europe and North America have already shown interest, and the FIS Council plans to announce a choice in June 2024, during the next on-site FIS Congress, in Iceland.
FIS plans to take over all TV rights. This is a break from the past 36 years, during which national ski associations (NSAs) and organizing committees negotiated directly with broadcasting companies. This is a controversial point, because organizing committees and NSAs have depended on broadcast revenue, along with corporate branding sponsorships, to pay their bills. Eliasch considers that funding model inefficient and outdated. By centralizing broadcast rights, FIS management expects to cut out a lot of middlemen and maximize pass-through funding to NSAs and prize money for athletes. FIS also expects to find improved broadcasting solutions in countries with inadequate TV coverage, notably in the United States, where ski racing fans have found it increasingly frustrating to follow World Cup tours in a fractured pay-per-view market. FIS management is moving swiftly to take over broadcast rights from NSAs when all such contracts expire after the 2026 season.
FIS also confirmed an Alpine World Cup calendar including nearly 90 competitions for women and men. It includes a total of six events in North America—in November/December 2023 at Lake Louise and Beaver Creek (speed events for men); at Killington and Mount Tremblant (four technical events for women); and in February/March 2024 at Palisades Tahoe and Aspen (total of four tech races for men).
The Alpine World Cup season will also introduce a new team-combined event, at Kitzbühel, a day before the Hahnenkamm downhill. Each two-man team will consist of a downhill specialist and a slalom expert, with a maximum of four teams per nation. Top-finishing duos will receive World Cup points valid for the specialties and the overall standings.
The World Cup Finals at Saalbach will be scheduled over two weekends, instead of five consecutive days in the same week. This should help draw larger audiences and bring in more sponsorship money to cover the costs of a very expensive event.
Saalbach is also the site of the next FIS Alpine World Championships, in February 2025. Crans-Montana is lined up for 2027, and the site for 2029 will be announced this coming spring. Candidates are Val Gardena, Italy; Narvik, Norway; and Soldeu/El Tarter, Andorra.
Snowsports have been strongly impacted by climate change. The retreat of glaciers in the Alps often obliges teams to travel to South America or New Zealand for proper summer on-snow-training. Lack of fresh snow also forced organizers to cancel many races at the start of the past season. Meanwhile, the Tahoe region was buried by snow this past winter. FIS operates more than 6,000 competitions each year, creating a huge carbon footprint as racers, coaches and officials travel to events.
FIS has taken some flak from environmental organizations, notably Protect Our Winters (POW) and Greenpeace. Accordingly, in May, FIS hired a new sustainability director, Susanna Sieff, an environmental sociologist with more than 20 years experience in the field. Most recently she was head of sustainability at Fondazione Milano-Cortina 2026, the organizing committee for the next Winter Olympics and Paralympics.
At the same time, steps have been taken to reduce the travel burden for FIS and NSA officials attending international meetings. FIS Congresses organized in uneven years are now conducted as video conferences. Starting in 2024, each NSA can send a maximum of three delegates to on-site congresses (Reykjavik in 2024 and Belgrade in 2026), which will last only three days in future.
USSA currently has no elected representatives on the FIS Council. Delegates are elected by the FIS Congress, not by their NSAs, and American Dexter Paine, then council vice-president, was ousted in May 2022 in an election distorted by the walkout of a large number of delegates opposed to the voting procedure, which didn't include possible negative votes from the delegates.
In Iceland, USSA may have a chance to propose a new member to the congress. The board of USSA surely is already reflecting about a candidate for this prestigious position.
American Hannah Kearney has been a voting member of the council since 2018, representing athletes rather than her NSA. She was a former freestyle champion with 46 World Cup wins and a gold medalist in moguls at the 2010 Olympics in Vancouver.
World Cup correspondent Patrick Lang wrote about Mikaela Shiffrin's career in the May-June 2023 issue. 
Snapshots in Time
1970 Fall and Die
Once again, Sylvain Saudan is alive and well. He has just skied down the almost vertical face of Chamonix's Aiguille de Bionnassay, and by the time you read this article Saudan probably will have added the fearful west face of Switzerland's Eiger to his collection of first descents. He will have skied down or he will be dead, because if Saudan falls once he is a dead man—and he knows it. — Harvey Edwards, "Daredevil of the Alps: He Skis the Steepest" (SKI Magazine, Spring 1970)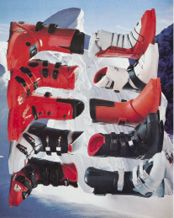 1982 Knee Highs
Last year's "knee-high" boots have made a lasting mark on the industry as this year's models reflect a move towards a compromise mid-calf height that will probably be with us for quite a while. For those of you who still want the super highs, Dolomite, Tecnica, Raichle and Trappeur will happily accommodate you. The advantages, of course, are increased leverage of boot over ski and more comfort because stress loads and pressure points can be distributed over a larger contact area — "Equipment Expose" (Powder Magazine, Fall 1982)
1990 In Praise of the (Lifesaving) Skid Turn
I was disappointed with the analysis of the "Why Most People Ski Badly" because it repeats the long-standing concept that there's a "right" way to ski. Stenmark's technique may only be practical for top athletes. Yet one of the best aspects of skiing is that it can be enjoyed by a wide spectrum of abilities and equipment types. Do you really want to recommend "death to the pivot-skid turn"? Had I tried to ski The Grand Teton without it, I would be dead today. — William Briggs, Jackson, Wyoming, Letters, "Skiing Better in the '90s" (Snow Country, June-July 1990)
2010 The Power of Average
Skiing asked a great question in the December issue: Do
average skiers care about the Freeride World Tour? Well, this average skier doesn't. You know what would have been great? To see average skiers doing average things in your photo annual. And "How to Jump" in the same issue? Not many average skiers even think about that. A good day for me is when my skis remain on the snow. — Bob Griffin, Westfield, Massachusetts, Letters, "Average Skiers Unite" (Skiing Magazine, February-March 2010)
2021 Winning's Price
Skiing almost broke me. And I'm far from the only athlete with a story like this. Elite competitors are starting to speak up about a reality that some coaches, doctors and sports associations have ignored or even covered up: World-class competitive sports can push children and young adults to the breaking point and sometimes beyond. It's not just a few bad apples; it's a culture focused upon winning at all costs. — Zoë Ruhl, "Our Culture of Winning at All Costs Is Broken. It Almost Broke Me." (New York Times, August 6, 2021)
2023 Still Grieving
Beloved as he was, the Old Man was a pile of rocks—until May 3, 2003, when the slabs collapsed, victims of the same forces that had sculpted the human likeness in the first place. So why, 20 years later, is the stone face still mourned in New Hampshire like a fallen president? "I think it was a timeless and reassuring symbol, and people thought it was never going to fall," said Brian Fowler, who helps run the Old Man of the Mountain Legacy Fund, created after the collapse. — Jenna Russell, "Why the Fuss Over a Rock Formation That Fell? Don't Tell New Hampshire That." (New York Times, May 5, 2023)
Already a Member?