Wini Jones, skiwear pioneer
Image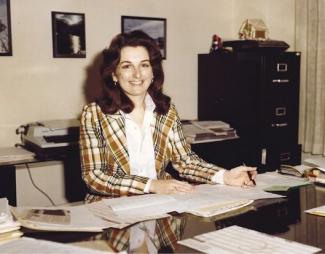 She ruled American stretch pants. Now she sells Skiing History.
Wini Jones, arguably North America's premier skiwear designer, grew up in Calgary, Alberta, skiing in Banff. Her young father, Johnny Jones, afflicted her with an unpronounceable Welsh name, which she changed to Wini when the family moved from one side of Calgary to another. He taught her to ski at age three on Mt. Norquay in Banff.
By age fourteen, Jones showed grit and laser focus: she ran gates, skied with the big boys and made her own skiwear. "I made it out of impractical things like green felt and leopard pile that had no place on a ski slope," Jones recalls. "It was ridiculous. I had a green felt cape that flowed in the wind and made a Robin Hood hat with a pheasant feather."
She had a discerning eye: The popular Fusalp parkas of the era, from France, had a military tunic cut with a silly two-inch-tall collar, entirely inappropriate for winter weather in the Rockies, or anywhere else. She knew she could do better.
Jones, at 16, sold a few outfits from a small fashion show she put on as half-time entertainment at a Dick Barrymore film showing in Calgary. The course was set: She was determined to make a career in ski fashion. That would mean learning French, the language of fashion, and German, the language of ski commerce. And she would have to master textiles and design.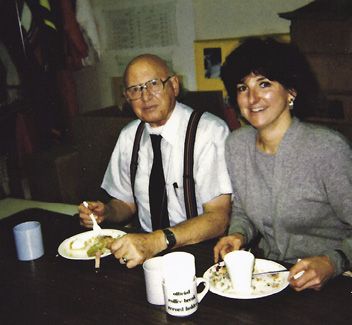 Sam Roffe with Wini Jones.
Jones breezed through the University of Montana in Missoula in three years, earning degrees in textile science and French while competing on the ski team. During her freshman winter, she took a week off to get certified with the Canadian Ski Instructors' Alliance. By senior year she realized she needed a specialized design school, and a fellow ski team member, Bärbel Matz from Austria, recommended the Modeschule der Stadt Wien (Fashion School of the City of Vienna), located in the old Hetzendorf palace built in 1690.
So, off to Austria she went, knowing that classes were in German and not being able to speak it. Arriving several weeks early, a lot of study and total immersion with no English changed that. It worked: She got a job teaching skiing at St. Johann in Tirol at Christmas.
There were no exams at Hetzendorf. Instead, there were design contests. Companies would ask for designs that could be turned into products, such as Bally Shoe. If the company used a design, the student got a small cash prize (150 schillings, about $6). Jones, paying her own way without parental support, worked hard and won prizes, which paid for groceries. Next was a summer in Lausanne, Switzerland teaching swimming in French and dating a man who could not speak English or German.  Her French really improved. Now considering herself educated, she wanted to play for the winter; first part was teaching skiing at Zermatt, followed by Axamer Lizum near Innsbruck. Teaching in French, German, and English kept her working and fed.
In October 1967, Jones landed a job in Seattle with Sam Roffe, of Roffe skiwear. He asked, "I haven't hired a designer. How much do they make?"Starting salary was $450 a month. Only 23 years old, Jones was able to develop a fabric from the fiber selection to the weave, create the finish on the fabric, develop and select the colors, create the garment design, take it through the pricing, build the advertising and promotion, and carry it through to the selling of the product to the 16 salespeople. "I did it all, the whole spectrum from start to finish," she says. "It was extremely rewarding even though there were some failures. I loved it."
Roffe, six feet tall and as bald as Howard Head, never skied in his life. His avocation was breeding racehorses, including one named Winihaha.  Jones and "Mr. Roffe," as she always called him, would often head to Los Angeles to watch his horses run. Originally a tailor of uniforms, he got into skiwear by supplying stretch pants for the U.S. Ski Team for the 1960 Olympics at Squaw Valley.
Roffe was the perfect inside man, collaborative and generous with his employees, skilled in making patterns for stretch pants and as Jones calls him, "impeccably, immaculately honest." He loved working on the floor with the cutting and sewing staff and left the outside business—sales management, marketing and advertising, research and design—to Jones. He bought into her philosophy: "Nobody goes skiing if they are cold," she says. The best and warmest stretch pant fabrics came from Schoeller Textil in Switzerland, from whom Roffe bought
$1 million of fabric a year through the 1970s and '80s "The process is to develop warmth by air entrapment with insulations and fabric construction. And do it in garments with style and the right colors," she recalls.
Through the '70s and '80s, Roffe was the market shareleader in stretch pants in the U.S., making 150,000 pairs each year, well ahead of Number Two, Bogner. The company also made up to 250,000 parkas, overalls, warmup pants and one-piece suits, all sewn in Seattle by a corps of 200 to 280 sewing machine operators, depending on the time of year.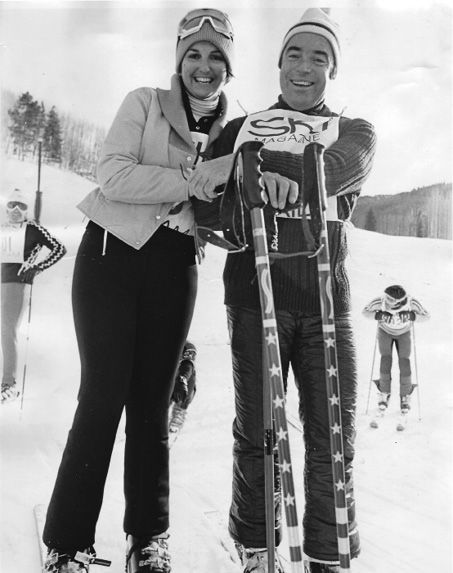 Wini Jones with Pete Seibert.
In 1973, when a previous supplier could not complete the project, Roffe stepped in to supply the 30-member U.S. Ski Team and coaching staff with Jones-designed jackets, stretch pants, warmup pants and downhill suits—all custom made. And at the team's request, not red, white and blue.
Part of Roffe's marketing success came from color-matching with products from partner manufacturers, like Demetre sweaters, that let savvy retailers upsell customers into full
ensembles: "You've got the jacket, and that looks great. Do you want the matching sweater? How about the matching knit hat?"
 In 1987, Jones was elected to the Council of Fashion Designers of America, an exclusive club of 250 that produces New York's annual Fashion Week. In alphabetical order, she was listed just ahead of Calvin Klein.
Sam Roffe died in 1994, at age 85. The company was sold, and Jones—long a partner in the firm—retired after almost three decades in management. She was only 52 and full of energy for causes on Bainbridge Island, Washington, where she lives in a Japanese-style home. She helped found a public-access television station, BITV. She served on the boards of Bainbridge Performing Arts, the Historical Society and the West Sound Wildlife Shelter. She was president of the island's economic council. For all this, in 2007 she was named Citizen of the Year for Bainbridge Island.
She now serves on four of the University of Washington Business School's advisory boards, helping MBA students establish new companies, which includes acting as a judge in contests that award seed-money grants.
And she went skiing. Whistler-Blackcomb is her "home" mountain, six hours away. She goes there often Monday through Friday—weekends have become too crowded in this Epic-Pass era. "I was in Whistler last week for three days of hard skiing, and it took my thighs two days to recover," she says. "You feel like you are dancing when there are good conditions. You are just dancing and you don't want to quit!"
In 2010, David Ingemie, past president of Snowsports Industries America, who had worked with Jones for years, drafted her to serve as a director for the International Skiing History Association. "We need a woman on the board who can get things done," he told her. Today she serves as vice president and heads the busy marketing, nominations and museum grant committees. She also conducts a spectacular vintage fashion show to kick off Skiing History Week each spring.
Jones brings a clear-eyed business sense to her work for ISHA. "We have an absolutely wonderful product in Skiing History," she says. "The magazine has top quality printing, great literary guidance and a super editorial board. Now we have to promote this product to the entire skiing world." And she does it, in English, German and French. 
Melinda Moulton paid tribute to Mad River Glen's Betsy Pratt in the January-February 2023 issue.
Already a Member?