Letters: Remembering Doug Pfeiffer
Image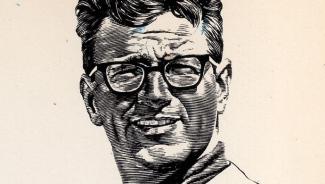 Thank you for honoring the late, great Doug Pfeiffer by reprinting one of his many articles ("Revolution in Ski Teaching," September-October 2023). 
Here's an extra dash of trivia for Doug's remembrance: He was an early adopter and instructor of snowboarding. At a time when prejudice against snowboarders ran high and many ski areas would not allow "knuckle draggers" on lifts, Doug dropped in. He taught snowboarding at Snow Summit, California, in the late 1980s.
Doug was skeptical at first. In a February 1990 article for Snow Country 
magazine, he described snowboarding as "the art of going downhill while standing sideways with feet cast in concrete." Whatever inefficiencies he saw in the fledgling sport were overcome by his curiosity and perseverance. "A year ago, had anyone told me—a skier of long standing—that I'd actually become joyfully addicted to snowboarding, I'd have fallen off my skis laughing," he wrote.
He developed a system to teach snowboarding with three basic moves for edge control, pressure control and turning control, promising proficiency in eight hours or less. "I logged 16 hours on a board before white-knuckled terror, even on intermediate runs, was replaced by mostly pleasurable rides. Now I'm able to teach the sport, and my students learn in five to eight hours what took me 16." The man not only knew how to get down a hill on multiple conveyances, but he shared his knowledge and wrote about it with flair.
Ron Rudolph
Fairfield, Connecticut
Skiing's Mark Twain
Doug was very special to me. He and Ginny were so welcoming and solicitous to me and my wife, Corinne, on our many trips to Park City/Deer Valley for veteran ski instructors reunions in the early 2000s. He introduced us all around, took us to parties of skiing's movers and shakers and other friends, made sure we were teamed up with a group for skiing for the next day and skied with us on many, many runs. He loved to do his "Pfeiffer Tuck," "Royale Christies" and the "Mambo."
When I mentioned to Doug that I couldn't believe how well Stein Eriksen skied at Deer Valley, even though Stein at that time was 80, Doug replied to me, "I'm older than Stein!" And Doug was skiing like a teenager.
The year I nominated John Fry and Doug to the Laurentian Ski Museum Hall of Fame, John gave a great acceptance speech, entitled "I Remember/Je me Souviens." But Doug's brought the house down. He was witty, funny and historical. I used to call John the dean of North America's ski history; I often said that Doug was skiing history's Mark Twain.
Doug was inducted into the U.S. National Ski and Snowboard Hall of Fame in 1987; the Canadian Ski Museum Hall of Fame in 2000; and the Laurentian Ski Museum's Hall of Fame in 2016. 
Bob Soden
Montreal, Quebec
Be a Holiday Hero
Impress your family and friends by immersing them in the history of our sport for the holidays. A subscription to Skiing History magazine is the ideal gift for the discerning skier or rider­­—and conveniently suitable as a great stocking-stuffer. Go to skiinghistory.org/join to send a subscription to a friend or family member at a discounted holiday gift rate.
Already a Member?