The Odyssey of Walter Neuron
Image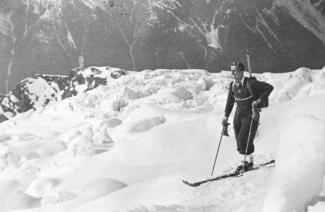 Fleeing the Nazis, a skier crisscrossed Europe, landing in Ohio and in the 10th Mountain Division.
Walter Neuron was born in 1915 to parents Leopold and Camilla, who lived in Vienna. Leopold was an officer and mountaineering instructor in the Imperial-Royal Mountain Troops, along with such luminaries as Mathias Zdarsky and Hannes Schneider. The mountain troops were part of the Landwehr, or territorial reserve; unlike the regular army, the Landwehr permitted Jews like Leopold to serve.
All photos from the Walter Neuron collection. Top of page, Neuron skiing at Chamonix, 1939.
"I was skiing by age seven in 1922, and skiing was part of schooling," the younger Neuron recalled. "We piled onto the tram in Vienna and rode it a short distance into Wienerwald, where the highest point was 893 meters (2,930 feet). Here we skied both touring and alpine. I improved quickly, and by age 10 I graduated to more advanced terrain. On holidays we packed our rucksacks and gear, and rode the train to Türnitz and Schneeberg. We climbed for two hours and then the professor taught us to make very good telemarks and then we skied to the bottom. Later, we skied in interschool races that were very competitive. In the summer we competed in rowing and sailing."
One of Leopold's non-Jewish army buddies, Friedrich, married Camilla's sister and became Uncle Friedrich. He introduced the younger Neuron to the fine art of mountain photography. In July 1927, they drove into the Alps, the back seat of the car stuffed with rucksacks and food, along with a large-format wooden camera, a tripod and glass negatives. They shot mountain landscapes, and Neuron learned to focus, compose shots and expose the negatives. By the mid 1930s, he was shooting with a new Leica II 35-millimeter camera with interchangeable lenses and a range finder.
By 1930, at age 15, Neuron was enrolled in Hakoah-Wien, Vienna's Zionist sports club (the name means "strength" in Hebrew). Founded in 1909, when Jews were excluded from other sports clubs, Hakoah by 1935 had an enrollment of 5,000 members. It marketed itself across the globe and served a Viennese Jewish population of 180,000. The club fielded a professional soccer team—the first foreign team ever to beat a British club in Britain—and members also competed in swimming, fencing, field hockey, ice hockey, track and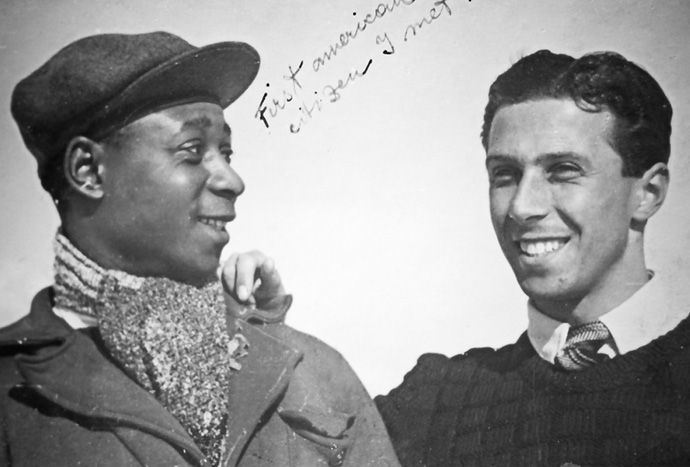 field and wrestling. Neuron became proficient in skiing, rowing, tennis, swimming and diving. The impressive Hakoah natatorium and sports stadium seated 25,000. By 1935 Neuron was a Hakoah ski instructor, teaching at Wienerwald, Türnitz and Schneeberg.
When he completed secondary school, he passed the state exam to enter university, but his father offered him a job in the family business instead, selling gifts and souvenirs to resort hotels and other tourist destinations. Meanwhile Neuron's Hakoah friends were warning him of the increasing anti-Semitism at the University of Vienna campus. Jewish faculty and staff, as well as students, were being targeted. Working for his father meant that Neuron would call on gift shops across Austria rather than stay in Vienna. "This was a no-brainer," he recalled. "Abuse at the university or skiing as part of my job." He bought a car and built a ski rack inside.
Neuron found a second home in St. Anton, where his father's old friend Hannes Schneider allowed him to ski (and party) with the instructor corps. Schneider tolerated no anti-Semitism in the ski school, which was one reason St. Anton attracted a cosmopolitan international clientele, including many Americans.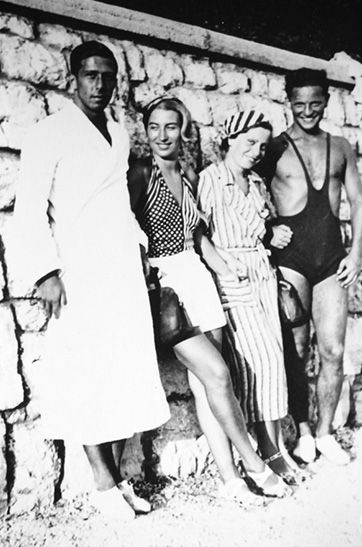 In the summers, Neuron hit the beaches in Croatia, swimming, diving and chasing girls. He tried out for the Austrian national team that would go to the 1935 Maccabiah Games (Jewish Olympics) and was selected for diving and rowing. Some 2,000 athletes representing 28 countries competed in Tel Aviv. Austria won the event title with 399 points, and most of the team's athletes were in Hakoah.
In late 1936 the Neurons began looking for a safe country to immigrate to, as their connections within the Austrian military had warned them to leave soon. "Sometime early in 1937 my father made a mysterious trip to London," Neuron recalled. "He found a sponsoring family in Columbus, Ohio, that would provide visas and other papers as well as lodging until we were settled. I had no idea where Ohio was. My concern was, were there mountains there, and Dad didn't think so."
Neuron's father wanted his son to have military experience and so leaned on friends from the mountain troops. In six months in 1937 Walter Neuron did basic training with the army reserves. He learned to fire rifles and machine guns and engage in hand-to-hand combat.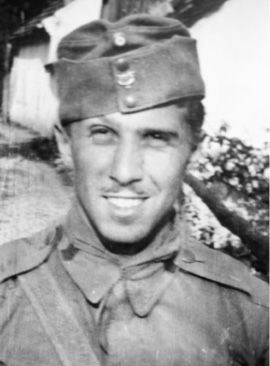 The elder Neuron took no chances. He sold the family business and house, and consolidated investments into cash. Then he arranged for his old commanding officer from the mountain troops, now the owner of an Italian taxi firm, to drive them to safety (which required bribing the border guards).
Meanwhile, the 1937–1938 ski season was fast approaching and the younger Neuron now had no job obligations. "I decided to ski places I had never been to and to spend as much time as possible in St. Anton and the St. Christoph region." he said. As he was packing for the trip, his uncle Friedrich showed up and gave him a membership card for the German Alpine Club. The idea was that it would get him into mountain refuges if he needed to cross borders.
By March 1938, the family was ready to leave for Italy. Neuron walked over to Hakoah's main facility to collect some belongings. On the way home he took a shortcut through back alleys and witnessed two Nazi Brownshirts beating up an old Jewish street musician, kicking him and hitting him with his violin.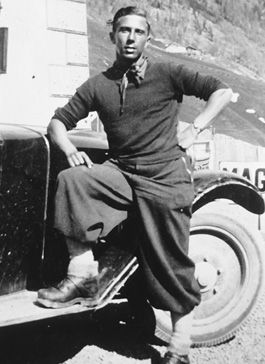 "I've never told this story to anyone because I never wanted to remember what happened, and it happened fast," Neuron said. "I rushed the two thugs and threw one to the ground hard. The other thug swung the violin at me, and I threw it to the ground and hit him several times. The old man got up and ran away. I stood there for what seemed like a long time. There was a lot of blood. Then I picked up my things and ran home. I told my parents and Friedrich what happened and there was a long silence. Friedrich said that I could not travel with them since I could be identified." Neuron never found out if the two thugs survived.
The next day his parents left for Italy while Neuron stayed at home until his uncle could find out more. Two days later, on March 12, 1938, the German army marched into Vienna. Uncle Friedrich hid his nephew in the trunk of his car and drove to the Italian border, where the taxi company owner was waiting. Neuron climbed into the taxi's trunk and was driven to safety.
He hid out for two months at a friend's summer house on Lake Como. Through a Mafia contact, he bought fake visas to get to France and Portugal. He then took the train to Venice and asked the Swiss Consul for a visa. To exit Italy, Neuron needed to prove he wasn't Jewish. On the strength of the German Alpine Club card, a consular officer decided he wasn't Jewish and approved a three-week vacation in Switzerland. After the three weeks were up, the Swiss arrested him, but Neuron showed them his fake visas and they let him cross into France.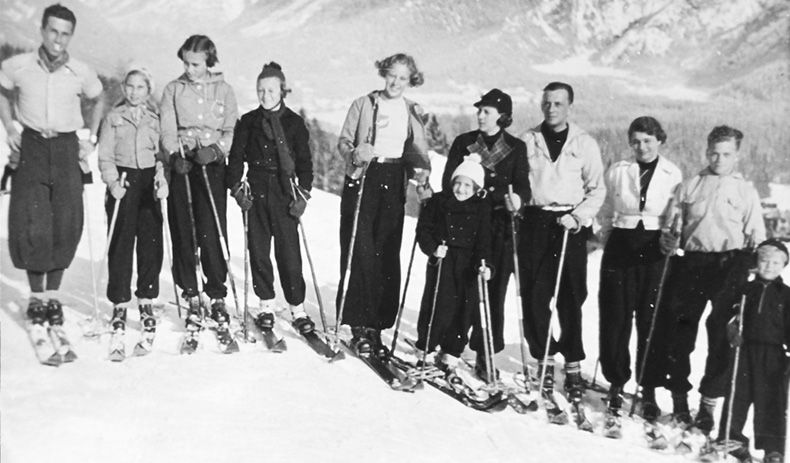 He then hitched a ride to a train station and booked a ticket to Paris, where several of his Hakoah friends were waiting to sail to America. It was December 1938, and snow was falling in the French Alps, so Neuron went to Chamonix. There, he rented a room for the winter, turning the bathroom into a photo-processing lab so he could make a living selling photos to tourists. He also joined an underground ski school and by Christmas was making money. Twice during the winter, Neuron was arrested and fined for working without a permit, but everyone seemed to like him, even the cops.
By June 1939, the French authorities were getting worried about a German invasion and put out arrest orders for all foreigners without papers. When the local cops came for Neuron, they allowed him to keep all his possessions, then drove him to an internment camp at a soccer stadium in Marseilles. The situation there was informal, but the guards were armed.
Friends from Chamonix traveled to Marseilles to check on Neuron. They bribed the guards and drove him into Spain, where he found his way to Lisbon and boarded a steamer to America.
And so Neuron eventually found his way to Columbus, reuniting with his parents. His intention was to open a photographic studio, but the authorities in Columbus confiscated his camera gear, fearing that since he was Austrian, he might want to send sensitive photos to the Nazis in Germany. Neuron then called Hannes Schneider in New Hampshire, asking for a job teaching at Cranmore. The answer was yes.
When America entered World War II after December 7, 1941, Neuron was one of 13 Cranmore instructors who joined the newly formed 10th Mountain Division. They went to train at Colorado's Camp Hale, and by late December 1944 Neuron was back in Italy, assigned to HQ Company, 3rd Battalion, 86th Regiment. He fought in the bloody battle of Mt. Belvedere. Afterward, because he spoke four languages, he spent the rest of the war interrogating prisoners.
At the end of the war Neuron went briefly to St. Anton but soon returned to Columbus and set up a photography studio. He had a long career as a portrait photographer and in 1961 became ski school director at the new Snow Trails ski area near Mansfield—Ohio's first ski area. After retiring in 1986, until his death in 2000, Walter lived and skied in Colorado, where he bought apartments in Keystone and Vail. 
Paul Hooge taught in Walter Neuron's Snow Trails ski school and is a member of Skiing History's editorial review board.
Already a Member?