Ivica Kostelić, the Sailor
Image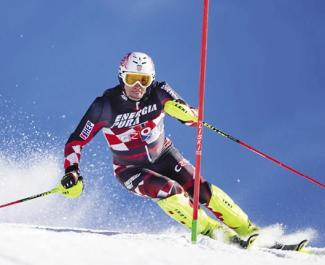 From an island in the Adriatic, a World Cup champion plots his course.
Above: Winner of the 2011 overall World Cup title, Croatian racer Ivica Kostelić was one of the top Alpine skiers of his generation.
The typical ski champion retires as a resort-town business owner, ski coach or TV commentator. But a handful find success outside of skiing entirely. France's overall 1997 World Cup champion Luc Alphand became a brilliant rally driver, clinching the legendary Paris-Dakar race in 2006. Austria's super G ace Christoph Gruber is now a pilot for the Tyrol Air Ambulance group. Dominique Gisin, the Swiss Olympic downhill champion in 2014, is also a professional pilot, with a degree in physics from the ETH Zurich.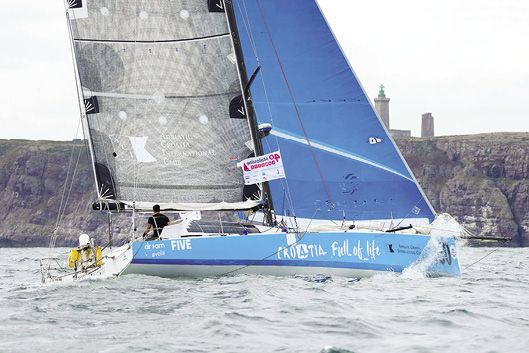 Ivica Kostelić, winner of seven Olympic and FIS medals, including gold in the 2003 slalom World Championship and the 2011 overall World Cup title, retired in 2017. He's now 43 years old, the father of four and a rising star in long-distance ocean racing. Skippering his Class 40 sloop, he won once and finished second twice in the first three races this summer. He has a strong chance to win the 2023 Mediterranean Trophy.
Early in his skiing career, he was mostly known as the older brother of the phenomenal Janica Kostelić. Three years younger than "Ivo," Janica was only 17 when she celebrated her first World Cup victory in January 1999, capturing the combined event at St. Anton am Arlberg, in Austria. Her career nearly ended in December of that year when she blew out her right knee during a terrible crash while training downhill at St. Moritz, Switzerland. After a year of hard rehab, she won the first slalom of the 2001 season, at Park City, Utah, and went on to win eight consecutive slaloms and clinch the first of her three overall World Cup titles at the 2001 Finals at Åre, Sweden.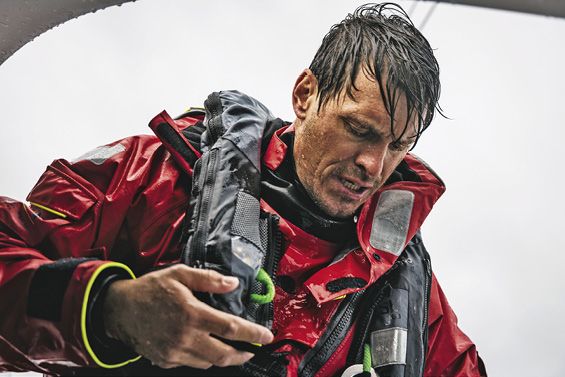 Ivica would need more patience. After his own knee injury in 1999, he scored his first World Cup victory the day after his 22nd birthday, at Aspen in November 2001. Starting the slalom with bib number 64, he crushed the favorites, including Italian star Giorgio Rocca and reigning world champion Mario Matt from Austria, who later captured the second slalom on Sunday, ahead of Bode Miller.
For the rest of the 2002 season, Miller and Kostelić battled hard on the World Cup circuit and at the Olympics in Salt Lake City. Bode left Utah with two silver medals, in giant slalom and combined. Kostelić didn't finish his Olympic slalom run but faced off with Miller in a nerve-wracking duel at the World Cup Finals in Flachau, Austria. There, he beat Miller by a few tenths to secure his first slalom globe.
Over the next 15 years, and despite 14 knee injuries, Kostelić remained a star. He claimed the FIS gold medal in slalom at St Moritz 2003, a day after his sister's gold medal. He clinched his first Olympic medal in combined, behind Ted Ligety, at Sestriere, Italy, in 2006. On January 5, 2003, he won the slalom at Kranjska Gora, Slovenia. (It also was Janica's 21st birthday, and she won at Bormio that day.) Able to win in both slalom and super G, he won the Hahnenkamm combined trophy four times in a row, from 2010 to 2013.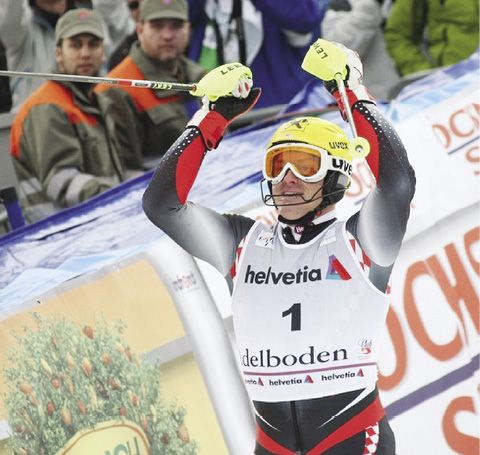 In January 2011 Kostelić won a spectacular super G, set on the lower part of the treacherous Streif run at Kitzbühel, Austria. That month he achieved a total of seven World Cup wins at four venues, including in parallel slalom at Munich. That's some kind of a record on the men's tour! This extraordinary accomplishment helped Kostelić to secure his overall World Cup title that year—a stunning performance for a slalom specialist from Croatia. He also took the championships in slalom and combined, then repeated the combined title the following two years. In February 2012, the World Cup traveled to Sochi for the pre-Olympic series; Kostelić won the combined, then injured his knee in the downhill. At the time he stood 218 points ahead of Marcel Hirscher in the overall World Cup standings but was sidelined for 11 races and had to be content with a disappointing fourth place at the end of the season. He claimed two more wins on the World Cup tour the following year, in combined and slalom at Kitzbühel and Kranjska Gora, plus the silver medal in combined at Sochi in 2014, before slowly fading. He retired in February 2017 to pursue other goals and take better care of his family.
With four Olympic silver medals, from 2006 to 2014, in slalom and combined and five crystal globes, as well as 27 victories and 67 podiums in several World Cup specialties, Kostelić was among the greatest performers in modern ski racing.
Like Swiss downhiller Peter Mueller and Italian ace Alberto Tomba, Janica and Ivica Kostelić were city kids—rare birds among top skiers. They grew up in Zagreb, the capital of Croatia, and trained at Sljeme, a small hill of 300 vertical meters (1,000 feet) just outside of the city. The area had a racing tradition, and from 2005 to last winter, some exciting World Cup races took place there.
Papa Ante Kostelić was a world-class handball player, a member of the Yugoslav national team and a coach at Cannes on the French Riviera. He enjoyed masters-level ski racing, too. And he was a voracious reader of books on physical and mental training written by established experts, especially from the Eastern Bloc. He shared his knowledge and experience with Janica and Ivica, who proved gifted in coordination, balance and dedication.
In those days, most Yugoslavian ski racers came from Slovenia, the northernmost province, which has the Julian Alps. Croatia is better known for its long Adriatic seacoast. The Kostelić family also faced major logistic and economic problems when the Independence War started in 1991.
To make a living in those terrible days, Ante took up spear fishing in the Adriatic Sea, off the stunning island of Mljet, about an hour by boat from Dubrovnik, where he owned an off-grid cabin. He sold fish to restaurants on the larger island of Korcula nearby. He'd been taking the kids there since they were infants. Ivo began spearfishing at an early age and was an expert at 12. The kids also learned to sail in a dinghy and could circumnavigate the island.
They could ski train in summer and fall on distant Austrian glaciers, but it was expensive. Early on, the young kids usually slept in a tent or in Ante's old Lada car. To save money, they often walked up the glaciers above Kaprun instead of riding the cable cars. Lift operators on the glaciers sometimes let them ski for free.
At age 16, Janica scored some promising results at the 1998 Nagano Olympics in Japan. When former ski racer Vedran Pavlek retired to become manager of the young Croatian Ski Association, he was able to organize a pool of major sponsors, including Salomon, which provided excellent tools to the Kostelić kids.
In summer 2001, a few months after her glorious triumph in the overall World Cup standings, I spent a few days with Ante and Janica at their cabin in Mljet. That month, Ivica was returning to snow at Zermatt after another injury he sustained in January, a few weeks after scoring his first World Cup points in slalom at Sestriere. He regularly phoned his dad to report on his physical and technical progress, and Ante diligently recorded his comments in big notebooks. "I have many of them—I am writing down everything concerning their career as athletes," said Ante at the time. "Ivica is doing fine. I trust him to finally break through this winter," he added with a grin. And that fall in Aspen, that's exactly what happened.
Kostelić became a great defender of tradition in Alpine ski racing, claiming that the best racers need to compete in all specialties. He also defended the combined race and was not afraid to criticize the establishment in matters of course settings and general organization of the sport. Like Miller and former greats Pirmin Zurbriggen and Marc Girardelli, Kostelić enjoyed competing in all disciplines.
He was also great fun. One of the highlights of that exciting 2002 season was to see him jumping on the concert stage in the finish area at Adelboden, Switzerland, after finishing second in the slalom behind Miller. Borrowing a guitar from one of the musicians, he did a creditable Chuck Berry turn, singing "Johnny Be Good" as the audience cheered. Nowadays, he often tours with a pick-up band, including, as drummer, Canada's Jan Hudec, Olympic bronze medalist in super G at Sochi.
Always looking for new challenges, immediately after hanging up his race skis, Kostelić crossed Greenland on skis with a friend. They took 18 days to cover 582 kilometers (360 miles) in freezing weather and strong winds—a physically punishing trip.
Kostelić still felt strongly driven to compete at a top level but knew he needed a sport that wouldn't stress his knees. Eventually, he discovered the thrill of offshore sailing and racing.
"Sailing is a different way to enjoy nature," he explains. "It's a bit similar with skiing, as you are inside nature all the time and you are actively using the power of nature for your own propulsion. It's a constant dialog with the wind, and it inspires you in many different ways." He adds, "Nothing is comparable to the sea. The sea is freedom. And we have lost a lot of freedom in today's world. And the fact that you are sitting on a floating object, raise a piece of cloth and sail around the world for zero dollars says a lot about sailing."
Kostelić's Class 40 yacht is a high-performance sloop designed for offshore racing with a solo skipper or two-person crew. He spent a year sailing on his own, making mistakes and learning from them, then began racing in the summer of 2022. More mistakes, more learning. In November that year he had to drop out of a single-handed transatlantic race, the Route du Rhum, after storm damage took out his autopilot.
Kostelić loves the challenge, comparing it to racing downhill. "The Streif is a super-difficult slope to ski, even if you are not racing," he says. "Crossing an ocean as well. But racing makes those things so much more difficult." In skiing, he continues, "the top 30 are separated by only a few seconds, so you really must put a very strong effort to be able to race well. The performance level on the ocean is not that high, but it's quite different because, after you finish the Streif, you go back to the hotel, and take a nice little shower, and have a nice dinner, that's it. When you are done with your day on the ocean, the sun goes down, this doesn't change anything. You'll still be wet and miserable, and you'll still race through the night, through the storm, waves and sleep deprivation, and in this it's a different sport."
Whether he wins the Mediterranean Trophy or not, Kostelić will sit out the 2024 racing season. "I have a strong wish to continue racing, because I have started off quite well," he says. "But I'm taking some time off to be with my family at home. I have a big family now with four little kids. My parents are getting old. It's getting more difficult to leave home. So I don't have any bigger plans for the future. I'll see how things are developing."
Editor's note: Kostelić finished second in the season's final two races, clinching the Mediterranean Trophy.
Frequent contributor Patrick Lang wrote about the 2023 FIS Congress in the July-August 2023 issue.
Already a Member?