Ski Art: Maksim Gaspari (1883-1980)
Image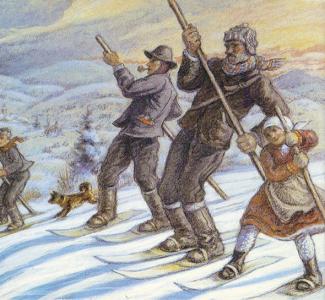 The long-lasting popularity of Maksim Gaspari's work is due to his ability to portray a traditional Slovenian rural culture as it moved into the modern world of efficiency. His images of the lasting joys of farming, of gathering mushrooms and fruits, of village characters—the world of yesteryear—still appear on calendars, and, in 1993, on a postage stamp.
His work is almost, it seems, an insistence to political leaders to not spoil those craggy hills up north on the Austrian border, to preserve the rolling meadows around Bloke and to enjoy Selšček, about an hour south of Laibach, Slovenia's capital when Gaspari was born (now known as Ljubljana).
The image clearly shows Gaspari's understanding of Bloke skiing, something that was known since Slovenian historian Johan von Valvasor's 1689 description. Of particular interest is the detail of the short and wide skis, the single strap over the toe of the boot and the style of wielding the pole. The girl obviously has not got it right, and she is also slightly off balance on her skis. The simple winter clothing of the Bloke peasant gives the painting its folk aspect and is typical of Gaspari's work.
As a postscript, a similar scene was also used as an advertisement for the Liebig meat company, and since a number of well-known artists were commissioned to illustrate trade cards with, often, historical and geographical themes, I suspect Gaspari was among them. 
Already a Member?