Museum News: Laurentian Museum's Opens New Digs
Image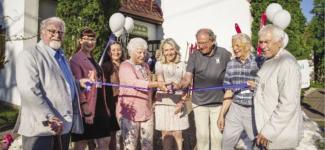 Cutting the ribbon at the LSM opening are (from left) political adviser Michel Kieffer, LSM curator Nancy Belhumeur, Municipal Councillor Rosa Borregrine, Olympic medalist and honorary LSM president Lucile Wheeler-Vaughan, Health Minister Sonia Bélanger, St. Sauveur Mayor Jacques Gariépy, LSM General Director Pierre Urquhart and LSM President Guy Thibaudeau. Melon Digital photo.
On June 21, the Laurentian Ski Museum (LSM), now in its 41st year, officially opened its expanded new headquarters at 6 avenue de la Gare, in St-Sauveur, Québec. The well-attended ceremony featured a ribbon-cutting event and the receipt of a large check from the local government.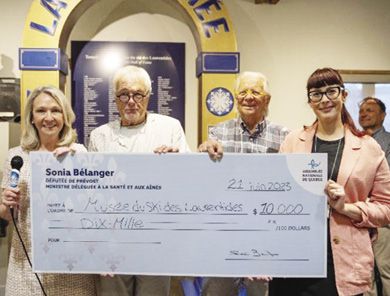 Formerly a National Bank building, this charming Québecois-style edifice has been happily repurposed as a ski museum and is now leased from the municipality. The collection was carefully transferred from the former museum home in a renovated fire station just a few blocks away.
The museum is open daily all summer, from Sunday to Wednesday, 11 a.m. to 5 p.m., and Thursday to Saturday, 11 a.m. to 7 p.m. Winter hours will vary (check the museum's website, below). If you come as a group, please call ahead to reserve a guided tour. Entry is free.
History of the Museum
The museum's story began in the 1960s when historian Bernard Brazeau began to indulge his passion for collecting ski artifacts. In 1980, he teamed up with two ski-historian colleagues, Jacques Beauchamp-Forget and Fernand Trottier, and together they created a "research group on skiing in the Laurentians." The Laurentian Ski Museum became a reality two years later. In 1992, Alice Johannsen merged her Musée Jackrabbit with the LSM. Founded in 1987, her collection recalled and honored the life and work of her father, Herman Smith-Johannsen (1875–1987).
Since its inception, the LSM has held an annual soirée of the Laurentian Ski Hall of Fame, which is part of the museum. The venue most often selected for this event has been the nearby Mont St. Sauveur main ski lodge (the ski area is now known as Sommet St. Sauveur). The list of inductees, some 178 over the past 39 years, includes such skiing luminaries as Émile Cochand, Sr., creator of North America's first ski resort, Chalet Cochand (1915); Lucile Wheeler-Vaughan, the first North American to win an Olympic medal in the downhill (Cortina d'Ampezzo, 1956) and the honorary hostess of the Hall of Fame for many years; and Linda Crutchfield, five-time Olympic competitor in skiing and luge, ski instructor and Level IV CSIA examiner. More recently, in 2016, the LSM inducted ISHA's own John Fry and Doug Pfeiffer.
The museum is justly proud of its extensive holdings, which include more than 7,500 artifacts and 20 private archive collections. Prominent among these collections are Jackrabbit's memorabilia and the mementos of the ski-racing careers of Rhona and Rhoda Wurtele; the LSM also maintains the website of the Répertoire-des-centres-de-ski-du-Québec (Directory of Quebec Ski Sites), by Pierre Dumas, which documents and geo-locates more than 600 ski centers, current and abandoned. The Dumas site received the ISHA Cyber Award in 2017. 
For more information, see skimuseum.com/laurentian-ski-museum.
Already a Member?