Ads from the Past: Rubberheads
Image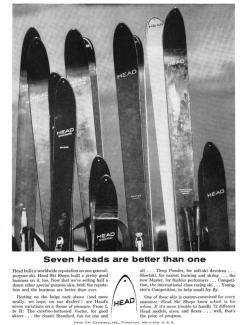 In the autumn of 1963, this ad in SKI Business magazine highlighted new technology from the factory in Timonium, Maryland. In addition to short skis (later branded for the Headway graduated-length teaching program), the new Head Competition debuted (see page 18). The Comp was a huge step up from Head's previous race skis, with a narrower, deeper sidecut and a thin rubber damping layer to reduce chatter on ice. Head later advertised that the rubber layer made the ski feel "snaky" in bumps and would build the best-selling 360 on the technology. Meanwhile, Fischer came up with rubber damping independently for its Alu-Steel series. Both companies would do well at the Innsbruck Olympics that winter. 
Coming Up In Future Issues
100th Anniversary
1924 saw the founding of FIS­—and the first Winter Olympics. We'll look back at the twin events.
Where Are They Now?
Joan Hannah
Stefanie Sloane
Collectibles
Vintage Fashion
Pins and Patches
PLUS
The Art of Otto Baumberger.
Join our Facebook page: facebook.com/skiinghistory
Already a Member?