Image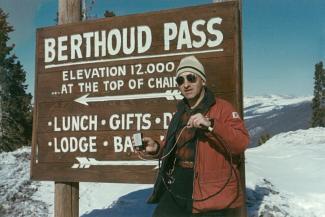 WWII vet John Lawton, inventor of the Skadi avalanche transceiver, reflects on life at age 100.
Above: Inventor John Lawton with an early prototype that featured a loop antenna sewn into a parka. 
John Lawton's apartment at an assisted living facility in Louisville, Colorado, is filled with mementos: a flag that flew over the U.S. Capitol, models of B-17 and Messerschmitt aircraft, and a framed letter from Rick Gray, a guide at Canadian Mountain Holidays (CMH). The letter, dated February 1972, reports the successful rescue of two skiers injured in an avalanche. One was buried and would have died had he not been extricated quickly.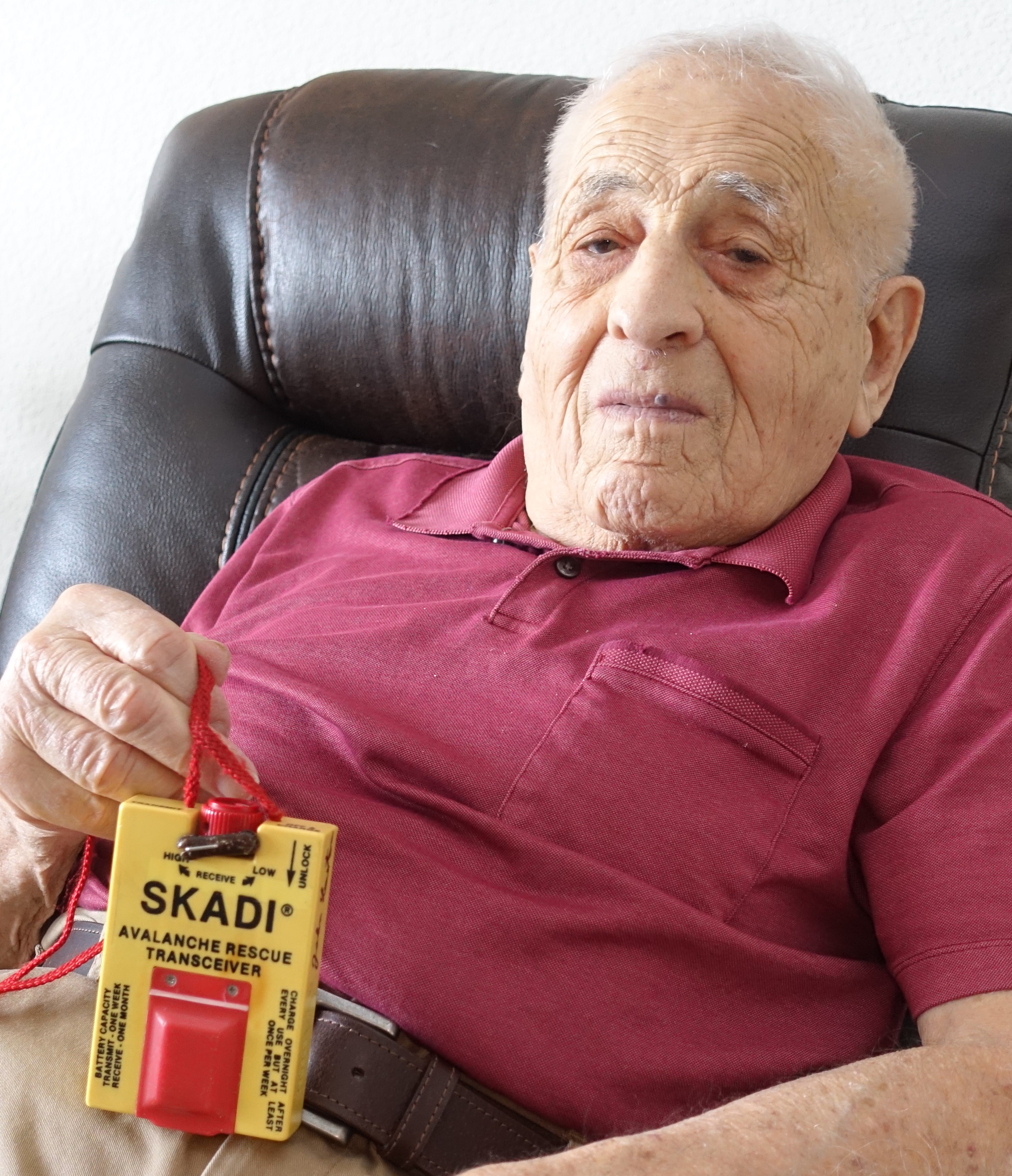 "If we hadn't had the Skadis," Gray wrote, "it would have been at least 20 to 30 minutes before we could have organized a proper probing and may have been at least another 10 minutes before the victim would have been located. … I am almost positive that during that time lapse this man would have completely suffocated."
Lawton would later write to Lou Dawson, a Colorado skier and mountaineer who founded the website Wild Snow, that it was "the first save by means of Skadi and, as far as I know, by any avalanche rescue beacon."
At age 13, Hans Georg Lowenstein survived Kristallnacht in Vienna and fled to England with his family, eventually emigrating to the U.S. Anglicizing his name, John George Lawton attended the City College of New York without having graduated high school. At 18, after Pearl Harbor, he tried to enlist in the U.S. Army but was turned down as an "enemy alien."
By 1943, the army wasn't so picky. Lawton was drafted after three years of college and assigned to a reconnaissance team in the 91st Infantry Division, then training in Oregon. The division had further intense training in North Africa and, beginning in July 1944, fought its way across mountainous terrain in Italy from Rome to Leghorn to Pisa to the Po Valley. It broke the German Gothic Line and finished the war in Trieste.
Back home, Lawton finished college at MIT, then earned his Ph.D. in electrical engineering at Cornell University. While working on classified communications and missile-guidance systems at the Cornell Aeronautical Laboratory, he married, had seven kids, earned a pilot's license and continued his lifelong passion for skiing.
During a ski holiday at Alta, Utah, Lawton encountered the pioneering snow ranger Ed LaChapelle, who was then experimenting with avalanche rescue, and realized he could design a better system. After months in heavy combat and years of work on classified weapons, says Lawton, "I think it's nice to have invented a device that saves lives instead of taking them."
Before Transceivers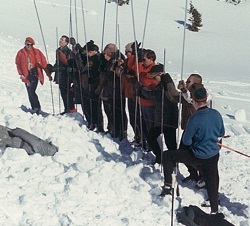 Prior to transceivers, avalanche rescue consisted of teams of searchers with wooden probes and avalanche cords. The use of probes often proved gruesome. Teeth notched into the ends of the probes helped rescuers determine what was underneath. What came up after turning a probe might be wood bark, or it might be bloody bits of clothing. "It was tough to tell the difference between a human being and a branch that bent," Lawton recalls. "We needed something that made a beep-beep-beep sound when a body was found."
As for avalanche cords, according to a story in Backcountry magazine (February 23, 2015), "In the First World War, Austro-Hungarian Alpine companies began using avalanche cords while crossing often-dangerous mountain passes. Soldiers would tie the 20–25-meter cords around their waists, and, if an avalanche broke, the light rope unfurled and rose to the surface. The cords were numerically marked every meter, and arrows pointed toward the buried skier."
Early Skeptics
The introduction of the Skadi transceiver, named for the Norse goddess of skiing, was hailed by the New York Times (February 16, 1969) as a new electronic device that might ultimately replace avalanche dogs. The invention was credited to Lawton and demonstrated at the Forest Service's avalanche school in Alta. "However, the day seems distant when ordinary skiers and climbers will carry such equipment," sniffed the Times' Walter Sullivan. "Meanwhile the keen-nosed avalanche dogs will continue to save lives."
As proof, Sullivan recalled a visit to the Great St. Bernard Pass, where Prior Bernard Rausis, in charge of the famous hospice between Switzerland and Italy, praised his dogs as rescuers, many of whom were trained at a special school in Verbier.
Incidentally, the whiskey barrel around those St. Bernards' necks is a myth, apparently perpetuated by the 1820 painting "Alpine Mastiffs Reanimating a Distressed Traveler." In the Times interview, Rausis scoffed at the idea that true St. Bernard rescue dogs carried small kegs on their collars: "How could a dog with a keg under its chin drop his nose to sniff out snow-buried travelers?" Furthermore, Rausis pointed out, fumes leaking from the keg would smother the dog's sense of smell.
Pulsing Electricity Through Copper
Prior to Lawton's work, researchers had developed electromagnetic devices to locate avalanche victims, but these lacked the range and accuracy to find those buried quickly enough.
From his lab at Cornell, Lawton sent transceiver prototypes to LaChapelle for testing. "They worked," LaChapelle later wrote to Lou Dawson. Simply stated, Lawton's device radiated a magnetic field by pulsing electricity through a copper coil. Each member of a skiing party would carry a Skadi switched to its transmit setting. If a skier went missing, the rescue party would switch their Skadis to receive. The receiving part of the unit picked up the transmitting signal and converted it into a sound heard through an earphone. The sound would grow louder as a searcher moved closer to the victim.
The original Skadi loop antenna was sewn into the back of a ski parka. While it provided adequate range, it proved awkward to use, while limiting the user to the chosen parka.
Lawton's Cornell team selected a frequency of 2.275 kHz, which is within the range of the human ear. That eliminated the need for an amplifier to convert a radio signal to an audible tone. That frequency was also free of interference and worked well when blocked by objects such as rocks and trees.
The Hot Dog
In the early 1970s, Lawton downsized the unit, replacing the copper loop with a smaller, ferrite loopstick antenna integrated into a handheld plastic box, which was nicknamed the "Hot Dog" for its size, colors and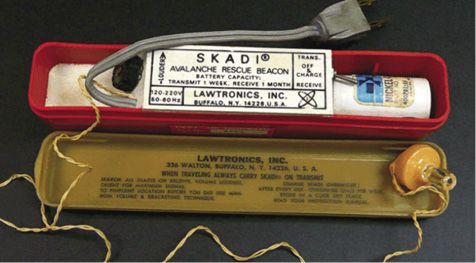 curved corners. This Skadi featured a long-lasting battery and an approximately 90-foot range. It retailed for $125 ($980 in 2023 dollars) and was originally made in Lawton's home basement under his new company name, Lawtronics. While Skadis could be found at all major U.S. and Canadian ski areas, and CMH alone purchased 400, their sale "never amounted to a big business," says Lawton.
In 1996, the American Society for Testing and Materials approved the highly directional 457 kHz frequency as the international standard for avalanche transceivers because of its greater range.
Skadis had a significant impact on avalanche safety that continues to the present. Today's digital avalanche beacons, such as the popular Backcountry Access Tracker DTS, incorporate microprocessors to enable rapid directional searching, but all of them work on similar principles to the original Skadi.
"Transceivers are still the best way to find someone who is buried under the snow," says Mike Duffy, a Colorado-based certified American Avalanche Association instructor and founder of avalanche1.com. "The ease of use has changed dramatically with digital transceivers with multiple-burial features and decreased search times. Transceiver use is no longer the hard part of rescue, it's the digging that takes the most time."
That requires probes and shovels, learning and practice, and trained avalanche dogs (without whiskey kegs) to increase the chances of finding victims. 
Jeff Blumenfeld, a resident of Boulder, Colorado, is vice president of ISHA and author of Travel with Purpose: A Field Guide to Voluntourism (Travelwithpurposebook.com).
Already a Member?