A Wild Winter in the West
Image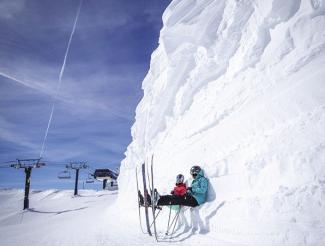 The 2022-23 season buried historic snowfall records.
From the Sierra Nevada range of California to the Wasatch Mountains of Utah, the winter of 2022–23 brought massive snowfall. It turns out, to no one's surprise, that it really is possible to have too much of a good thing. (photo top courtesy Palisades Tahoe)
Palisades Tahoe closed for days on end while crews shoveled out lifts buried under 50 feet of snow. Passholders were not happy. The resort generated no revenue. No real estate was sold when properties were inaccessible.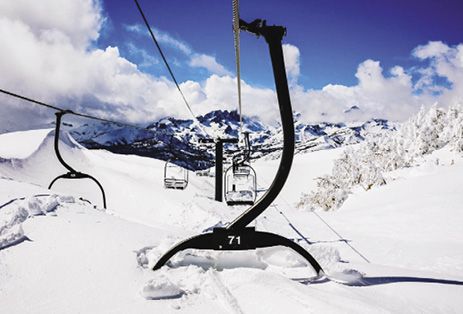 At Alta and Snowbird, the "Interlodge" experience confines skiers to their hotels until avalanche danger passes and the mountain reopens. It can be great for guests when they finally are released and get to be the first ones to the untracked bounty. But this year Alta topped its snowiest winter ever, by more than eight feet (2.4 m) in early April, and Interlodge lasted from Monday, April 3, to Friday, April 7, with a brief respite on Thursday. Families lost a week of holiday, and the resort a week of on-mountain sales. In hopes of recouping, Alta extended its season to April 23 and closed with a total of 75 feet (22.8 m) of snow. Snowbird announced a closing date of June 15.
Most of the Sierra Nevada resorts stretched their closing from mid-April into at least early May; Kirkwood closed May 1, reporting 59 feet (18 m). Palisades Tahoe had similar numbers but plans skiing for July 4. Mammoth, with a record 60 feet (18.2 m) at the base lodge and 74 feet (22.4 m) at the summit, doesn't specify a closing date but promises to go past the end of July. 
The University of California, Berkeley's Central Sierra Snow Lab, on Donner Pass near Lake Tahoe, has tracked snowfall numbers since 1878. On March 1 the lab reported 531 inches (44.25 ft/13.5 m), with 141.9 inches (11.8 ft/3.6 m) in a single week. By April 29 they had 738 inches (61.5 ft/18.7 m), 205 percent of the 20-year median and eclipsing the 50-year record of 572.4 inches (47.7 ft/14.5 m).
A post on Facebook by Sierra-at-Tahoe staff outlined some of the problems. "Lift shacks and ski patrol stations are completely buried. Chairs in West Bowl have been covered." Fire officials announced that "unrelenting winter storms have damaged dozens of homes and businesses in the Greater South Lake Tahoe area." They responded to roof collapses and an "alarming" increase in gas leaks and carbon monoxide emergencies.
The blame fell on "atmospheric rivers," storms defined as a corridor of super-saturated air greater than 2,000 km long (1,240 miles), less than 1,000 km wide (620 miles) and capable of carrying as much water as the Mississippi River. Locals call this a Pineapple Express, and such storms typically provide 50 percent of California's annual moisture. In 1996–97 a New Year's class 5 storm over the Central California coast lasted more than 100 hours and caused more than $100 billion in damage. This winter, California received 12 atmospheric rivers.
On April 20, state agencies reported that California's reservoirs were at 105 percent capacity and estimated that the snowpack held more than 30 million acre-feet of future meltwater—twice the springtime average. With more heavy wet storms always possible at higher elevations, the prospect loomed for disastrous runoff scenarios. 
Colorado's Oldest Ski Lift to Call it Quits Next Season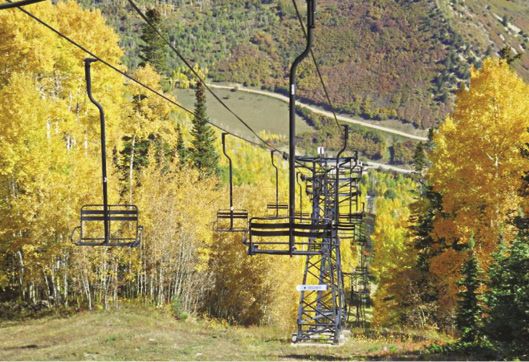 From Aspen's slopes to Sunlight Mountain, the veteran double chair has tales to tell.
First hauling pioneering skiers on Aspen Mountain in 1954, Colorado's oldest ski lift migrated to neighboring Sunlight Mountain in 1973. The double chair will come down in April 2024, after 70 years of service.
Terry Ross, Sunlight's assistant general manager, noted that older does not necessarily mean obsolete. "It's a very safe machine, I just think it's time that it gets retired," he told the Denver Post. "A lot of that is public perception. They get on this old stuff, some people don't like it. They don't feel as secure on it. And no matter how good you maintain a machine, it's not going to run forever. I'd rather replace it before it retires itself."
The double chair ran on Aspen Mountain from 1954 until 1969, when it was replaced and later sold to Sunlight. The lift was named Segundo because it was Sunlight's second lift. The resort, located outside of Glenwood Springs, Colorado, opened in 1966 with one lift, known as Primo.
According to a history of Sunlight Mountain by Paul Hauk, Segundo formerly served as Aspen's Lift 3. "I'm sure there were some famous people who rode that lift," said Tom Jankovsky, Sunlight's general manager from 1985 to 2018.
Segundo, a fixed-grip double, is a vestige of ski history, engineered by pioneering Colorado lift designer Robert Heron. Safety is not a concern with Segundo. Colorado ski lifts are regulated by the state's Passenger Tramway Safety Board. Like all lifts, Segundo is inspected and sanctioned by the tramway board twice a year.
Ross marvels at how well Segundo has held up over the years and notes that the lift speaks to old-school manufacturing practices. "Back in the day, they really overbuilt some of this stuff," Ross said. "If you look at the drive equipment and the drive terminals, the machinery is big. It's overbuilt, over-engineered, and that's one of the reasons it's lasted as long as it has. You look at the lattice-work structures on the towers, that's trademark Bob Heron, that's how he built stuff. It's big and massive. If you look at the loadings on those towers, there's no tower that's loaded more than 4,000 pounds, and those towers would easily hold 10 times that. He really was a pioneer in the lift industry."
Heron began his career designing tramways for mining operations in 1937. During World War II he designed portable tramways that were tested by 10th Mountain Division soldiers at Camp Hale before being used in the assault of Riva Ridge in Italy. After the war he established the Heron Engineering Company and was involved in the design of more than 120 chairlifts, according to the Denver Post.
After a long and successful life, Segundo has earned its retirement, Ross said.
"The lift is the same age I am," Ross told the Post. "It's old enough to collect Social Security." 
 —Greg Ditrinco
Snapshots in Time
1949 Arnold Lunn Takes a Stand The inclusion of a Russian on the FIS council is the immediate reason for Arnold Lunn's resignation as the British representative to FIS. Lunn has been the leading English ski personality for well over 20 years. "No club committee would waste five minutes on a candidate who coupled his application for membership with a demand that he should be given a seat on the committee … This application was an insult to the FIS and should never have been submitted to the council," Lunn wrote in his resignation report. — "Lunn Quits FIS Seat, Protests Ski Politics," (SKI Magazine, November 1949)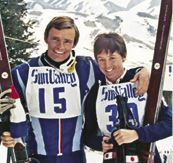 1966 The Superior Strato Every once in a while you meet with an experience that really sets you up a notch or two. Like a ride on a roller coaster. A few fast corners in a Porsche. Even your first true, but crude, parallel christie. You get charged with excitement. The Mitchell-Rossignol Strato Slalom can do that to you. Skiing on them was a new, switching-on experience. — "Ski Test 6. The Rossignol Strato" (SKI Magazine, November 1966)
1978 Ignore the Extremists The ski publications have been devoting way too much time to the extremists. If they're not covering the upside-down artists and freedog noodles, they're doing a piece on the joys of organic euphoria on x-c skis. Little attention has been paid to the bulk of the participants; we the people. And horror of horrors, the entire family enjoys it. — Allen Titensor, Irvine California, Letters, "Alpine Advocate" (Powder MAGAZINE, November 1978)
1979 Myth Busters If you're absolutely, positively, 100 percent convinced that all you want to do in life is ski with your feet welded together, you probably won't want to read this. You're a hardcore "paralleler." I understand. I was one too. Just go right on pretending you have one leg instead of two. But if the suspicion lurks that you might be missing something, read on. Learning to be a two-legged skier can open up a whole new world. — Stu Campbell, "The Feet-Together Myth" (SKI Magazine, December 1979)
1990 Inevitable "Destruction" of Ski Towns Futurist August St. John, a professor of future studies at Long Island University, has developed a theory on the life and death of tourist towns, which he says go through five stages: Welcome, Development, Resentment, Confrontation and, finally, Destruction. By "destruction," St. John doesn't mean a physical catastrophe, but the ruin or disappearance, as growth overwhelms a resort area, of the things that were the original attractions: neighborliness and sense of community, a rural landscape, small-town atmosphere, friendliness, low traffic and low taxes. — Andrew Nemethy, "Resorts Go Up … And Down" (Snow Country, November 1990)
2023 Death Watch on Your Wrist As of September, these devices [Apple watches] have come equipped with technology meant to detect car crashes and alert 911 dispatchers. It is a more sensitive upgrade to software on Apple devices that can detect when a user falls and then dial for help. But the latest innovation appears to send the device into overdrive: It keeps mistaking skiers, and some other fitness enthusiasts, for car-wreck victims. Lately, emergency call centers in some ski regions have been inundated with inadvertent, automated calls, dozens or more a week. — Matt Ritchel, "My Watch Thinks I'm Dead" (New York Times, February 3, 2023)
Already a Member?