Image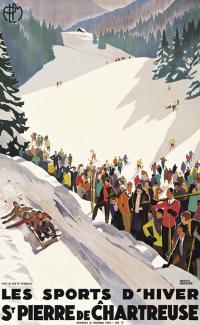 The Swann Galleries' annual auction remains a treasure hunt for vintage-art enthusiasts.
The recent auction of vintage posters at Manhattan's Swann Galleries offered up rarities, blue-chip examples, newly unearthed design gems and some downright oddities. The March 9, 2023, sale included posters from the earliest days of skiing, midcentury modern examples and masterpieces from the golden age of poster design in the 1930s. In total, there were nearly 60 posters from the United States, Switzerland and France, as well as from lesser-known sources like Chile and the former Czechoslovakia.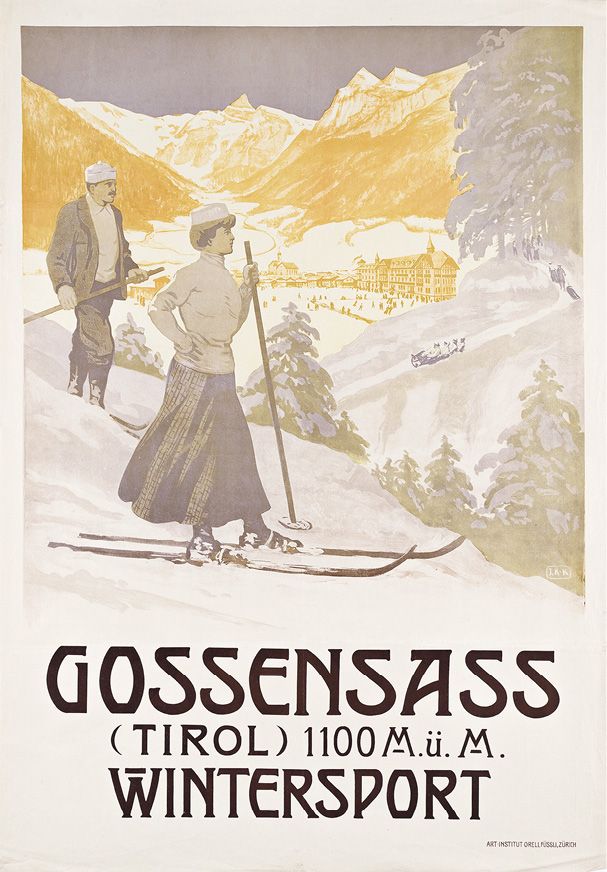 Thanks to lingering post-pandemic rules, the auction took place virtually (in-person auctions are likely to resume soon). Yet the interest was as heated as ever, with pre-bidding and bidding by phone and online remaining vigorous. The latter was abetted by the easy access afforded by companies like Invaluable, which enables users to bid digitally on sales at more than 4,000 auction houses worldwide. The days when you had to physically get yourself to an auction room are long gone, but, concurrently, the pool of bidders has grown that much wider.
One of the earliest posters up for sale at the Swann auction was "Gossensass/Wintersport," by an unknown artist. The image was estimated to be circa 1910 and depicted a man and a woman on skis, each holding a single ski pole. The background is a valley where a fashionable wooden resort hotel can be seen, along with mountain peaks, toboggans and skaters. Situated in South Tyrol, near the Brenner Pass, the resort of Gossensass opened in the 19th century, counting playwright Henrik Ibsen among its most famous guests.
"I've looked at this poster a dozen times, and I've never seen some of these figures before," said Nicholas Lowry as he closely examined the work during a preview of the sale. Lowry is president of Swann Galleries, head of the gallery's poster division and a well-known appraiser on PBS' Antiques Roadshow. "This is the Tyrol, and that's the resort's original Alpine hotel, circa 1910, based on the woman's long skirt and use of a single staff," he added. "When I see this, it looks like it was almost taken from a photograph, and the realism is almost there. But the color is very unusual, a kind of sunset orange."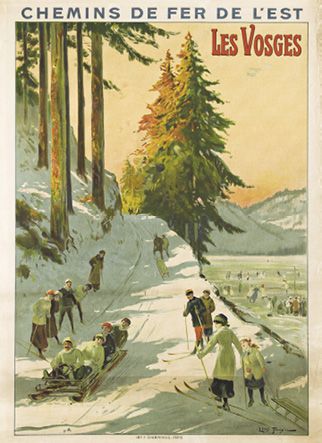 The poster was estimated to sell between $1,500 and $2,000, but it soared to $4,250 (including the buyer's premium, 25 percent of the hammer price).
Another early poster, by artist Louis Tauzin, was titled "Les Vosges/Chemins de Fer de l'Est," a railroad company's advertisement for resorts in the Vosges mountains. The resorts there were ideal for family ski vacations, smaller and less challenging than those in the Alps. The poster shows a bobsled team that is avidly watched by skiers and sledders, with ice skaters on a lake in the background. Notably, the skiers depicted have already transitioned to double poles.
"The colors here are much more realistic looking than the ones in the Gossensass poster," Lowry said of the 1912 image." You know it's pure advertising propaganda, but it is a slice of life." The poster sold at its top estimate of $4,000.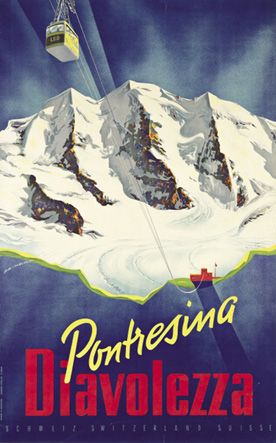 The Swann sale offered some blue-chip classics, such as Herbert Matter's photomontage "Winterferien-Doppelte Ferien/Schweiz," showing a smiling woman superimposed over a stylized mountain landscape with miniature figures of photomontage skiers. It went for $3,250, above its $3,000 estimate. Martin Peikert's "Pontresina/Diavolezza" highlighted the famous tram at this resort in the Engadin but it sold for $2,250, below its $3,000 low estimate.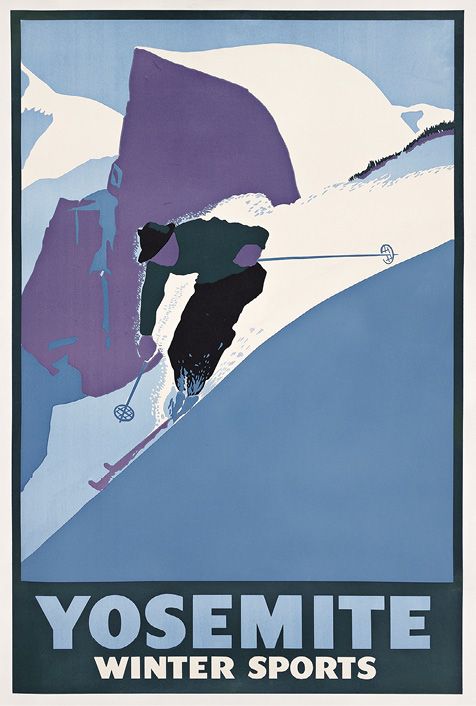 "Yosemite Winter Sports" is from 1935 and was created by an unknown artist. It is an impressionistic image of a skier navigating the California slopes and sold for $3,750, within its $3,500–$4,500 range. "There are no black outlines in this poster; it's all done with varying shades of purple," Lowry pointed out. "Yet it feels so incredibly detailed. One nice little touch is the spray of powder from his skis. When you look at the angle of the skier, you know it was done by someone who knew all about skiing. It's so accomplished in its simplicity."
Several posters appeared at Swann for the first time, including "Ski Colorado" by Red Gates, circa 1957. The artist designed at least one other poster for Ski Colorado in the 1950s. This was a new one for Lowry, who has a near-photographic memory for ski posters. Showing a very stylized skier turning around his long skis, it's a masterpiece of abstraction and went for $1,250, just above its low estimate of $1,200.
"This is classic midcentury modernism," said Lowry. Indeed, the mountains look almost like mathematical graphs. Added Lowry, "Amid all the geometric abstractions, you also have the patterns on his sweater. It's really amazing."
He also pointed out two posters for Alberta, rarities that he had never seen before.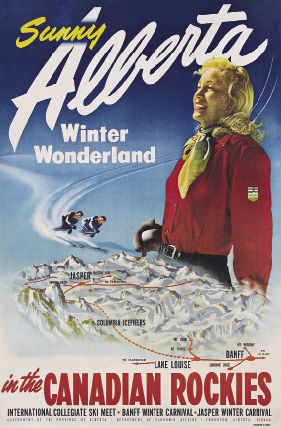 "Sunny Alberta/Winter Wonderland/ In the Canadian Rockies" is a photo montage of a blond skier in a red jacket that would make the Canadian Mounties proud. She's superimposed over a map of the area's ski resorts, and the poster was created to advertise the Intercollegiate Ski Meet, Banff Winter Carnival and Jasper Winter Carnival. The poster, circa early 1950s and designed by an unknown artist, sold for a bargain $812, barely over its $800 low estimate. A similar poster advertising the same events and dated 1952 illustrates a female skier and a smiling sun wearing sunglasses. This one jumped its high estimate of $1,200 and sold for $1,500.
"These two posters are super unusual, and that's what I love," said Lowry. "I am grateful to our clients for finding posters like these that I have never seen before."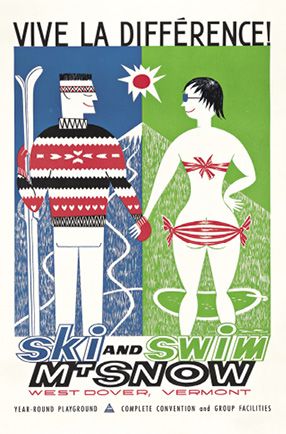 Another oddity was "Vive la Différence." This poster advertising Mt. Snow shows "a dude in his ugly sweater and a woman in a bikini, both depicted from behind," said Lowry. "It uses blue and green in shades that are midcentury modern, with ski slopes and a swimming pool. It's charming and trying to be cool and hip, and it's like it's trying to be a French resort. I've never seen it before. It's funky and unusual since so many ski posters are all about location, location, location." The poster sold for just $562, well below its $700 to $1,000 estimate.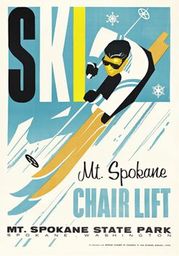 Yet another new poster for Lowry was "Mt. Spokane/Chair Lift/ Mt. Spokane State Park," a midcentury gem reminiscent of the work of Sascha Maurer, who designed so many Vermont ski posters in the 1950s. Lowry, however, looked at the typography, the way that the word "SKI" was in three different colors, the design and details such as the Ray-Ban–like sunglasses, the position of the skis and the abstraction and saw something else. "The artist is unknown, but whoever it was had a complete understanding of European graphic design," he explained. "They knew what they were doing, and they were using the styles of the masters. This is a good poster, and I would hang it on my wall." The price was also right, selling for $750, estimated at $700 to $1,000.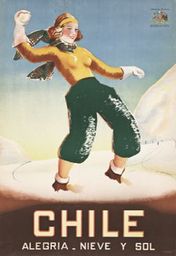 The most exotic piece in the sale was probably "Chile/Alegria/ Nieve Y Sol/," by the Chilean artist Isaias Cabezon. A woman stands ankle-deep in the snow, holding a snowball, while behind her are skiers and ski tracks in the distance. "It's the 1930s and this poster of a very fashionably dressed woman is like an illustration from a fashion magazine," Lowry said. "The colors are very different from other ski posters, and it's all about happiness in the snow and sunshine."
It was also the earliest Chilean ski poster he had ever seen, possibly from the first days of Portillo. It clearly pleased at least one collector, who paid $1,500, well above its $1,000 top estimate.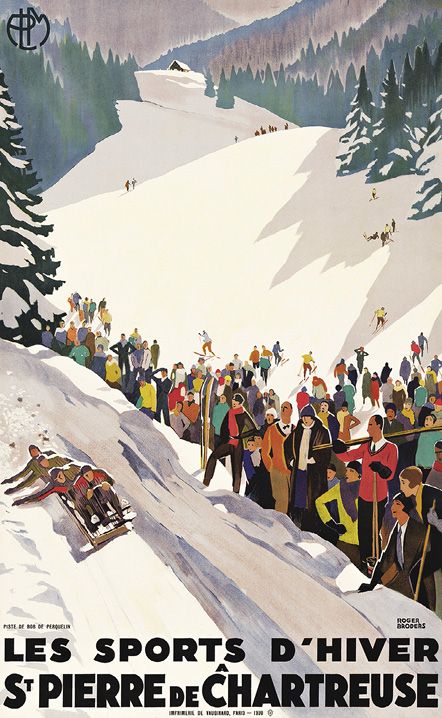 The star of the auction was no surprise: "Les Sports d'Hiver St. Pierre de Chartreuse," by one of the great masters of poster art, Roger Broders. This work by the French artist and illustrator depicts the Alpine resort of Perquelin, where a group of spectators have gathered to watch a bobsled team fly by. Broders excelled at many aspects of poster design, including an ability to depict a crowd in a stylized, slightly abstract way that makes it look vibrant and alive. The scene shows a colorful group of onlookers, shouldering or holding their wooden skis. In the background, other skiers continue to navigate the slopes. Meanwhile, the bobsled team reaches out to handle the sharp curve in an artwork that's alive and captures a snapshot in time.
"It's in staggeringly good condition and is a staggeringly beautiful poster," said Lowry. "Everything about this is great. The crowds, the action, the skier charging uphill." This 1930 poster achieves what other posters of the time tried to do with various levels of success: showing multiple sports and the fun one could have in the snow, from bobsledding to tobogganing to skiing. "More than that, it shows you the people who came to the resorts," Lowry adds. "This is not just an activity; this is a lifestyle event. You see someone wearing a beret, a fellow skiing in a tie and another in a bow tie, scarves nicely tied, women in fur coats and a sweater with piping. These were the beautiful people of the time."
While the folds of the mountains, the shadows and the trees seem incredibly realistic, Lowry noted one unusual aspect. "It's amazing how much empty space there is in this poster," he said. "You don't even realize it as you stare at it and don't feel or see it. Yet you don't feel like the artist missed something. That's why it appears so realistic. The perspective is amazing." The masterwork by Broders shot well above its $15,000 high estimate to close at $17,500. 
Swann's next auction featuring vintage ski posters will be held in March 2024. Visit Swann Galleries at swanngalleries.com
New York–based travel writer Everett Potter wrote about Sundance, Utah, in the January-February 2021 issue.
Already a Member?