Ads from the Past: Chew K2, 1970
Image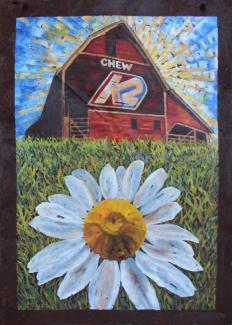 This is the first page of a four-page ad in the September 1970 issue of Skiing. It marks a Declaration of Independence by K2 Corp. The six-year-old company was already putting race-winning skis on the World Cup circuit and couldn't expand production fast enough to meet demand. With the sale of the company to Cummins Engine, founder Bill Kirschner had the capital to divorce distributor A&T and set up his own sales force. He was also able to hire an ad agency, consisting of graphic designer Terry Heckler and writer Gordon Bowker. Heckler pointed out that every ski ad looked like every other ski ad. He wanted to do something uniquely American. He found this barn along U.S. 2, the road to Stevens Pass. A painting crew put the logo on in a day, and it stood there for 35 years. The following pages featured comix-style Americana: Betsy Ross sewing a K2 flag, a K2 Bat-signal, Uncle Sam summoning "K2 wants you!", a Captain K2 superhero, LBJ pointing to a K2 scar over his appendix, Marines hoisting the K2 flagpole and more. In two years, the new sales staff tripled volume, and a brand-new factory filled the orders. 
Bowker and Heckler went on to launch a coffee shop. They called it Starbucks.
Coming up in Skiing History:

Marit Bjørgen: 114 World Cup wins and 26 gold medals. Who's the GOAT?
Post-Pandemic Covid triggered a boom in outdoor sports; corporate execs Zoomed from second homes. Ski resorts changed for good.
Sundance faces life after Redford. Insider Everett Potter reports.
PLUS
Dan "Moondog" Mooney takes us inside pro racing.
Ski tunes on vinyl.
Award-winning films.
Join our Facebook page: www.facebook.com/skiinghistory
Already a Member?