Museum News: Canadian, Vermont Halls of Fame
Image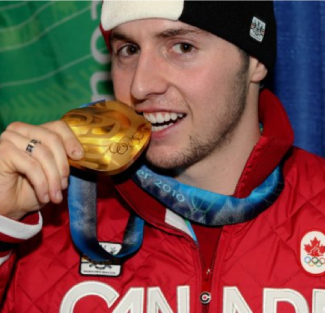 Canadian Ski Hall of Fame Inducts Class of 2020
This induction class (Class of 2020) was recognized in 2022 after Covid-related delays. The Class of 2021 will be recognized at a physical event in the Fall of 2022.
Alexandre Bilodeau (Athlete Freestyle) of Montreal (photo above) won two Olympic gold medals in moguls, at the 2010 and 2014 Games. He won five FIS World Championship medals (three golds) and achieved 48 World Cup podiums, including 19 victories. In 2006, at 18, he became the youngest skier to win a World Cup mogul event. In 2009, he won the FIS overall titles for both moguls and freestyle. 
Gordon Canning (Alpine Builder) joined the staff of Blue Mountain in 1970 under his father-in-law, Jojo Weider, and became president in 1978. He built the business into a year-round resort and retired in 2014. He built it into a year around resort. In 1999 he led a successful partnership with Intrawest to create Blue Mountain Village.
Philip Chew (Para Alpine Coach) was diagnosed with bone cancer at age 25. During treatment he heard about disabled skiing, and went on to win Canadian, European and World Championship medals in all Alpine disciplines. After retiring from the Para National Ski Team in 1992, Phil became the first Level 3 Coach with a disability. He coached for 21 years and trained 24 athletes who moved up to the National Team, among them Paralympic and World Championship medalists. 
Joe Fitzgerald (Freestyle Builder) was a founding member of the Canadian Freestyle Ski Association. After earning a degree in physical education, Fitzgerald became the first freestyle technical director at the Canadian Ski Association. He developed certification programs, organized World Cup events in Canada and was chief of competition for the Calgary Olympics. He joined FIS in 2000 as freestyle director and oversaw inclusion of ski cross, halfpipe, slopestyle and big air to World Cup and Olympic status.
Darrell MacLachlan (Alpine Builder) grew up racing in Calgary and became an Alpine race official. Beginning in 1992 he served as chief of race for the Lake Louise World Cup. He took the same role for men's Alpine events at the 2010 Olympics and served as a technical delegate in Sochi. He died of cancer at age 63.
Dave Wood (Nordic Coach) began skiing in his late teens in Prince George, British Columbia, and raced cross-country beginning in 1980. He began coaching in 1986. In 1998, Dave took over the struggling national cross-country ski team. Under his helm, Beckie Scott won gold at the 2002 Olympics. At the 2006 Games, Chandra Crawford won gold, while Sara Renner and Beckie Scott won silver in the team sprint. 
Vermont Hall of Fame Names Class of 2022
After a two-year hiatus, the Vermont Ski and Snowboard Museum will hold its induction ceremony at Bolton Valley on September 24. Honorees are:
• Ralph DesLauriers, founder of Bolton Valley Resort
• Jim Holland, ski jumper and entrepreneur
• Rip McManus, Olympian, broadcaster, film star
• Betsy Pratt, steward of Mad River Glen ski area
• Greg Morrill, historian (Paul Robbins Award)
• Catamount Trail Association (Bill McCollum Community
Award)
Already a Member?