Ski Art: Leonetto Cappiello (1875-1942)
Image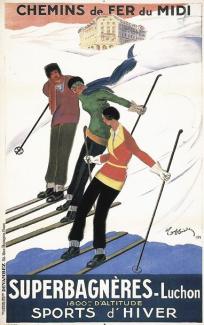 Leonetto Cappiello has been called "the father of modern advertising" because he broke the norms of poster art. Early advertising tended to look like a painting, too cluttered sometimes. Cappiello often depicted individual figures in motion. In this ski travel poster, he was not afraid to leave the white slope open. It intensified the illusion of speed.
Cappiello was born in Italy but mainly lived and worked in Paris. With no formal art training, he had his first exhibition in 1892. Today, some of his paintings are displayed in the Museo Civio Giovanni Fatori in Livorno. He then worked as a caricaturist for the most popular humor magazines in France, Le Rire, Le Sourire, L'Assiette au Beurre and Femina. In 1896 his first collection of caricatures was published.
From 1900 on, he painted posters that came to revolutionize advertising. This was the era when Paris walls were plastered with posters advertising just about everything. Cappiello realized that he had to distinguish his work from the others. Speed was one of the ingredients of modernization; wasn't Citius—Fastest—the first of the three goals of the modern Olympics? Altius and Fortius, highest and strongest, came second and third.
This 1929 illustration promotes Superbagnères-Luchon in the French Pyrenees. It has that art deco look in which speed is symbolized by the flying scarf and the swirl of the ski tracks on those vast open snowfields. And how to reach Superbagnères? Look at the top to see the Chemins de Fer du Midi, the railway line that will get you to the palatial hotel.
For those interested in the mechanics of the poster business, look at the bottom left, and you will see the word Devambez. Monsieur Devambez was what can be best described as an agent for poster artists. He would contact clients with whom he would put artists like Cappiello in touch. Cappiello was favored by such big-name businesses as Campari, Pirelli tires, Mistinguett at the Casino de Paris and others. It was a successful arrangement.
And Cappiello's 1929 ski poster was influential enough to be followed in 1932 by a similar design for the same resort. This time there was one figure, not three. It was by the lesser-known artist R. Sonderer. 
Already a Member?