Short Turns: Ski mountaineering speed records fall
Image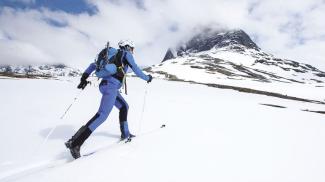 In 2019, long-distance runner and ski mountaineer Kilian Jornet—with the goal of just testing "how his body will perform"—completed 51 laps on Tusten ski area in Molde, Norway, in 24 hours. He climbed 78,274 feet, crushing previous 24-hour records by a ridiculous margin. To be clear, Molde is at sea level. Jornet climbed 1,535 feet, 51 times, on roughly a one-mile piste. That works out to skinning up at about 2.25 mph for 25 minutes and resting a couple of minutes during a 36-mph schuss. Fifty-one times.
Photo above: Kilian Jornet has been rewriting the record books for ski mountaineering and high-altitude running for more than a decade, sometimes merely as a result of his training regimen. Right: An early ski-endurance competition, the 24 Hours of Aspen attracted elite athletes, television audiences and sponsorship dollars in the 1980s-1990s. YouTube photo
That's nothing for the Catalan Jornet, who grew up in Chamonix. For more than 15 years he's been methodically assaulting the records for high-altitude marathons and ski mountaineering. In his recent five-year "Summits of My Life" project, he set the fastest known times (or FKT) for the ascent and ski descent of major mountains including Kilimanjaro, Denali, Aconcagua, the Matterhorn and Mont Blanc, at times shaving hours off previous records. Some of his records have since been broken by Ecuadorian mountain guide Karl Egloff.
Climbing and skiing massive verticals has become a passion with today's endurance athletes, who are repeatedly blowing by many of the world's best times. Which begs the question, when did vertical-feet-skied become a thing?
Before smart watches and phone apps made vertical-feet scorekeeping easy, it was possible to estimate your numbers from the number of runs completed. Heliski operators charged by the vertical foot, and kept accurate count. You could keep track of your bragging rights whether for 24 hours, a week, a season or a lifetime. Heliski operations certified guest accomplishments with pins and special million-foot prizes, like Mike Wiegele's silver belt buckles and limited-edition powder suits at Canadian Mountain Holidays.
One of the first vertical-foot-based competitions was the late 24 Hours of Aspen. After 13 events in 16 years, declining television ratings scuttled the show in 2003. But it left behind a slew of records. Chris Kent of Canada did 83 laps for 271,161 feet for the men's mark in 1991. That's 216 miles of skiing at an average 66 mph. Kate McBride and Anda Rojs set the women's vertical record of 261,360 feet in 1997.
Once the genie was out of the bottle, lift- and rotor-assisted records started to topple. In 1994, Canadian speed skier and Chamonix resident Mark Jones logged 212,000 vertical feet in just 12 hours at Les Grands Montets. Next, Dr. Mark Bennett racked up 294,380 feet in 14 hours in the Yukon in 1997 for a new "daylight" world record. Fourteen months later, former U.S. Ski Team racer Rusty Squires chartered a specialized high-altitude helicopter and recorded 331,160 vertical feet in 10 hours and 15 minutes at Big Sky, Montana.
In the meantime, the guides at Wiegele's were determined to set a record based on the normal constraints of commercial heli-skiing, with a full group of skiers and a single machine. In 1998, Swiss extreme skier Dominique Perret, Chris Kent and Austrian guide Robert Reindl, with Edi Podivinsky and Luke Sauder of the Canadian Alpine Team, logged 353,600 vertical feet in 14½ hours.
By this point recognition was growing that assisted vertical-foot records were as much about money as skill and endurance. As ski mountaineering boomed (it'll be a full medal event at the 2026 Milan Cortina Olympics) interest focused on self-powered athletes. In 2009, Austrian Eckhard Dorschlag set a 24-hour world record of 60,350 feet. Ultra-marathoner Mike Foote broke that in 2018 with 68,697 feet. A few months later Norwegian Lars Erik Eriksen took it to 68,697 feet. Then Jornet obliterated that.
Born in 1987, Jornet has captured more Skyrunner World Series and Skimo (ski mountaineering) World Championship medals than we have room to list. He still holds the mark for the Innominata ski traverse on Mont Blanc linking Chamonix and Courmayeur (8 hours 42 minutes), as well as the fastest ascent/descent of Mont Blanc from Chamonix (4:57) and of the Matterhorn from Breuil-Cervinia (2:52).
As for why all the fuss over vertical speed records advancing every season, Nick Heil, writing in Outside, quoted Foote: "How many push-ups can I do in a minute? How long can I hold my breath? How far can I ski in a day? In the end, it's all arbitrary and contrived, but it gets people to ask, what am I capable of?" 
Snapshots in Time
1958 Be Careful What You Wish For
A penetrating statistical study of the ski industry in Colorado and New Mexico has been published by the University of Colorado. Pointing out that a great many more tourists visit Colorado and New Mexico in June, July and August than in the other months of the year, the authors ask if it is not possible to develop the winter tourist industry so that tourist facilities can be used all year. — "Skiers Under Scrutiny in Colorado and New Mexico" (SKI Magazine, October 1958)
1970 The Continuing Death of the Ski Bum
Once upon a time, the ski bum was the ultimate ski insider. As neither an entrenched member of the ski-area management nor a local profiteer, he enjoyed a free-swinging life with lots of time to ski and unlimited access to the inner circles of the ski establishment. It is, therefore, ironic that as the need for ski workers grows, the reputation of the ski bum diminishes. Ski bums, industry management will tell you, are bad news; the title is now synonymous with "hippie." Many employers won't consider hiring ski bums, even for temporary jobs. As a result, there are fewer of the old-time ski-bum types than ever before. — Janet Nelson, "But They're Employed" (SKI Magazine, January 1970)
1978 Risk v. Reward
I have been skiing o.b. for many years. Skiing out of bounds is extremely dangerous. Inevitably some crazy powder addicts (myself included) will continue to leave the "safe" confines of patrolled areas. After reading Lou Dawson's account and subtle hints ("... how far can you crawl with a spinal fracture?"), I realized certain steps must be taken to ensure the safety or at least the survival of o.b. skiers. Education is what is needed on this topic. — Steven Harrison, Central Valley, New York, "Whistling in the Dark" (Letters, Powder Magazine, Spring 1978)
1981 Crowds and Crashes
The rapidly increasing skiing population has led to an alarming increase in inconsiderate and out-of-control skiers who are a serious menace. Last season, an out-of-control skier crashed into me. He never so much as asked if I needed help. I'll have a scar I'll carry for the rest of my life. For too long ski areas have allowed Bonzai Bombers to endanger others on the slope without adequate punishment. It's time something was done to protect the rest of us from these slope-side criminals. —Thomas F. Warda, Rochester, N.Y., "Slope menaces" (Letters, Skiing Magazine, October 1981)
2007 Bode Rules
Call them the Bode Rules. This year every athlete on the U.S. Ski Team is required to stay in official team housing. Every racer on the team is also prohibited from having a celebratory drink with the coaches after a big win, because it's a slippery slope from that to, say, being photographed carousing with Miss March 2002 draped on your arm during the Olympics. U.S. Ski Team chief Bill Marolt implemented the stricter guidelines after the strongest American squad in decades limped away from the 2006 Torino Games with only two medals—neither of them won by the phenomenally gifted Bode Miller. —Nathaniel Vinton, "Ski Fast but Party Slow"(SKI Magazine, February 2007)
2021 A Woman's Place Is On Patrol
"When there are women on a team like this, it lends an important voice and perspective to the job. I can say that having women on patrol keeps everyone connected. Men muscle their way through the job and women do it with finesse," said Addy McCord, 64, one of the longest-standing professional patrollers in the industry. — Shauna Farnell, "A Surge of Women in Ski Patrols, Once Nearly All Men" (New York Times, February 11, 2021)
Already a Member?