Stein Eriksen - Olympic Champion, Face of Skiing for a Generation
Stein Eriksen, the most famous skier of his generation, died December 27, at his home in Park City, Utah. He was 88 years old.
For a full biography see the January-February 2016 issue of Skiing History.
Stein was the son of Marius Eriksen, a skier, Olympic gymnast and manufacturer of ski equipment. Born in Oslo, Stein trained as a gymnast and skier, and became Norway's slalom champion in 1949. He won the bronze medal in slalom at the 1950 World Championships in Aspen; at the 1952 Olympics at home in Oslo, he took gold in giant slalom and silver in slalom. Moving to the United States, he taught skiing at Sun Valley, but continued to race for the Norwegian team. He went on to win three gold medals at the 1954 World Championships in Åre, Sweden, in slalom, giant slalom and combined.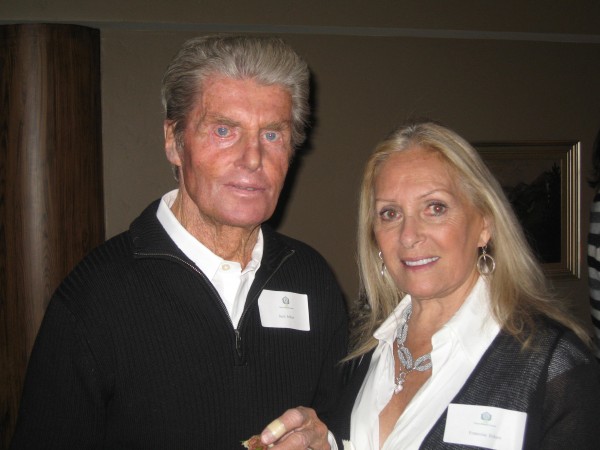 As the most visible and photogenic celebrity in skiing, Stein was an invaluable promoter. He was named ski school director at several start-up American resorts, including Boyne, Sugarbush, Heavenly Valley, Snowmass and Park City.He put his gymnastic skills to work by performing spectacular aerial flips on skis, often on a regular weekly schedule, as part of his promotional work for his ski areas.
In 1981, Edgar Stern brought Stein to the new Deer Valley resort as director of skiing and host of the luxurious Stein Eriksen Lodge. He spent the rest of his life there.
Stein is survived by his wife of 35 years, Françoise; children Julianna, Ava, Anja, and Bjørn; and five grandchildren. His son Stein Jr. died in 2012.
Photo: Stein and Françoise in 2014.
CELEBRATION OF LIFE: Thursday, February 4, 2016
Deer Valley's Director of Skiing, legendary Alpine skier Stein Eriksen passed away peacefully at his home in Park City, Utah, on December 27, 2015, at the age of 88.
As the world's best freestyle athletes take to Deer Valley Resort's slopes for the 2016 FIS Visa Freestyle International Ski World Cup February 4 – 6, 2016, we will pay special homage to our late Director of Skiing and legend, Stein Eriksen.