Marvin Moriarty - Stowe skiing legend
Vermont skiing legend Marvin Moriarty died suddenly on April 20, 2022 in West Palm Beach, Florida, victim of a hit-and-run accident. He was 85.
Photo above by Paul Ryan: Marv training on Spruce Peak, 1961.
Moriarty grew up in Stowe, Vermont, living in a boarding house owned by his parents, who catered to a colorful population of ski bums and racers. In 1954, at age 16, he won the U.S. Eastern Amateur Ski Association Junior Downhill Championship at Mad River Glen, and then the junior national GS title. At age 17, he became the youngest man ever named to the U.S. Men's Olympic Ski Team. In 1957 he was named to the 1958 FIS World Championship team. Between 1958 and 1961, he won the King's Slalom in Norway, the White Ribbon slalom in St. Moritz, the Ryan GS at Mont Tremblant, and the New England Kandahar three times, among other victories.
Racing success drew attention to the distinctive, utilitarian ski hats knitted by his mother. The Moriarty Hat and Sweater business grew into a thriving cottage industry. While Anabel ran the business, Marvin for many years supervised marketing and sales.
Moriarty settled in Aspen, Colorado. He worked as a builder, ski instructor and tavern owner. He played hockey, tennis and baseball, built and flew his own plane, and eventually returned to Stowe to build a home.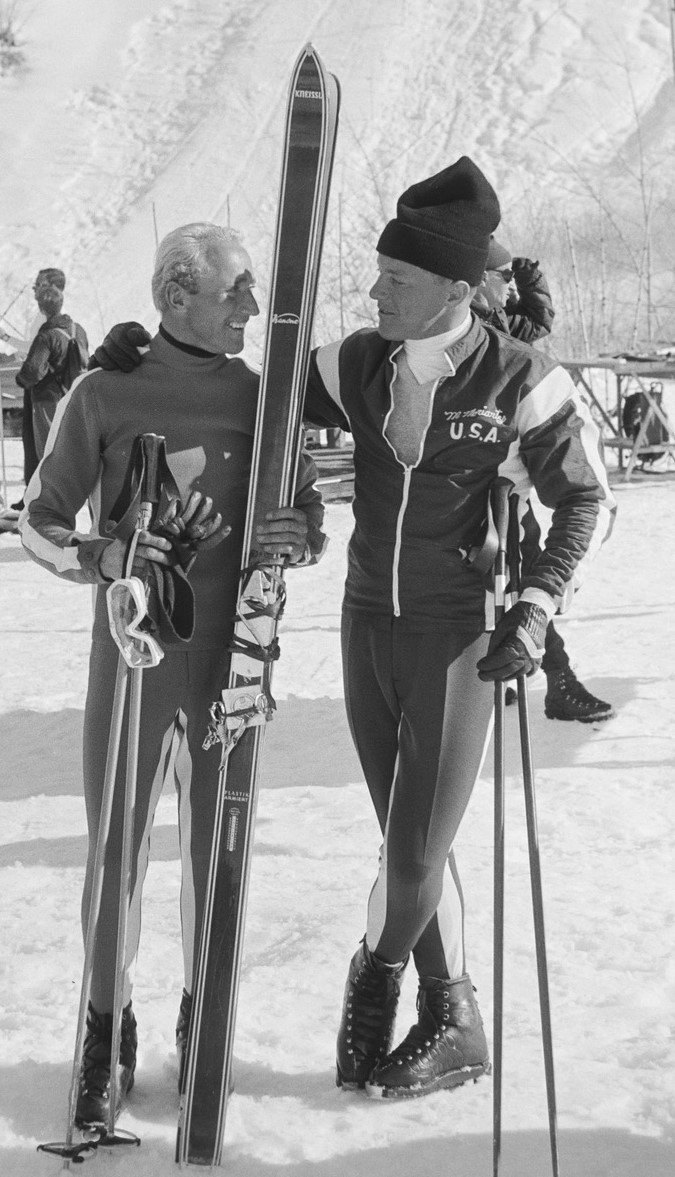 My remembrance of Marvin Moriarty
By Paul G Ryan
Marvin was upstaged by the ski hats made by his mother Anabel.­ The Moriarty Hat. Contemporary skiers probably know more about The Hat than about Marvin. But Marvin Moriarty was one of the best American alpine racers in the fifties and early sixties. The youngest man ever named to a U.S. Alpine Olympic team, he was dominant in eastern races winning the Stowe Cup and retiring the Mt. Tremblant Ryan Cup after three wins.
I knew Marvin in 1960 when I spent a season in Stowe as an aspiring racer. He occasionally came by Spruce Peak's slalom practice hill and set demanding courses that I had a hard time even making it through. He was generous with help and advice, though you had to see through his acerbic wit.
The Moriarty family lived not far down the Mountain Road. We were often invited over to watch television in their living room. Marvin's father Kermit, never shy about expressing his opinion, had invented one of the early remote controls that could silence the TV speaker whenever he wanted to interrupt. He called it his "Blab Off".
Shortly later Marvin moved to Aspen, continued racing and became involved in the local sixties cultural scene—as usual, pushing the limits.  He was a founding partner in The Mad Dog, the first rock & roll night club in town. He and Max Marolt once rented a Caterpillar 'dozer for unauthorized plowing of the Castle Peak Road to 12,500 feet for driving access to the Aspen Ski Club summer race training.
Marvin gave little credence to conventional restrictions which made him many friends among the innovative people of the West. Less so with the traditionalists. I liked Marvin a lot.
I was sad to see Marvin eventually move to Florida. A long way from the mountains of Vermont and Colorado.